Don't let Coffeen's cool, calm, and collected demeanor fool you. He is the harbinger of a new wave of musicians taking ownership over their own musical trajectories, catalyzing the abilities of others, and reshaping the musical landscape.
It is not often that we consider musicians to be administrators, but Coffeen is dispelling the belief that artists don't make good organizers. A Chicago-based keyboardist, vibraphonist, bandleader, teacher, arts activist, and jam session host, Charlie Coffeen's dynamic musical and administrative practice has evolved to encompass themes of listening, collaboration, and perseverance.
Coffeen's unhurried tenor allows for a space where creative minds meet, connect, imagine, and play.
–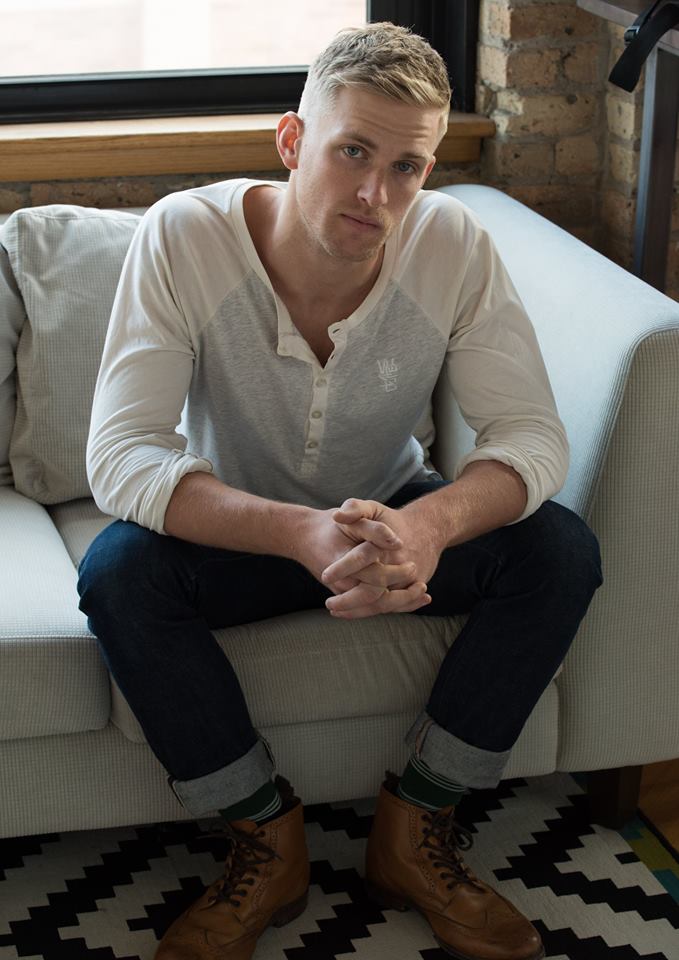 photo by Emma Meyer
–
"I love it, thinking as a songwriter and listener and from a production standpoint…to be so naked in your music and have nothing covering you up."
–

–
–
Interview with Charlie Coffeen
by Courtney Cintron
There are a multitude of ways to approach the conversation of practice–especially as a musician. For most musical types, the term practice is rooted deeply in the psyche and is often associated with some less than enchanting childhood memories.
The traditional understanding of practice is something that many musicians must let go of before they are ready to redevelop it from a place of authenticity. From an early age, musicians are taught to practice their instruments in sometimes very rigid and tedious ways that feel intimidating to even the most skillful. In order to persevere in this context, many young musicians respond by seeking out alternative musical experiences.
Charlie Coffeen himself began playing piano at the age of 5, studying mainly classical and jazz in school, with a burgeoning interest in gospel music as well.
"Looking back, I practiced a lot more than I thought I did," says Coffeen. "Playing along to records or just messing around at home. By playing with others–playing in church, concerts, and ensembles–I started to realize that the material I was working on outside of my 'official' practice time was making me better at my instrument. I thought, 'Wait a minute…it's not just playing scales for 120 minutes that's making me better.' Listening to music and playing along to CD's, playing piano or vibes to Herbie Hancock solos, was making me better. Seeing 'practice' translated into the real world was a big transition from thinking of it as a regimented, work thing. I understand that anything can make me better at my instrument. I think that really stemmed from listening to a lot of good music and wanting to play it, and by being surrounded by a lot of good musicians that were encouraging when they heard those things in my playing."
Coffeen's practice began to evolve even further when he came into contact with his main instructor at Columbia College who encouraged him to think about practice as a form of research.
"Dennis Luxion, a piano player in the city, is brilliant. He thinks in a really fascinating way, and pushed me to really focus on the history of the music that I was into, as a form of practice. So, listening to a record that just came out that I would want to learn how to play…I could do that by ear and that was fine, but Dennis was more interested in knowing what that musician on the record was listening to, and how that got them to that point."
–
"Nashville" from Leaves by Sidewalk Chalk
–
Hip Hop, as an art form with a deep lineage of responsiveness to social and political climates, played an integral role in transforming Coffeen's practice. "There was always a strong connection in my mind of b-bop to modern jazz to hip hop. It always seemed so obvious, the way the music is cyclical. In that sense it wasn't a big leap to start sounding Hip Hop influenced." Although he did not initially make a conscious effort to incorporate Hip Hop into his own sound, Coffeen remarks that, "At a certain point, if you listen to it a lot, it just sort of infiltrates how you sound." Once he began getting deeper into artists of the sample era such as J-Dilla, Tribe Called Quest, and the Roots, he became more intentional about wanting to play and sound like samples. 
As Coffeen began to mature into his sound Hip Hop was at the forefront of his practice. "Hip Hop to me in its purist form is so much more than music. The Hip Hop that matters most to me–there's an entire cultural and social thing wrapped up in that. There's great Hip Hop that I love that isn't that, but the stuff that moves me the most, if I were to attach a definition to it, is all encompassing."
During his time at Columbia, Coffeen took this idea of an all encompassing musical style, and, co-founded a band called Sidewalk Chalk. The band combines elements of jazz, gospel, hip hop, soul–and a less apparent influence: folk music.
"Songs where every word, chord, and note really mean something, because it is so sparse and not musically dense. I love that. Thinking as a songwriter and listener, and from a production standpoint, to be naked in your music and have nothing covering you up." The group is composed of eight diversely talented members and features keys, an MC, a jazz vocalist, a horn section, and a tap dancer. The band was named "most outstanding group" at the 2012 Chicago Music Awards. Sidewalk Chalk's third and most recent album, Shoulder Season, is a compilation of live shows from seven different U.S. cities. The group has shared stages with D'Angelo, ?uestlove, De La Soul, Action Bronson, Jean Grae, and Hiatus Kaiyote, among other notables.
Coffeen began making a living off of playing Hip Hop, but after graduating from Columbia, he felt that the genre was not being taken seriously enough in academia. He began crafting a curriculum for a Hip Hop ensemble. "The goal was to get students to talk about and think about Hip Hop in the same way that they talk and think about classical music."
Sidewalk Chalk was another platform for a wider conversation on the form. The group also began shaping Coffeen's thinking around administrative practice. In the early years of Sidewalk Chalk, he took on the role of bandleader and musical director. He assumed a multiplicity of responsibilities including tour managing, booking, PR, and song writing. His managing and organizational styles have changed over the years to include a more collaborative process.
"Within the group there's much more delegating of tasks. People are really seeing through and taking ownership over what they're doing, which was not the case before. Maybe this is a general kind of management thing or maybe it's just me, but I tend to want to move really quickly to get things done whether that's booking or getting anything that I didn't expect. So, when you have people that you ask to do something and they don't do it you're not gonna ask them twice because there's just not enough time. That's my resentment in the early days of Sidewalk Chalk, which probably generated some animosity on both my side and with the other folks. Now the focus is on allowing people to change and do things that they might not have been good at before and acknowledging the things that people are naturally good at. We've always done big things and just being in a group that does that as a whole is empowering. In the past I've been much more of a primary song writer than I am now. We have two new guys in the group that are on bass and drums that are great writers and who have awesome ideas. I've also been more intentional about not submitting my ideas first. More often now I just hang out and see what gets played first and jump onto that instead of the other way around."
Additionally, Coffeen has hosted Soul Sessions, a weekly jam in various locations throughout Chicago for a number of years now. In doing so, he has strengthened creative connections and acted as a platform for a heightened level of collective musicianship.
"The idea is to connect different artists across the city, across genre and scenes that should know each other but don't…to connect folks and create a community that people can count on every week–where you can have a fiercely creative outlet for a couple of hours where nothing is off limits and the level of musicianship is through the roof and the vibe and the energy are super positive."
–
"Don't Cry" from Shoulder Season by Sidewalk Chalk
–
Coffeen's own voice is reflective and subtle with an underlying intensity. He has exercised this voice in performance, band leading, and through teaching, but he has also used his voice to speak out politically against police brutality–using music and art as his main form of resistance.
"I was on tour with Sidewalk Chalk when Michael Brown was killed in Ferguson. So, I went there, for three days. It was intense coming back. From what was essentially a war zone, it was a traumatizing experience for everyone involved. But then immediately after I was at a soundcheck in San Francisco and everything there was great and everybody was fine. That was pretty jarring."
"Thinking about police brutality against people of color…it's the situation of there being a group of people there to help and protect you–but not doing that."
After Ferguson, Coffeen began organizing #TrainTakeOver in Chicago, a rush hour #BlackLivesMatter allied protest on Red Line train cars where 100 artists used their instruments and singing voices to peacefully engage commuters to think about the events that were taking place around them. Coffeen organized several #TrainTakeOver events.
–
"Bitch, Don't Kill My Vibe" (Kendrick Lamar Cover)
–
What I think is truly brilliant about Coffeen is his poise in navigating between worlds. His practice encompasses a lot, yet it is not labored. There is a synergy and continuity that exists in everything that he does; as he approaches the world with a musician's ear–listening and then responding. Coffeen's practice, while complex, demonstrates the results of self-initiative and self-empowerment.
 –
–
–