In her work as director at Jack Shainman Gallery, Joeonna Bellorado-Samuels holds an influential position from which to foster discursiveness in an unequal — that is, mostly white, mostly male — art narrative. If we can agree that art communicates, its administration will be crucial as we navigate its often-painful, often-glorious entanglements. Please enjoy Joeonna's thoughts on this.
–
–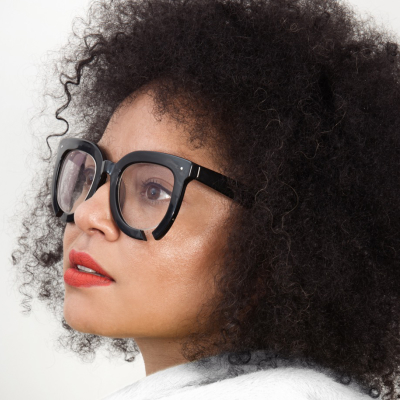 –

–
–
AN ARTIST AND A LOBBYIST
JOEONNA BELLORADO-SAMUELS: How I got here in a literal sense was that I studied American and African American Studies in undergrad. This was a combination of sociology, history, and anthropology. I did take some art history. It definitely wasn't my focus, but it was always a part of my life. There was a long period where I wanted to go in a different direction, probably out of rebellion, so I started working in policy.
After college I went to DC and worked for a lobbyist for a few years. We represented American Indian nations, focusing on healthcare education, and we were the home base of tribal self-governance. This was a coalition of few hundred tribes working toward autonomy over their allocated federal dollars, so it was a lot about land sovereignty, governmental sovereignty, and healthcare education, which continues to be a poor situation. This was during a specific moment that was particularly frustrating—early 2002—at which time the Department of Homeland Security was being established, and the conversation was geared around homeland defense. So the work I was doing shifted toward asking for border protection when that wasn't the need, the need was healthcare. It was troubling. The work was no longer what I had in mind, and I thought that I would either go to law school or to do what I really wanted to be doing, and so I went to get my MFA in photo and photo-related practices at SVA in New York.
Maybe surprisingly, I think my work on the hill as a lobbyist is not so different from what I do now. It's advocacy work, and that's what we do for artists. I definitely consider myself an advocate for the artists that I represent. It's so much about relationships as well, which is the same as on the hill, building trust with people and selling your idea. Now I'm selling work and advocating for these artists and what they do. I don't find it too different, and the research and writing background is helpful. It's funny that when I was on the hill they thought my writing style was totally off, and then I came here where it's more appropriate. It's like 'Oh okay, this is what I'm supposed to be doing!'
Also, for a lot of our artists, we're in the studio working through problems with them, and I find my MFA invaluable when it comes to that. It's not only the relationships with institutions and curators but also artists.
–
BECOMING

 "COMMERCIAL"
JBS:

 Toward the end of my MFA I came to the realization that I needed to be paying for my degree, so I had to wrap my head around what that meant. I had been interning at galleries, learning about the different facets of this industry, and I was interning at the curatorial department at the Studio Museum in Harlem at the end, which I really loved. I happened to be there at a time when some of the most brilliant people I've ever worked with—Naomi Beckwith, Christine Kim, Lauren Haynes. Day one, Christine was about to go on maternity leave, and Naomi would give me real work to do, which is in contrast to a lot of the typical intern experiences where you're just doing really banal work.
That said, I did like the idea of being in a commercial gallery because of the long-term relationships with artists. This is opposed to in institutions, the relationship taking place around projects or shows and being short-term in that way. Of course it depends on the curator, and curators do have long-term relationships with artists, but I like the idea of working towards artists having their own economic freedom and being able to make work. It's not like 'Oh, I really love the sales,' but what sales mean is really important.
I got very lucky because my favorite gallery had an opening, and I fell right in. Eight years later, I'm still here. A lot of people understand galleries as being strictly the sales and market side, but really it's less than half of what I do. We manage the careers and the strategies around the artists: what they want to be doing, choosing exhibitions to participate in, and actively going out and putting their work in front of people. Certainly we can't force anyone to do anything, but it's about making sure that you're introducing the work to certain people and building relationships with curators, institutions, and collections.
–
"As a viewer, I'm attracted to works of art that are trying to solve some sort of problem, whether that's materially, formally, or conceptually. I am interested in works that engage the world and aren't so introspective that they become myopic. But an individual story can be a part of a larger dialogue…"
–
JBS:

 As a viewer, I'm attracted to works of art that are trying to solve some sort of problem, whether that's materially, formally, or conceptually. I am interested in works that engage the world and aren't so introspective that they become myopic. But an individual story can be a part of a larger dialogue, in fact it's frustrating to hear people say that artists need to somehow transcend something about themselves. The idea that artists who make work that is personal need to be 'better than that' is terrible. Not that it needs to be focused on—for example—black pain, but to expect an artist to go outside of what they want to discuss is problematic. The only way that an individual will be able to talk about humanness is to start with themselves.
–
A DYNAMIC MARRIAGE
JBS: With sales, it's important to make sure that you're placing the work in safe places, places that will help the artist in the long term, with people who will care for the work and contextualize it in a way that is appropriate to what the artist wants.
Artists who don't have galleries can certainly have museum shows, but the institutional support that a gallery offers comes with what's viewed as a support system. Much of what the gallery can offer are our existing relationships and our continued building of relationships, and also taking away that administrative, business side of the practice to allow artists to focus on making work as much as possible. Of course that's different for everyone, and people like to engage in different ways, but it's definitely the role of the gallery to take that on to help the artist be in the space of creating work.
It's a trust issue. Gallery representation represents a commitment between the gallery and the artist. I think that's important for people to see. Likewise, with institutional and museum shows, it's important to have curators who are thinking about the work and contextualizing it with other artists and other work in the canon. They provide an impartial view. There is a constant interplay.
One of the most important things is that we place our artists in an institution, whether that's to be through sales, to be in the collection, because that is the safest and the most important place for their work to be, but also to be showing their work. Bringing them out into the world. Gallery shows are more geared around recent work, specific bodies of work that artist can build toward. The hope is that the work will continue to live in institutions.
For artists, we always recommend putting as much focus as possible into making strong work, and not being too concerned with certain rules that may or may not be true, i.e. making large ambitious work versus sellable work. I would tell artists not to think about that. It can come into play, but when starting a career, it's not helpful to think about. Also, being able to speak about your work is becoming increasingly necessary, if not completely necessary.
–
THE MAKEUP OF ARTS ADMINISTRATION
JBS:

 I don't know a lot of people who come from 'arts administration' backgrounds, but there are more and more. Many are coming from the auction house programs, which are churning people out. It's definitely more common for people to have art history backgrounds. It's uncommon to have people with backgrounds similar to mine.
I'm not really sure how one defines the field of arts administration. If you consider writing to be the backbone, then my role certainly fits the description, though I'm not an art historian doing heavy research. I'm definitely not making art. But I'm never working on only one thing. I'll work on various projects for many months, usually many at the same time.
Preparing for a show takes many months. The current show at the gallery, a super PAC that one of my artists started in collaboration with someone else, took over multiple months of my life, but I have been excited to bring back the policy dialogues. It's a functional super PAC—I'm the director—so the exhibition is just the beginning. We're commissioning artists to make political advertisements, there's programming happening within the headquarters, four town halls—three in LA, one in New York—based around FDR's 'Four Freedoms,' workshops, dinners. It's much more than a regular exhibition, which is really exciting. So with this project as an example, I'm a gallery director and then when one of my artists wants to start a super PAC, I'm suddenly a super PAC director.
Simultaneously, I'm working with one of my artists on a summer school to think about curatorial practice and critical theory. The classes will take place in Chelsea.
There are a lot of women in arts administration, but somehow it doesn't feel like a power structure has shifted. Because we exist within this greater society, the same issues apply. The higher up you go, the more male it gets. For me, I wish that I had embraced the courageousness factor earlier on. You feel like you have to go through certain channels, but the field is littered with people who just decide they're gonna do it, and do it.