Prerana Reddy is Director of Public Programs and Community at the Queens Museum where she organizes screenings, talks, festivals, and performances, a third of which are developed in collaboration with diverse local community organizations and cultural producers. Reddy is also in charge of the museum's community engagement initiatives which combine arts and culture with social development goals in nearby neighborhoods predominately comprised of new immigrants, including programs that address language access, healthcare, public space advocacy, and the mortgage crisis.
–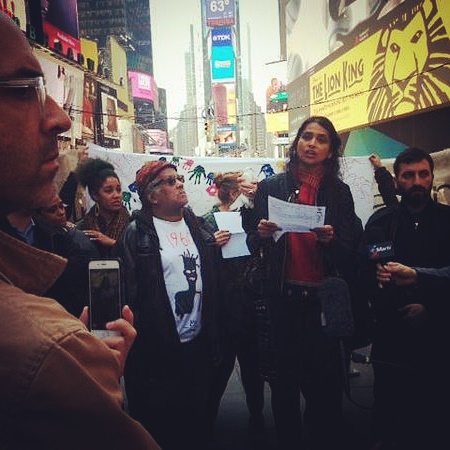 Prerana Reddy, Dir. of Public Programs & Community Engagement,
reads from the @Immigrantmove manifest #YoTambienExijo
–
–

–
–
PRERANA REDDY:

At first, I was thinking of becoming a scientist and doing research. But I always had an interest in cinema, and as an undergraduate I had started taking classes in the cinema studies department at Duke. It was just a fun elective. My very first class was world cinema, and it blew my mind because I was introduced to many things that I didn't have access to before. I was particularly interested in West African cinema and postcolonial theory, and the professor was teaching a graduate-level course the next semester in post-colonial theory of the image. Even though I was an undergraduate, she invited me to participate. It started expanding in the way that I thought, and how my interest in the arts, politics, and theory could come together. But I hadn't necessarily thought, 'How do I want to make all these things a job?' I was also interested in education, public schools, environmental activism, and more. I realized that my interests were too eclectic to put myself in the situation of solely working in a lab and being a scientist.
I took a couple of years off after undergraduate school to figure things out. I knew I didn't want to work in a lab anymore, but I didn't have enough experience in media to get a job in that sector either. So I ended up deciding to pursue a graduate degree in cinema studies, but I wanted to do something that combines production and theory. A lot of film schools that are just focus on production and don't provide much theoretical background. On the other side, cinema studies can be very much about writing and criticism, and not that much production. So I found a program at NYU, called Culture and Media that was an interdepartmental program amongst Cinema Studies, Anthropology, and American Studies. There were graduate students from all three departments that could do a concentration in this program and split coursework amongst the departments. I was doing documentary production through the Anthropology Department, in a course on documenting cultures of particular communities.
My student documentary was about the South Asian Women Collective Artists (SAWCC). Part of that had to do with me wanting to connect to other South Asian women who I thought were progressive and interested in the arts. I went to their monthly meetings where they were sharing their works, getting feedback. It was a studio circle vibe.
I became interested in the questions they were asking themselves, about how they fit into the art world, the ways in which they were struggling to define their identities as diaspora women, as feminist women. They felt separate from the wider art production that was going on, and not necessarily understood by mainstream western media or criticism. Not finding art spaces where they felt supported in what they produced, and they were thinking about how to create their own public platforms and critical frames through this collective.
When the group became an official nonprofit, I became part of their board for the first three years. I wanted to document them in the time of transition, from a grassroots group of women to an organization. That was one way in which my interest in cinema and documentary, postcolonial theory and the politics of representation came together.
At the same time, in the late '90s, I also found the New York African Film Festival which was held at Lincoln Center, but was founded and directed by Mahen Bonetti, an immigrant woman from Sierra Leone. I cold-contacted her, and introduced myself and asked her if she would be interested in getting a free intern for a semester, in exchange for me having access to their video library of African cinema. I ended up working there full-time for five years, and through that experience, I learned a lot about nonprofits, how to write grants, and how smaller organizations worked with bigger institutions and city agencies to do public programming. At that moment, the African Film Festival wanted to move beyond being a once a year film festival, in a theater, to becoming a year-round cultural organization that focuses on the power of cinema. We started doing outdoor screenings in public parks and neighborhoods where there were significant African immigrant and African American communities, places like Harlem, and Fort Greene, Brooklyn. We also started a pilot educational curriculum, utilizing African cinema to understand world history.
I was working as a programmer and administrator at the film festival as a day job, and also volunteering in this collective called Youth Solidarity Summer (YSS). I went as a participant one year and they asked me to join the collective. It was a political training for South Asian youth, and that also became a very important touch point for me in terms of a group of people and set of knowledge that I had as a cultural producer. After my 3 years on the SAWCC Board, I co-founded 3rd I NY, a South Asian film- and video-presenting organization that included a lot of folks in the YSS collective. I think post 9/11 there was a sense by the people in all of those realms that I was working in, because of a kind of anti-immigrant sentiment that we called a 'security panic,' of thinking, 'How are we going to respond to that as cultural producers? And as a community of South Asians, Arabs, and Muslims, to the xenophobic public policy and popular sentiment that resulted. We started a collaboration with Alwan for the Arts, which is a Middle Eastern cultural organization, and started combining South Asian and Arab programming in an act of cultural solidarity. So there was a set of robust political and cultural activities and a network of people that I was working with in my first years in New York City, as a graduate student and early work life.
–
–
–
KIMIA MALEKI AND EMILY MONASTERIO:

We'd really like to learn more about how you eventually came to the Queens Museum, and your social justice programs with the community of Corona.
PR: I never had set my sights on working in a museum. I liked going to museums, but had never really considered working in that context. Then the founder of SAWCC, Jaishri Abichandani, was hired to start a new department at the Queens Museum, and at that time it was just called 'Public Events.' The Queens Museum is not on the tourist circuit, and it is not in a neighborhood full of galleries and artists. So the question was what was the value of having a contemporary art museum in this location? What work was it doing? Because the city is full of museums, we didn't want to duplicate the model of other museums. In this museum, given its location and the community of people surrounding it, there wasn't necessarily a connection to Western contemporary art as a subject matter. So the museum director was looking for someone to create a bridge and start brainstorming what the role of a museum would be in this context. One of the first big grants we received was through the Ford Foundation. It was for community development rather than the arts portfolio, and a kind of experimental grant which was looking at the potential role of socially engaged arts in community development in neighborhoods where there are lots of demographic transitions.
The project was an intensive program for youth and young adults, that would meet every Saturday for one year, followed by a six-month internship placement. We combined political education with the opportunity to take workshops with socially engaged artists, and also to present work both at the museum and in neighborhood spaces. In a way, it was creating a whole cohort of young people with a variety of backgrounds that lived in Queens that would help us understand the issues that people care about and the types of cultural programming in which they would like to participate. So we were learning from them as much they were learning from us. We were thinking of the museum as having particular sets of assets beyond our galleries, like the network of artists and educators that we have access to. And, as staff members, our personal network that we can bring to bear. And space, which especially in NYC, is at a premium. A lot of people don't have access to big spaces to organize public presentations. Our goal as an institution was to figure out how to connect our assets and skills to address the issues and ideas the community wanted to explore.
There were a lot of great things that came out of the program. A lot of people went on work for other museums, or go to college, or work for non-profits that were doing political work. I think having that level of intensity, that they were at the museum once a week and as a paid job, made them feel they had responsibilities—they were not just attending and receiving instruction but were producing things to share with the public. I think for us it was helpful in changing the culture internally as well. There were thirty young artists of color with different backgrounds who were suddenly in our office space. The workshops were held in our public spaces, and therefore very visible to the public audience. This helped us to change the nature of our own institutional culture, of who works here and who creates programming. At the same time it also had good individual development outcomes for students who participated. There were, however, a lot of challenges in terms of the youths' family issues and responsibilities, and sometimes also court involvement or legal issues to deal with. Also, they were from different schools and neighborhoods, and not all them were close to the museum. So we couldn't create a cohort feeling beyond the length of the program.
When we had a chance to reflect on it, the thing we wanted was to keep going and the idea of co-creation and collaborative cultural production. However, if we wanted to make a change in the neighborhoods around us, we needed to have somebody on staff whose job is not primarily situated in the museum—but out in the neighborhood spaces, and on a more regular basis. So in 2006, we hired a community organizer. To my knowledge we were the first museum to have the community organizer on staff. It was not just an outreach position trying to get more people into our building, but one of getting to know the things going on in the neighborhood, the things people want to work on, and again, the assets we as the museum can contribute.
Our first community organizer started creating forums for diverse community organizations from one neighborhood to come together to work on a shared program. We chose the neighborhood of Corona, which is an immediate walking distance from here. There were a couple of neighborhoods we thought of, such as Flushing, which is considered the largest Chinatown in NYC. It is not solely Chinese though, and is very Pan-Asian. It was a little bit more developed, whereas Corona was more challenged. Corona is also 70 percent Spanish speaking and there are a lot of new immigrants. They were coming from the different countries of South America and at different times, so it is a very heterogeneous neighborhood. We felt like because 70 percent of the people spoke the same language we could at least focus on Spanish and build that capacity, and still be able to reach a lot of people in that neighborhood.
That then led to the hiring of a position who specifically worked with proposals emerging from committee members and local cultural producers, and for large events that take place at the museum. To clarify, the community organizer job is not that. It was about the problems that we wanted to help tackle in Corona. But having that position meant we were starting to field a lot of inquiries and requests for what people wanted to do in the museum, and we had to build capacity to be able to make some of these happen.
–
KM EM:

And can you speak a little more about what those problems were?
PR: We found there was a neglect of public space in the neighborhood, there were sanitation issues, and the lack of a central place to gather to socialize, protest, or have cultural events. The people usually come from a culture in which public squares were the heart of their communities, so it was important that they had that public square, especially since most of them lived in overcrowded apartments nor had extra money to buy tickets for cultural events. So they identified Corona Plaza, which acted as entryway to the neighborhood from the train stop, but had fallen into disrepair. People wanted to clean it up and beautify it so they could be proud of it. We wanted to use it for the cultural activities, so we started working with a coalition of business and advocacy agencies to better maintain the space ourselves through coordinated volunteer events. We did block parties and regular programming. It actually reflected a lot of cultures that lived there. Corona Plaza for us became a way in which to have a presence out in the neighborhood that was consistent and also brought a lot of different groups together.
–
KM EM:

The work you've done with Tania Bruguera and the Immigrant Movement International has gained a lot of press. Can you speak more about your relationship with Tania, how it was started, and how you continue to work with IMI after she has moved on?
PR: So later came Corona Studio, which was a collaboration with artists, the museum, and the community—so the neighborhood itself became an artist studio. Tania was interested in doing a long-term project around immigration, which she sees as the biggest human rights issue of the twenty first century, an insight which feels very prescient from today's vantage point. At the same time, she was interested in developing a genre of art called Arte Útil, or Useful Art, or Art as a Tool. She was still trying to figure out that what that meant, but she knew that she wanted to go beyond a conceptual art, beyond proposing an idea as a project. She wanted to do more for meeting people's needs at specific locations and moments in time, and through practical ideas. Tom Finkelpearl, the former director at the museum, happened to be working on a book project about artists' long-term collaborations. One of Tania's previous projects was a case study, so they had had a relationship. Tom said, 'If you want to work with immigrants you should come here. You are not going to find a more immigrant neighborhood than this.' So we found a storefront in Corona that would act as a base for the project.
Tania's original idea was that she wanted to create a transnational political party for immigrants, but it wasn't legal for us to use nonprofit funds to support an actual political party. That's how it became a transnational movement around immigrant rights. So Tania lived in an apartment above the space, and she was very committed to everything she did. For the first two years. She started with a combination of larger public events and ongoing local workshops. A lot of the local community had limited formal education, so having workshops where they could learn from each other was very important. And the idea of popular education and being able to expand the network of ideas you have access to, which happened through the network of Tania, and the Museum's network of artists, we could bring those ideas and have dialogue around them.
The Migrant Manifesto was an example of a product created as a collaboration of both local folks as well as international academics, artists, curators, and activists, declaring what we thought should be demanded as the rights of migrants. We also worked on another project around December 18th—the UN Day of the Migrant. For the first couple of years we did an open call for artists and activists to do some type of action in their local communities around migrant rights, and then we would archive them online. We also had a monthly 'Make a Movement' weekend, where we would have workshops and different artists would talk about their process of thinking around immigrant issues, and exposing that to the local community. It became a kind of community cultural center.
The people that ended up finding it most useful were women, the mothers and their children. And so we realized that was something that was perhaps a hole in terms of what other organizations were providing. A lot of organizations focused on workers or on people in particular industries. But that left people out who were housewives and other people who weren't being organized around the labor industry. They wanted to have access to certain things that they felt they didn't because they didn't speak English—to have opportunities to be leaders to learn together, to be healthier. This was a space that they felt comfortable in, could bring their kids to, and weren't being sequestered in their homes. It was not a judgmental space and they felt like they were part of something bigger than their families. We had international guests coming, and it became a kind of sense of being connected to bigger ideas, and artists, and creative people who wanted to work with them.
So those are things Tania's energy really brought to the space in the beginning. After the first couple of years Tania had other projects she wanted to pursue, but the museum committed to staying on and to continue the project but without the leadership of one artist-in-residence, and rather a council of folks who were committed to the space. Before we were playing a support role and now it's us and the community directly trying to figure out what to do with the space while still respecting Tania's principles—that art had to be central to what we were doing, and the idea of Arte Util.
Now we have a full-time community organizer and space coordinator who are staff of the Museum but work out of the IMI Corona storefront. We have a public ally who works there four days a week, supporting the professional development and political educational development of the workshop leaders in the space. We have an official community council that is making decisions about activities in the space. It includes teenagers and young people as well as adults.
–
KM EM:

 What sort of projects are you doing now?
PR:

This last year they had decided that they wanted to focus on black and immigrant solidarity because the Black Lives Matter movement was so prominent, but they felt very disconnected from the roots of racism in this country. So we did a series of projects with different artists focusing on police and racial violence, and opportunities to think about race both within the American context but within of the Latino context as well.
Now we're working on a space in the community that we want to change. The public schools that their kids go to seemed like a way to connect the younger kids and adults in a project that had, at its heart, a lot of the things that have been happening for a while. This meant dealing with issues like respect for immigrants and their knowledge, language justice, issues around policing, mental health, and the importance of languages and cultures that they bring.
–
KM EM:

 To sort of wrap up we were wondering what sort of advice you would give to aspiring art administrators.
PR:

I have been at the museum now since 2004, almost twelve years, which is pretty uncommon for most people of the younger generations. There's this idea that you should be constantly moving up to larger or more well-known institutions, but to be honest I feel like I'm lucky. I got in at the best time, at the beginning of something that we could grow from the ground up. It used to be just me part-time and another employee full-time. Now our department has six full-time employees as well as several interns, and part-time event staff. I've been able to grow it, and it feels like a project of mine, a way to think of how to create the society we want to live in, as opposed to just a job.
If you're in an environment where you feel like you're growing intellectually, and you're able to develop something and make institutional change, that's important.
I think that arts administration is changing. I think that people need to see it not just as efficient management and problem solving, but almost as a form of social practice arts in and of itself. I think that it can be a creative and very democratic field, and I think that people are taking it in those directions.