"I'm a mixed being and the way that I enjoy music is in a mixed way."
–


"It's a natural desire to extend myself to people, to help them be better," Tiffany Hinton expresses over a mollete at a Pilsen, Chicago cafe. "It's part of my evolution, and CumbiaSazo is very much tied to it. It's not a separate entity. It's a way that we can express our values and the things that we're excited about. We're creating a platform and a stage for the 99 percent."
After traversing the uncertainty of her youth, dancer, MC, and consultant Tiffany Hinton, aka TiffLove, has found a platform for love, music, vision, and community. Along with DJ Itzi Nallah and VDJ caliXta, Tifflove has cultivated a Chicago-based movement in the form of a community-oriented dance party, CumbiaSazo. The monthly party-arts event takes place at Double Door in Chicago's Wicker Park, and presents an arts market, DJ sets, food, visual artists, and an all around culturally energetic experience.
At the heart of the collective is this dynamic couple, TiffLove and DJ David Itzi Nallah. Their individual passions for music and social transformation have intersected in a way that has resulted in what is the life of CumbiaSazo. The duo practices a balance between administrative responsibilities, performing, and nurturing their relationship. "He's like the undercurrent and I'm the wave. You need both. Over the course of five years we've learned to come together in a way that makes it work. We try to go for the long haul, and that's what creates success. People want to start parties and movements and they wanna pop-off right away, but nothing pops-off right away. It takes ten years to be an overnight success." They both lend essential qualities and practices to the project. This symbiotic relationship exposes the direct correlation between one's external and internal practices. It's often assumed that the two must be separate, resulting in a dissonance that prevents one from realizing their full potential. The synergy between TiffLove's work and spirit has allowed her practice and CumbiaSazo to evolve in ways unimaginable.
–

–
"He's like the undercurrent and I'm the wave. You need both."

CumbiaSazo (CS) is a kinetic playground where Tiffany, David, and Isabel (VDJ caliXta) can unleash their vision and experiment with new ideas. Their chosen platform of cumbia may seem arbitrary, but it is quite integral to the experience. Steeped deeply in the history of Latin America itself, cumbia was developed in Colombia around the time it became a Spanish colony. The sounds of cumbia were heavily influenced by the intermingling of three cultures: African, Indigenous, and European. Cumbia has since been influenced by a multitude of other cultures and many contemporary substyles have emerged: garage-band, subtropical, chica, and more. In many ways CS is still exploring the meaning of cumbia, as there are many layers. "David and I aren't Latino. At first, it was just our relationship to the music itself. David felt a pull toward world music and Global Bass [heavy electronic bass mixed with traditional musical elements from regions around the world] and the nu cumbias that were emerging. I have a visceral body response to cumbia," Tiffany reflects. "There was also a demand for cumbia. David's friends wanted a cumbia party in Chicago. They felt like there wasn't a place where young people could dance cumbia in the city and associate with music of their culture unless it was super old school. For me, it's both a reflection of our relationship as well as the demand. A lot of people tell me that CS is a place where they can connect and honor their culture. It's not a party just for activists, it's not a party just for Latinos, it's not a party just for black people. It's specialized enough that people know what it is, but it's nuanced enough that people relate. We're mixed people. David's mixed, I'm mixed, Isabel is mixed…so it needs to be a mixed party. It needs to represent the world we live in. Chicago is extremely segregated yet so diverse at the same time. There's no place to gather as mixed beings. How do we create a culture of mixedness? The music is very grounded in the idea of mixed culture."
"…. It's not a practice with the intention to be somewhere or get somewhere, but it's the intention to heal and be healed."

Not arriving at this sophisticated perspective without some strife, Tiffany's youth was one of friction. Moving sixteen times before the age of eighteen and losing her mom's guidance to Chronic Obstructive Pulmonary Disease (COPD), Tiffany was in search of herself. She recalls the sounds of her youth, "Growing up in L.A., I remember learning that if you wore a certain color you might get killed. The sound was tension. You gotta be street smart, you also just wanna be a kid, ya know? Those times were very interesting," recalls Tiffany. "My sister taught us how to steal but I didn't want to steal. There was a lot of tension, between my sister and the outside world. In some ways it was more silent because I didn't have any guidance. More than having a lot of sound, there was a lack of sound, a lack of direction, no music; nothing to tell me which way to go. The only thing I could do was observe the consequences of other people's actions and decide to do other things."
Dance was an outlet for expression and an escape from Tiffany's circumstances. "I was living in Crestwood near Blue Island and my mom started putting me in these random musicals because she had a friend who was directing them. So, I started going, and there was a time when I had to do a little dance performance. My mom's friend, who was a dancer, started telling her, 'Wow, she's pretty good for not having taken dance, you should put her in dance.' I was probably 11 or 12. For me it felt kind of late. I mean, I got there and all of these kids had been dancing since they were 4 years old. So, I felt very out of place. But he took me to an audition for a scholarship, and I started taking lessons. I was being exposed to all different styles of dance; jazz, African, and Latin. I only stayed there until I was 16. My mom started to get sick with COPD at that time, and I was making all of these big decisions for myself. Eventually, I just stopped going. I was trying to navigate my way through life at the time, but I learned a lot," said Tiffany.
–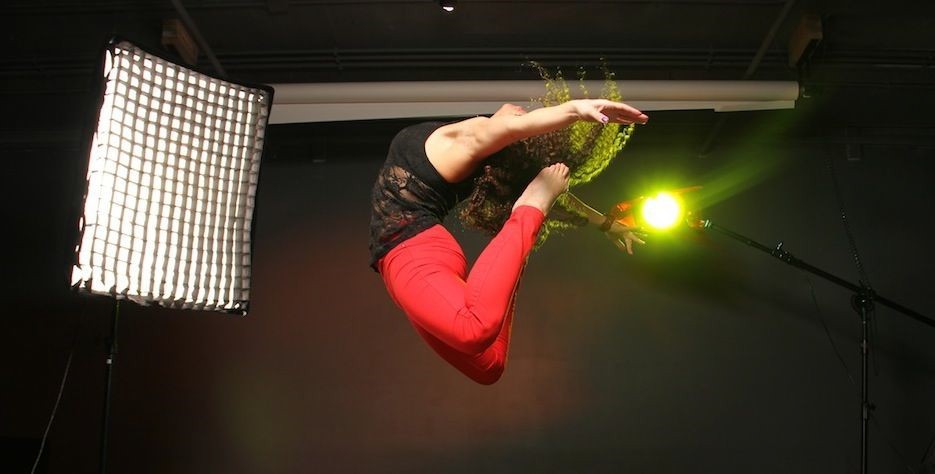 –
Although dance proved to be a temporary escape from her personal life, Tiffany was still developing ideas around practice. "I wouldn't say I thought about practice at the time. I thought about options. It's all very intertwined with my own baggage as a kid. In order to take dance classes, everyday I had to go home, get my stuff, take the metra train by myself from the suburbs to downtown and get to dance class. So for me, being able to do that was a way to get away from potentially getting beat up after school or getting into trouble. Essentially, I would get picked on because of how I look. It was a way to get out. It wasn't about practice it was about trying to be better. I've always thought that I've had a life calling, and despite my upbringing, it's always pushed me to keep going or have some deeper insight that allowed me to observe what people did and try to be better."
Dancing independently of her classes, Tiffany's evolution as a dancer was greatly connected to her own healing and personal evolution. "It's not about a particular style of dance, it's about how the music makes me feel and that dictates how I move. The way that I dance, the way I interpret music, the way that I show up on stage, the way that I interact with other people; it's really learning to control and harness my energy. I think that we all possess the ability to heal and be healed. I think that dance has the ability to heal. In some ways my practice is how I utilize my energy. I can see how it impacts other people and I can see what I do differently that changes the way that people interact with me on the dance floor. It's not a practice with the intention to be somewhere or get somewhere, but it's the intention to heal and be healed."
"Community is cultivating people's gifts and helping them to become their most authentic self."

Much of this transformative exchange takes place at CumbiaSazo, where Tiffany radiates her magnetic zeal on stage and uses CS as a platform to empower community. "Community is cultivating people's gifts and helping them to become their most authentic self. There are a lot of artists that have a lot of talent that get overlooked and it's sad. CS has become a place for those artists. It creates opportunity for people, which inevitably creates community. I think we're still learning and figuring out what that looks like. We realize that some people grow out of it and some people grow into it. That's completely okay, because we're constantly changing too. I've gone in and out of CS myself. It's life."
"There are so many communities that want to shame you for this or that and they're just toxic. I'm trying to practice what a healthy community can look like."
CS brings the energy, the party, and the people, but there is a significant amount of work that goes into coordinating the events and everything they do. The three founders, Tiffany, David, and Isabel, are responsible for all administrative, creative, and technical responsibilities and tasks. As Tiffany describes her role, "I'm responsible for organizing all of our vendors for each event. Once we're at the actual party I help set-up, run the merch table, I also vibe-check the space, check in with people, and manage conflict when necessary. I take a lot of pride in the energy of the space. We're also doing kids parties now. We recently got a grant to do some kid parties with the Park District of Chicago, and I'm overseeing that. I also started managing all of our external bookings and contracts as well as our annual retreats."

The collective is currently in the process of transitioning from startup mode to a small business model. Doing this requires some restructuring. "We're shifting the organizational model from being based around the founders to a model that can run itself," Tiffany stresses. "We can still dictate the vision but ideally we wouldn't be in the muck of it all. We're still very much in the muck. David, myself, and Isabel do everything. We do have some volunteers and people who help with things."
Delegating tasks will allow the group to focus on what they can do beyond their monthly event. "We want it to be more than just the party. There are a lot of conversations around what that should look like. So we study other models and think about what we want to do and how best to do it. It's not anything that just happens just like that. It takes time. It's all up in the air right now. There are a lot of things we could do. We could tour more, produce music, start an agency, artist development, start a record label, start a lifestyle brand, we could continue to just be a party, we could tour the party, we could start a festival. Right now we're in an experimental phase to see what feels good, what fits, and what people will react to."
Although Tiffany has found a comfortable home with CS, she continues to expand her practice and explore ways of merging the seemingly disparate. "CumbiaSazo is one thing that I'm doing. I'm trying to do a lot of things, and it's the culmination of all of those things together that build something. I'm trying to identify personally the big thing that I want to build and what kind of impact I want to have. CS is a part of that. We're not in a rush to figure it out, but we find out mostly through doing. If you want to build something you gotta be willing to stick with it. It will come together if it's the right thing. My pride around all of this is commitment and consistency."


"I'm trying to do a lot of things, and it's the culmination of all of those things together that build something."