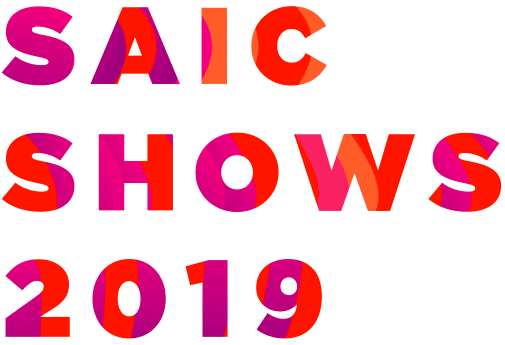 The School of the Art Institute of Chicago (SAIC) celebrates our talented students completing their undergraduate and graduate degrees this year. All events are free and open to the public.
Spring Undergraduate Exhibition
March 9–29
Reception: Saturday, March 9
12:00–6:00 p.m.
ArtBash 2019
April 5–19
Reception: Friday, April 5
4:30–7:00 p.m.

IMPACT Performance Festival and Exhibition
April 12–May 3
Performances: April 12 and 14
Opening Reception: April 19, 7:00 p.m.
Exhibition: April 22-May 3
Historic Preservation Thesis Night Reading
MFA Show
April 27–May 15
Reception: Friday, April 26
7:00–9:00 p.m.
Fashion 2019
May 3
Exhibition: 9:00 a.m.–4:30 p.m.

Runway Show: 7:00 p.m.
Art Education Graduate Symposium
May 8
9:00 a.m.–4:00 p.m.
Film, Video, New Media, and Animation Thesis Screenings
May 8–11
Screening times TBD
Apprentice Teaching Showcase
Show Don't Tell: The 2019 Visual Communication Design Show
Design Show
May 11–28
Reception: Saturday, May 11
Post-Baccalaureate Annual
May 11–13
Reception: Saturday, May 11
4:00–7:00 p.m.
Visual and Critical Studies Undergraduate Thesis Symposium
May 11
10:00 a.m.–4:00 p.m.
New Arts Journalism Symposium
BFA Writing Program Reading
Master of Arts in Art Therapy and Counseling Graduation exhibit and thesis presentations
MFA Writing Program Reading
Low-Residency MFA Show
July 12–28
Reception: Thursday, July 11
6:00–8:00 p.m.
Traces: An Unsymposium Symposium, MAVCS 2019
April 27
9:30 a.m.–4:00 p.m