How to Dig a Hole Outside Itself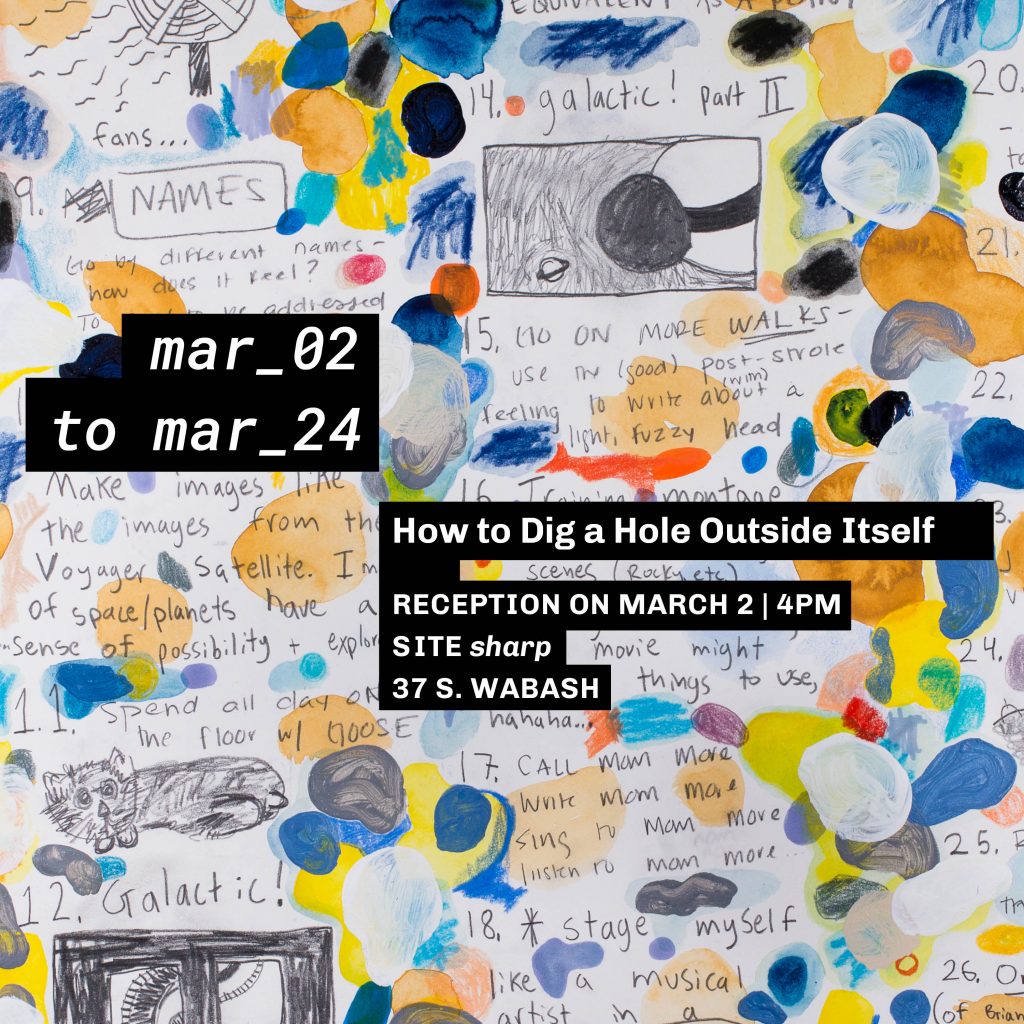 SITE Sharp
March 02 to March 24

Friday, March 2: Opening Reception, 4:00-6:00
Tuesday, March 13: Creating Between, Curating Within: Gallery Tour and Artist Talk; 4:15-5:15
Tuesday, March 20: Sharing Shovels: A Round-Table Discussion, 4:15-5:30
Ongoing: Collaboration Exchange
Through exchange, play, and arrangement, How to Dig a Hole Outside Itself creates scenarios to access unknown outcomes. This loosely chronological exhibition charts the collaboration between Jasper Goodrich (MFA, 2018) and Alden Burke (MA, 2018) as they learn about each other, creating a shareable practice. Marrying Goodrich's iterative and unwieldy image making and Burke's faculty for vulnerable and empathetic exchange, the two react against and within the interests of the other as a way to materialize the unimaginable.
This studio visit series invites collaborative groups to join Burke and Goodrich in the gallery to discuss the role of exchange in their respected practices. The conversation is followed by a participatory exercise facilitated by Burke and Goodrich. The outcome of these visits will culminate in a closing event in which the participants of Collaboration Exchange are invited to join us in a panel discussion to speak about collaboration through a number of perspectives.
If you and your collaborator(s) are interested in participating in Collaboration Exchange, please contact the SITE team at sugs@saic.edu by March 1st
Creating Between, Curating Within: Gallery Tour and Artist Talk
Tuesday, March 13, 4:15-5:15 SITE Sharp
Join us for a gallery tour and artist talk in which Burke and Goodrich walk through the process of creating the exhibition. Moving through the works, the two discuss their time together, including the role and nuances of collaboration, challenging title-as-barrier modalities (artist as maker, curator as editor), and the process of working together.
Sharing Shovels: A Round-Table Discussion
Tuesday, March 20, 4:15-5:30 SITE Sharp
Throughout the exhibition, a series of Collaboration Exchanges take place in the gallery in which Burke and Goodrich meet with other collaborative groups to discuss their practices. The visiting collaborators are invited to join Burke and Goodrich in a closing round-table discussion, presenting their work and discussing the role of collaboration.