OPEN CALL: Projections on Loop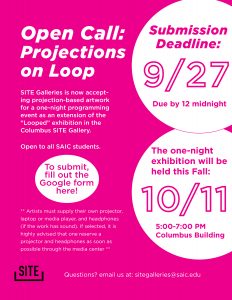 SITE Galleries is now accepting projection-based artwork for a one-night programming event as an extension of the "Looped" exhibition in the Columbus SITE Gallery. Artists are invited to bring their own projectors and showcase their time-based artwork throughout the Columbus building and pit.
Open to all SAIC students.
Please submit your work by September 27th, 2019, for consideration.
** Artists must supply their own projector, laptop or media player, and headphones (if the work has sound). If selected, it is highly advised that one reserve a projector and headphones as soon as possible through the media center**
The one-night exhibition will be held this Fall in the Columbus Building on October 11th, 2019.
Show will run 5:00pm-7:00pm. Artist check-in and install begins at 4:15 pm.
**All artists must be present for install and de-installation.**
Email sitegalleries@saic.edu with any questions,
please include "Projections on Loop" in the subject line