It was an ordinary day for Yellow, and she sat on a chair with coffee. As she fell into a deep ocean of contemplation, numerous colors started to flow from her. It was a beautiful harmony of color. As time went by, the colors slowly went back to her. Yellow is back.
A 55 minute timer. As it is unfolded to set a time, it reveals beautiful colors, beginning with yellow. The color folds show different colors when seen from different angles. Available in Blue/Violet, Green/Pink, or Orange/Purple.
White corian, timer mechanism, steel wire, and printed paper
4.8" Ø x 2.15" H / 12cm Ø x 5.5cm H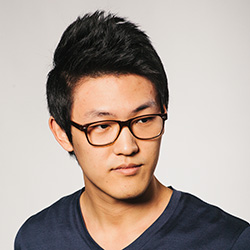 Jay Hyun Kim
Master of Design in Designed Objects, 2014
Jay Hyun Kim believes that design must integrate functionality and beauty; products should have purpose and provide pleasure to users. His experience on the graphic user interface for smartphone applications has influenced him to create more intuitive-based object designs. Jay acquired a BFA in Industrial Design at Rochester Institute of Technology in New York.