Red, blue, yellow and magenta are the spoils of your cunning, the trophies of your shoplift. This anti-theft ink was once theft proof. Now it is proudly worn as proof of theft.
A blown glass wearable sculpture resembling the internal components of an anti-theft tag. Available in Red, Yellow, and Blue.
Blown borosillicate glass, nickel plated stainless steel, and plastic presentation base
1.5" L x 1/2" Ø / 3.8cm L x 1.3cm Ø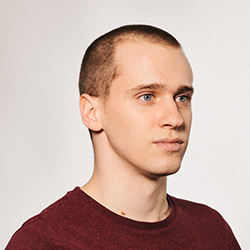 Samuel Matson
BFA: Designed Objects/Art and Technology Studies, 2013
Samuel Matson likes his design the same way he likes his lutefisk: practical, enduring, and technologically advanced for its time. Through his designs, he merges the digital with the visceral to discover unexpected innovations.