I am the shadowy still reflection of a colorless pool. I am the deep, the dark, and the infinite. I am a place to rest your light-weary eyes, a pause between colors, all and none.
Cast glass table mirror with asymmetrical viewing angles. A contemporary Claude Glass. Available in Large (4-sided), Medium (2-sided), or Small (3-sided).
Cast and polished glass
Large: 4" Ø x 2" H / 10.2cm Ø x 5cm
Medium: 3.5" Ø x 2" H / 9cm Ø x 5cm
Small: 3" Ø x 2" H / 7.6cm Ø x 5cm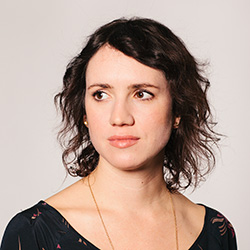 Ada Mayer
Master of Design in Designed Objects, 2013
Stemming from a background in branding design, Ada Mayer's practice is grounded in the principles of visual communication. She pairs a journalistic approach to research with an explorative approach to materials, composing speculative narratives within archetypal forms.