They call me boring. They tell me I don't have enough personality. They say I'm just like all the others. But don't they know? I am the father of their children. I am the unpredictable spectrum of life.
A 365 day perpetual calendar. Each day is printed with a different shade of gray indicative of the changes in daylight through the year.
Digitally printed paper, steel, and wood base
Paper: 11" H x 5" W x 2.25" D / 30cm H x 13cm W x 5.7cm D
Base: 6.5" Ø x 1.75" H / 16.5cm Ø x 4.4cm H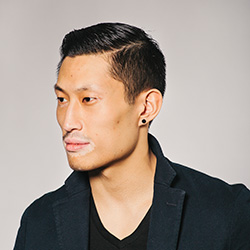 Justin Hu
BFA: Designed Objects, 2013
Justin Hu believes the relationship between an object and a person is much like the chemistry between two people. True intimacy takes more than a romantic encounter. Passion hangs by a thread. Enduring appreciation is what nurtures love. Justin was raised and educated in California, Hong Kong, New York, and Beijing.