Since the day we were born, we have had the same body,
but different characters.
We don't fight, we love each other more.
Every day we walk hand in hand, we sleep side by side.
We are small but we are many and mighty.
Together we sing out loud to show our courage.
We stand out. We face any challenge in front of us.
We know we are not alone.
We have us.

A doorstop made of multi-colored rubber.
Colored urethane rubber compound
5.5" W X 5.5" L X 1.5" D / 14cm W X 14cm L X 4cm D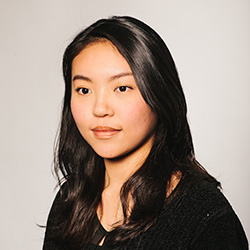 Hsi Chen
Master of Design in Designed Objects, 2013
Hsi utilizes simple forms and materials to reveal the complexities embedded in objects. Her work explores the inherent and intrinsic value in the way objects are conceptualized, materialized, perceived, and used. Trained as an industrial designer in Taiwan, her practical skills facilitate her process towards drawing the tangible from the intangible while maintaining her imaginative sensibility.