Fabric screen
In movement, we become alive. We don't reveal ourselves in the stillness, but in the traverse.
Lunar is a fabric screen that cinematically reveals itself in moments of transition.  The ceiling-mounted panels can be installed to divide space or provide subtle modulation of light. The graphic movement offers optical fascination and illusion, and allows for subtle concealing or revealing of what lies beyond it. Screen: 8.5 feet x 32 inches; 259 x 81.3 cm; Hardware: 12 x 36 x 1 inches; 30.5 x 91.4 x 2.5 cm; variable length standoffs available. Cotton organdy and powder-coated aluminum
Photos by Jonathan Allen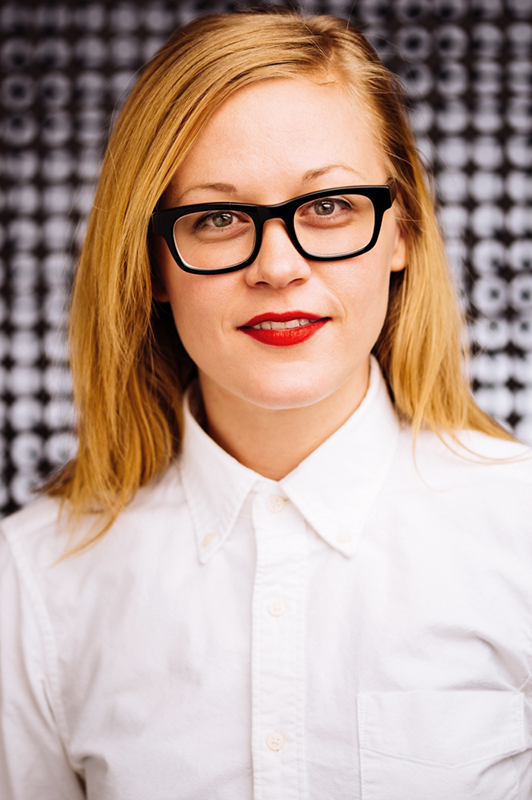 Arianna Petrich
Master of Fine Arts in Designed Objects, 2015
Arianna Petrich is an artist and designer interested in the range of possibilities hidden within moments of translation. Her work has been deeply imprinted by her experiences in New Orleans and India; both places where material richness is layered with key virtues like flexibility, ingenuity, and adaptability.  During her years living in New York this interest took a concrete form with her jewelry line overdot, based on reconfigurable pieces made from straightforward materials.
Arianna's work has been featured in publications including the New York Times, Core 77, the Times of India, and Architectural Digest. She earned her Masters of Fine Arts in Designed Objects from the School of the Art Institute of Chicago and her BA in Art History from Tulane University.