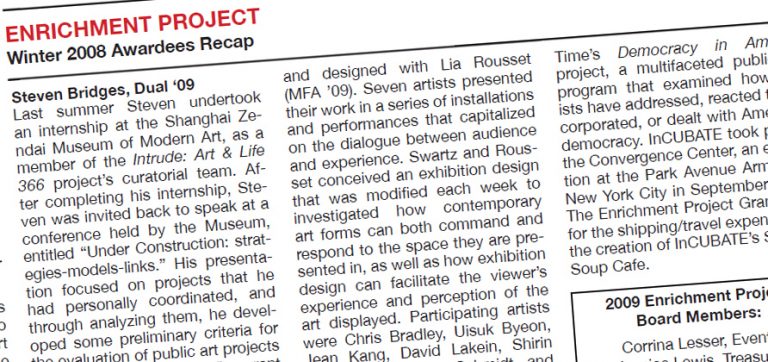 About the Enrichment Fund
The Master of Arts in Arts Administration and Policy (MAAAP) at the School of the Art Institute of Chicago (SAIC) is an interdisciplinary program that invites extended and focused theoretical and practical explorations into culture, policy, institutions and their practice. To that end, the students in the MAAAP program engage in the wide-ranging aspects of this growing field. Attending conferences, traveling for research, doing internships, curating exhibitions, and an immersion in the art world are important goals for every student. The Enrichment Fund is a student run initiative that was founded in 2006 to offset the costs while studying these areas and participating in career based activities.
In its first year the Enrichment Fund raised over $25,000 to start an endowment with the sole mission of granting to student projects within the MAAAP program. Since then, grants have supported various student undertakings such as a trip to Los Angeles to conduct thesis research on a Latino theater festival; a thesis research trip to Paris, an annual arts festival; and funding a symposium and related publication on Arts Administration at a local gallery. Future grants will assist students in covering costs incurred by research and travel.
The ever evolving and globally growing field of Arts Administration requires direct contact with art world. While the Enrichment Fund has been successful in past years, this remains the only source of support for students in the MAAAP program. There are new cultural boundaries to cross, organizations to explore, and art to see.
---
Our Mission Statement
The Enrichment Fund provides financial support for graduate student projects to strengthen research and contribute to the vitality and success of the Master of Arts in Arts Administration and Policy (MAAAP) program at the School of the Art Institute of Chicago. Directed by an advisory board of current MAAAP students, the Enrichment Fund is a peer to peer grant-making platform geared toward supporting the unique and varied needs of emerging arts administrators and curators.
Current Board Members (Spring 2023)
Justice Henderson (DUAL '23) is an arts administrator, art historian, and artist interested in community engagement, curatorial work, and creative placemaking. Justice earned a BFA in painting and a BA in public relations at the University of Arkansas in Fayetteville. With experience in museum interpretations, education, and data collection, she is pursuing the dual degree program in Arts Administration and Policy and Modern and Contemporary Art History, Theory, and Criticism to focus on creating equitable spaces focused on providing resources and opportunities to artists.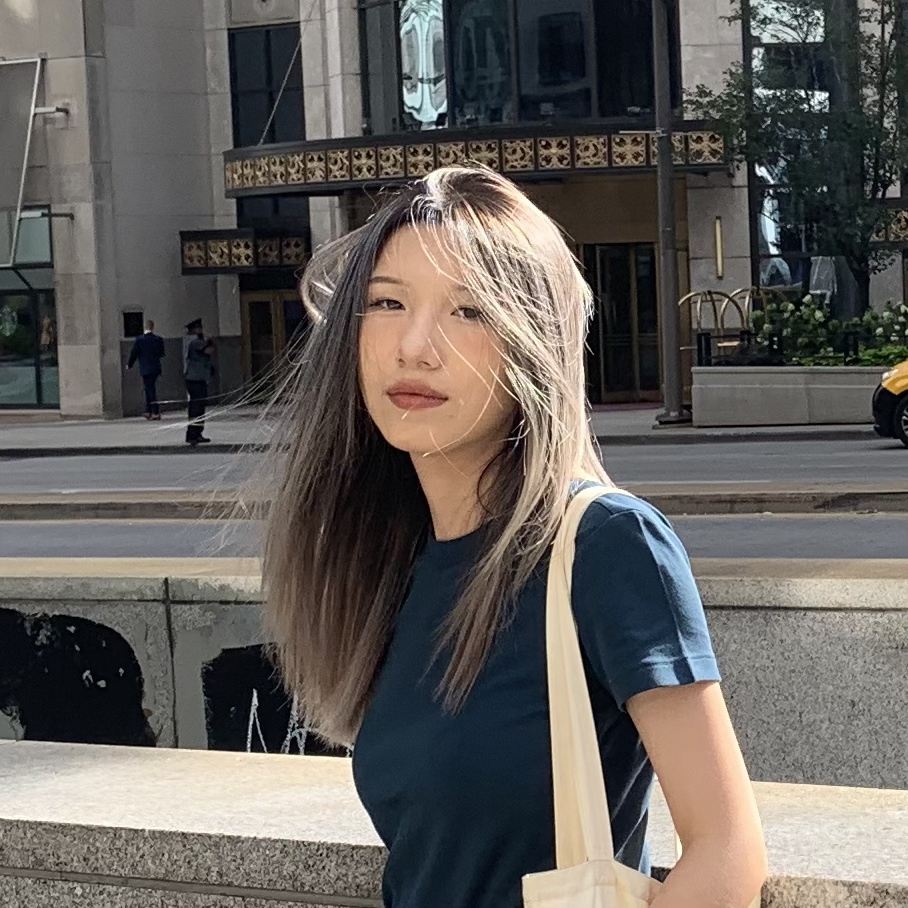 Shi Tang (Tessie) (DUAL '25) is a curator and artist currently living and working in Chicago. She has a degree in public art and during her undergraduate years she explored the use of different media in the public sphere as an artist; she also worked in different art institutions, gaining experience in exhibition research, public education, etc.

She wants to explore how art can be used as a new social intermediary to generate new life possibilities in communities, and what is the role of art institutions and boards in this regard.
Tessie is a first-year student in the Dual Degree Master's program in Art History and Arts Administration at SAIC. She is looking forward to comparing community construction research in China and Chicago, exploring the differences between cultures in the context of globalization and the ways in which art is integrated into communities in different institutional and social contexts.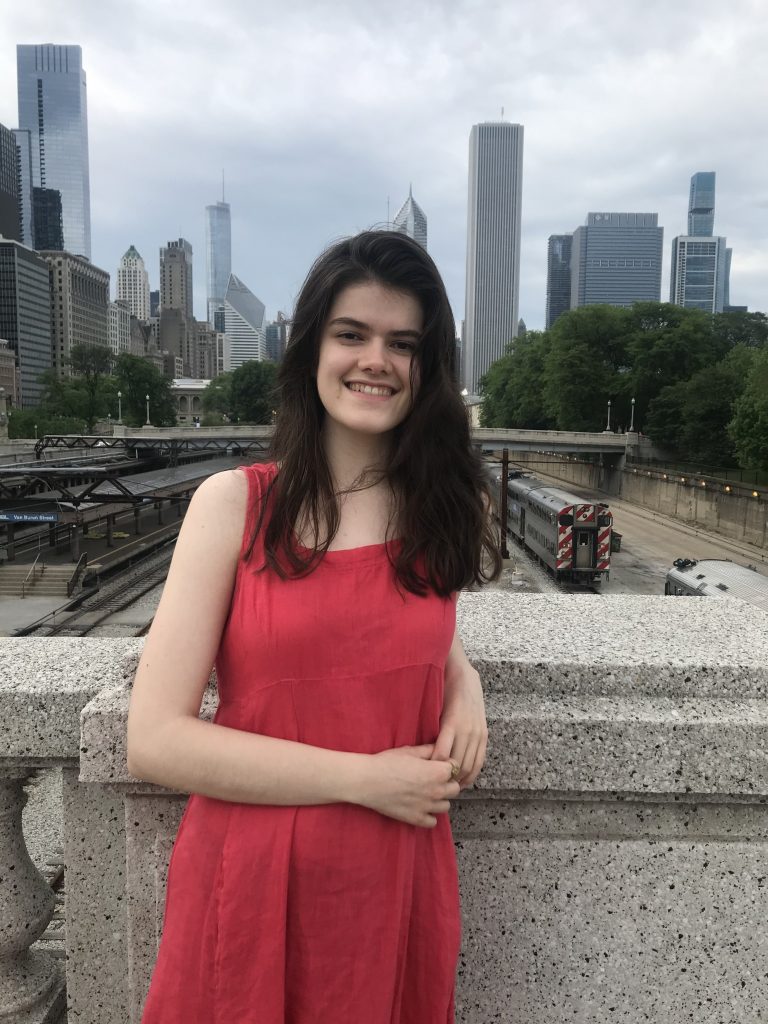 Alice Matthews (DUAL '23) received her BA in Art History and Italian Language and Literature with a Concentration in Museum Studies from Smith College. While originally from Texas and the Carolinas, she is coming to Chicago from Boston where she worked in museum education and visitor engagement.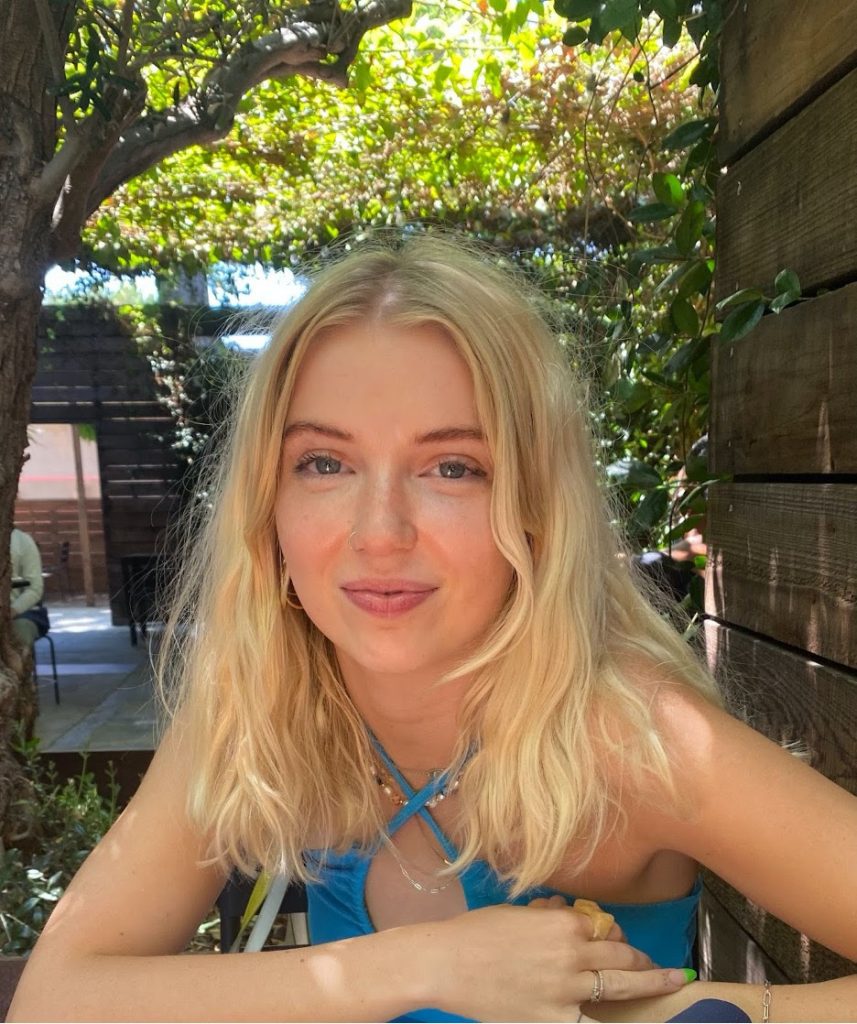 Georgia Patterson (MAAAP '23) is an artist, dancer, and arts administrator from the Chicagoland area. She is currently pursuing her passion for art through her graduate studies at the School of the Art Institute of Chicago, working towards her Masters in Arts Administration and Policy. Before moving back to Chicago, Georgia made a home for herself in Salt Lake City at the University of Utah, pursuing artistic endeavors around the city both through and outside the university. She graduated in 2021 with a BFA in Modern Dance and a minor in Art History.

Throughout her life, she has been involved in a variety of dance works and participated in multiple gallery showcases. Her training consisted of close studying under Bea Rashid, Mike Gosney, Victoria Barlow, Julie Cartier, and many more artists and educators based in Chicago. She has done multiple workshops and intensives, including training with Hubbard Street Dance Chicago, New Dialect, Ririe-Woodbury, and other freelance artists. She also worked for the Utah Museum of Contemporary Art as their development intern and worked closely with the Weinberg College of Arts and Sciences at Northwestern University.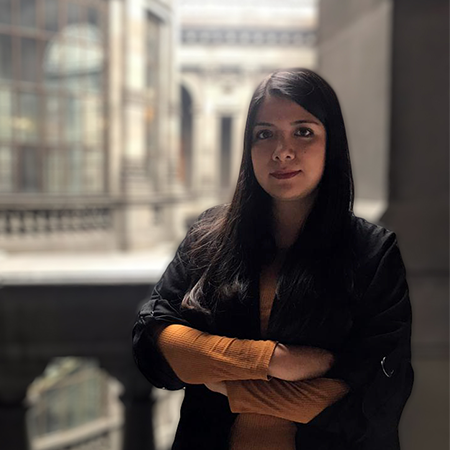 Alivé Piliado (DUAL '23) (she/her/hers) is a Mexican art historian and curator of modern and contemporary Latin American art, currently pursuing the dual MA degree in Arts Administration and Policy and Modern and Contemporary Art History at the School of the Art Institute of Chicago. She holds a B.A. in Art History from Universidad Iberoamericana, Mexico City, and performed academic studies at Tel Aviv University, Israel. She currently collaborates with the curatorial department of Modern and Contemporary Art at the Art Institute of Chicago conducting modern art research for the collection and the upcoming exhibition Remedios Varo: Science Fictions. Before attending SAIC, Alivé served curatorial positions in Mexican national public museums such as the Museo Nacional de Arte, MUNAL, and Museo Nacional de San Carlos. Alivé advocates and supports inclusive discourses in museums and promotes diversity both within arts organizations and in terms of audiences and community outreach.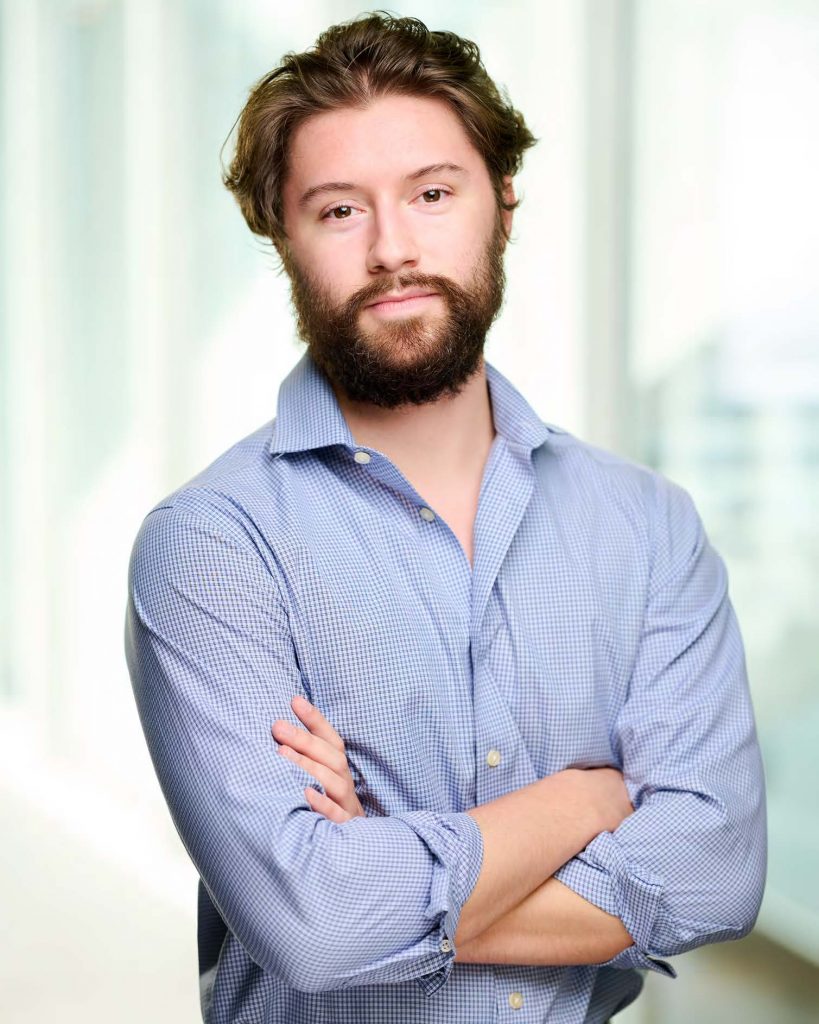 Lucas Gómez-Doyle (DUAL '25)(he/him/his) is a first-year graduate student in the Dual Degree Program (MA in Arts Administration and Policy & MA in Modern and Contemporary Art History) at the School of the Art Institute of Chicago (SAIC). Raised in Chicago, he received his BA from New York University Abu Dhabi (NYUAD) in Social Research & Public Policy with a concentration in Art History in 2022. At NYUAD, Lucas co-directed BEN, a student-run program that creates dialogue about leadership and masculinity for youth in the UAE, and REACH, an organization designed to provide undergraduates wellness support through mental-health education. His senior thesis, "A False Positive: How Political Partisanship Affects Vaccination Intentions in the United States," received the Social Science Capstone Award for Excellence. Lucas has interned with the Art Institute of Chicago, the Field Museum, and Joffrey Ballet Chicago, where he trained as a ballet dancer for over a decade. His academic practices apply interdisciplinary frameworks, focusing specifically on black cultural and aesthetic theory, to modern and contemporary art. At SAIC, Lucas works as teaching assistant for the Department of Art History, Theory, and Criticism.
Spring 2022
Justice Henderson
Alice Matthews
Marielle Mervau
Sigrid Neptun
Georgia Patterson
Yunyao Que
Fall 2021
Mariela Acuña
Justice Henderson
Alice Matthews
Marielle Mervau
Sigrid Neptun
Yunyao Que
Gabriela Trinidad-Pérez
Spring 2021
Mariela Acuña
Emily Nagel
Robert Pierce
Tatyana Scott
Gabriela Trinidad-Pérez
Fall 2020
Karla Aguiñiga
Sarah Evers
Sofía Gabriel Del Callejo
Emily Nagel
Robert Pierce
Tatyana Scott
Gabriela Trinidad-Pérez
You Wu
Spring 2020
Karla Aguiñiga
Sophie Buchmueller
Maura Connors
Sarah Evers
Margaret Halquist
Fall 2019
Sophie Buchmueller
Maura Connors
Nicolay Duque-Robayo
Rebecca Haley
Margaret Halquist
Spring 2019
Rebecca Haley
Victoria Peña
Francisca Rudolph
Nicolay Duque-Robayo
Hayley-Jane McPeters Blackstone
Fall 2018
Shannon Hebert Waldman
Hayley-Jane McPeters Blackstone
Constanza Mendoza
Jean Osberger
Kaity O'Reilly
Victoria Peña
Francisca Rudolph
Spring 2018
Vicki Evangelia Anton
Jean Osberger
Kaity O'Reilly
Allie Beck
Yiqian Lin
Giannella Ysasi Tavano
Fall 2017
Vicki Evangelia Anton
Paulina Fedotova
Nicolas Rodriguez
Carlos Salazar Lermont
Allie Beck
Yiqian Lin
Giannella Ysasi Tavano
Spring 2017
Paulina Fedotova
Nicolas Rodriguez
Carlos Salazar Lermont
Israel Pate
Courtney Graham
Libia Bianibi Lopez
Emily Ann Breidenbach
Fall 2015
Ellen Brinich
Emily Daura
Tihela Feit
Jacelyn Kee
Jameson Paige
Sarah Skaggs
Asha Iman Veal
Chair: Adelheid Mers
Spring 2015
Ellen Brinich
Tihela Feit
Jacelyn Kee
Sarah Skaggs
Chair: Adelheid Mers
2014
Arthur Kolat
Lauren Pachecho
George Price
Alison Reilly
Samantha Reynolds
Chair: Adelheid Mers
2013
Jenni Groot
Kyle Riley
Alyssa Larkin
Gan Kanji Uyeda
Ann Meisinger
Laura P. Trejo, Member Emeritus
Katie Kurcz, Alumni Board Member
Spring Chair: Rachel Weiss
Fall Chair: Adelheid Mers
2012
Jeanelle Chang
Lawren Baer Joyce
Mina Matlon
Renee Mikon
Raven Munsell
Sami Stevick
Laura P. Trejo
Kaitlyn M. Wittig
Spring Chair: Adelheid Mers
Fall Chair: Rachel Weiss
2011
Jeanelle Chang
Janice Cho
Anna Festa
Marcelina Geurrero
Jennifer Mefford
Karen Patterson
Francisco Rosas
Rachel M. Wolff
Chair: Adelheid Mers
2010
Sara Avila Abud
Rachel Buckmaster
Katie Fahey
Laura Caroline Johnson
Bana Kattan
Philip Nadasdy
Morgan Walsh
Rachel M. Wolff
Chair: Nick Lowe
2009
Corrina Lesser, Events
Jessica Lewis, Treasurer
Dorota Nelson, Communications
Kelly Shindler, Communications
Francesca Wilmott, Secretary
Alumni Members:
Elizabeth Chodos
Lauren Grundhofer
Chair: Nick Lowe
2008
Jennifer Jansen, Treasurer
Katie Kurcz, Communications
Abigail Statinsky, Events
Hanna Swartz, Communications
Abby Wilcox, Secretary
Alumni Members:
Elizabeth Chodos
Lauren Grundhofer
Chair: Nick Lowe
2007
Jennifer Jansen, Fundraising
Cecilia Vargas, Fundraising
Elizabeth Duffy, Fundraising
Founding Board 2006
Maissa Alsuwaidi
Chiara Bernasconi
Elizabeth Jean Haseltine Chodos
Hillary Cook
Stephanie Greene
Lauren Grundhofer
Eun Young Ju
Elizabeth Lane
Yong Su Lee
Melissa Matuscak
Andrea Adame
Bevin Ross
Kerry Schneider
Amanda Tillstrom
Caroline West
Heidi Doreen Wirth
SAIC Arts Administration Department
MacLean Center
112 S. Michigan Ave., Suite 601
Chicago, IL 60603
For donations or questions, please contact us:
The Enrichment Fund Board
enrich@saic.edu
Kate Dumbleton, SAIC Associate Professor
and Hyde Park Jazz Festival Co-Director
kdumbleton@saic.edu