Allie Beck – Imagining Tomorrow
Thanks to support of the Enrichment Fund Board, in May of 2019 I travelled to Karlsruhe, Germany for an international Seminar: Imagining Tomorrow to collaborate with other graduate students around design thinking and propose interdisciplinary solutions to clients. There I joined a group of 50 international students from SAIC, Karlshochschule International University, and HKU University of the Arts Utrecht for a two-week seminar and collaboration. We worked together on projects supporting clients from non-profit organizations which focused on social issues, such as the Anne Frank Zentrum (Museum) in Berlin or the ZKM Museum in Karlsruhe.
Our interdisciplinary teams consisted of management, marketing, arts administration, and art students. Each team joined multidisciplinary forces to ideate, collaborate, ask questions of the client, and present solutions. My team of five included German, Chinese, and Dutch students who were artists, administrators, and designers were we worked with the Anne Frank Zentrum to redevelop their website, generate surveys that addressed contemporary struggles with anti-Semitism and racism, and create a mock marketing campaign. During this time, I developed a toolkit and knowledge of design thinking practices to apply to my future work and value for multidisciplinary collaboration across cultures.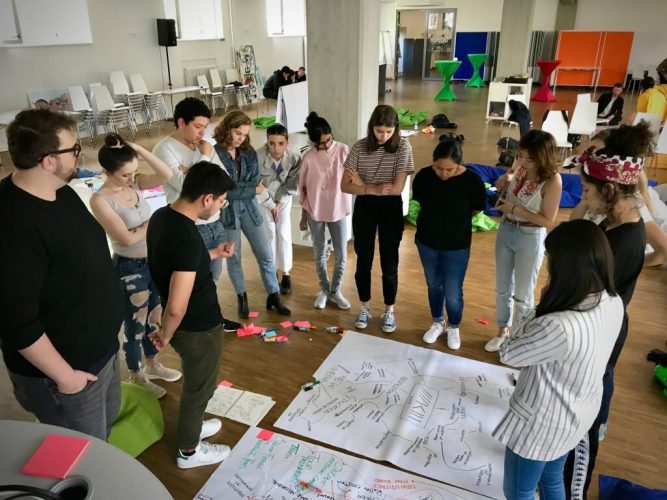 SAIC Arts Administration Department
MacLean Center
112 S. Michigan Ave., Suite 601
Chicago, IL 60603
For donations or questions, please contact us:
The Enrichment Fund Board
enrich@saic.edu
Kate Dumbleton, SAIC Associate Professor
and Hyde Park Jazz Festival Co-Director
kdumbleton@saic.edu