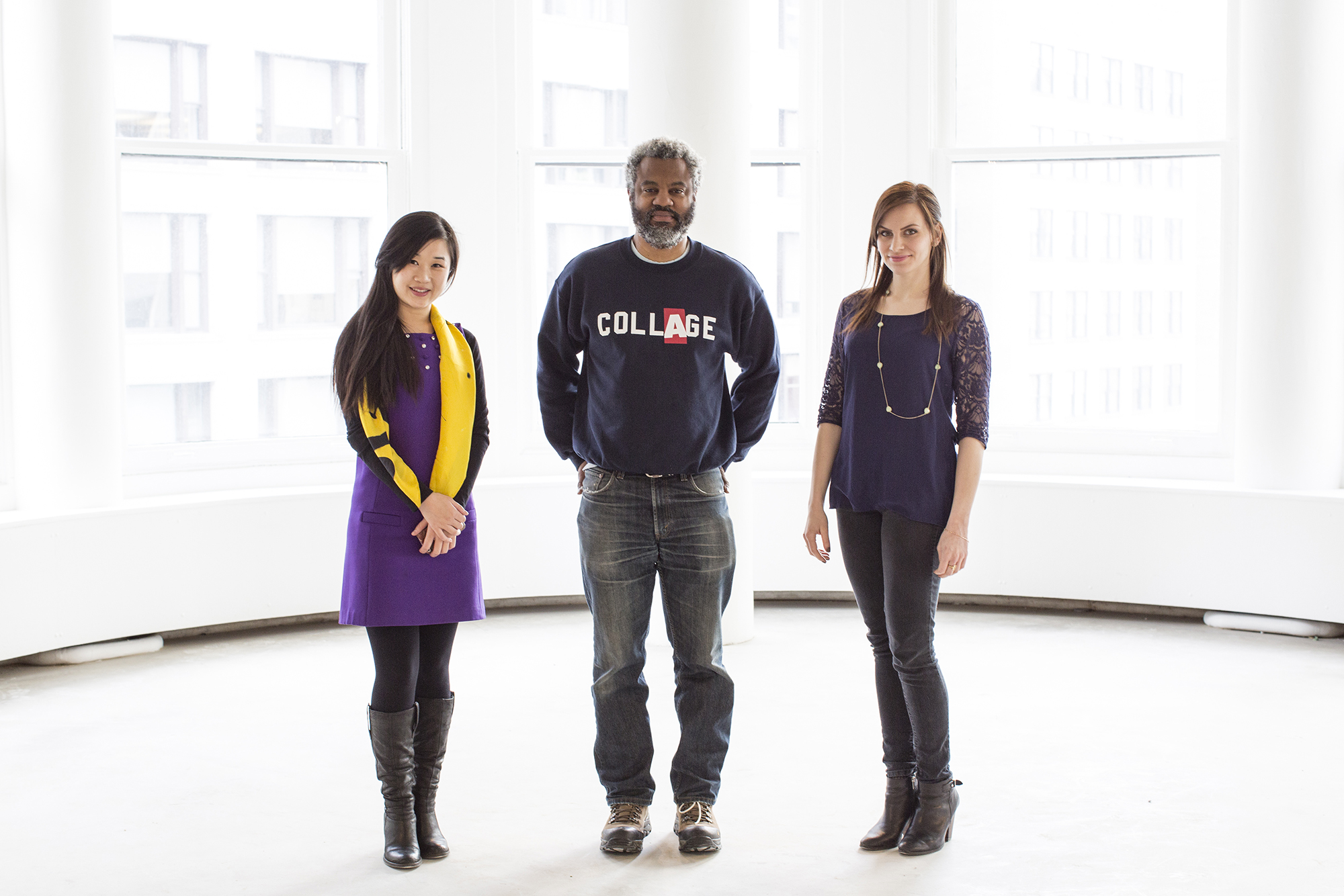 We are thrilled to have the opportunity to work with Hamza Walker on this year's MFA Show. Walker has been a fixture in the Chicago art scene for nearly three decades. As the director of education and associate curator at the Renaissance Society at the University of Chicago for the better part of that time, he has become known locally and nationally for his innovative curatorial work; indeed, The New York Times named him one of the most influential curators in the country. He's also a noted essayist, highly esteemed for his eloquent writing on contemporary art, which has been published in numerous exhibition catalogues and leading industry magazines like Trans, New Art Examiner, and Artforum.
An alumnus of University of Chicago's Art History program and former Public Art Coordinator for the City of Chicago's Department of Cultural Affairs, Walker was already well vested in the cultural climate of the city before taking up his post at "The Ren" in 1994. Moreover, he has served on the board of various local art organizations including the former alternative art space, Randolph Street Gallery; Noon, an annual short fiction publication; the non-profit presentation series of experimental music, Lampo; and the Graham Foundation for Advanced Studies in the Fine Arts.
His diverse and extensive vitae as a Chicago arts professional is noteworthy because, according to Walker, curating is a matter of place rather than taste. When organizing an exhibition or developing public programs, Walker avowedly wants to bring "something new to the table" in an effort to expand the dialogue already happening within the Chicago art community. The Chicago Tribune once labeled him as an "old-school" curator because of his investment in ideas for their own sake. Indeed, Walker admits that he often struggles with contemporary art because it can be difficult, confusing, and hermetic. His eagerness to "figure the work out," however, is precisely what drives his passion for working with emerging and established artists.
To that end, it makes sense that Walker opted to retain his title as director of education at the Renaissance Society even though his role has expanded to include so much more over the years. It's a testament to not only the inventive and thought-provoking exhibitions and inter-disciplinary programs he develops, but also how he views his own curatorial practice. He sees his role as a curator as an educational opportunity—for both himself and others. Perhaps one of the more distinctive aspects of Walker's approach to curating is the central role to which he assigns the artist. Rather than "cherry-picking" work from an artist's studio, he posits himself more as an artist's aid. Preferring to work closely with the artist to select work for an exhibition, Walker believes that a curator must respect where the artist's "head is at and where they want to go."
Walker didn't set out to be a curator, however; as he puts it, he "backed into it." While working for the Department of Cultural Affairs in the early 1990s, Walker was responsible for placing art in libraries around the city. He realized that selecting artwork that aptly reflected, engaged, and challenged specific neighborhoods was crucial. According to him, it was then that he realized his role as a "curator."
Organizing exhibitions at The Renaissance Society was a significant shift in gear from his work as Public Art Coordinator due largely to the former's clandestine location in Hyde Park. Founded in 1915, the independent non-collecting institution has a long history of groundbreaking exhibitions. It's housed on the fourth floor of the University of Chicago's Cobb Hall and can be easily bypassed, even by students. Although the gallery's logistics limits occasional foot traffic, it also means that there is a very dedicated audience. This allows Walker a certain amount of liberty, he says, and offers him the chance to create shows and bring in artists he might not otherwise be able to like Kara Walker, Joan Jonas, Thomas Hirschhorn, Kerry James Marshall, and Michel Auder, just to name a few.
His most valuable tool as a curator, however, may be his ebullient personality. Walker is an avid listener, and an even more enthusiastic talker. It's clear that he's invested in people and their ideas when he speaks, and he's not shy to share his own. It's his uncanny ability to be highly personable right off the bat that Suzanne Ghez, former executive director of The Ren, touched on when she said he has the talent to "provoke artists into revealing personal insights" that help viewers better understand the full complexities of their work.
Walker asserts that working with students is one of the most rewarding parts of his job, because they're "fresh" and "always thinking about things in new ways." He is excited and honored to be a part of the School of the Art Institute of Chicago's 2015 MFA Show.
Margaret Carrigan, Master of Arts Candidate in Art History, Theory, and Criticism, 2015
Yiquing Li, Dual MA Art History, Theory and Criticism, and Arts Administration and Policy, 2016