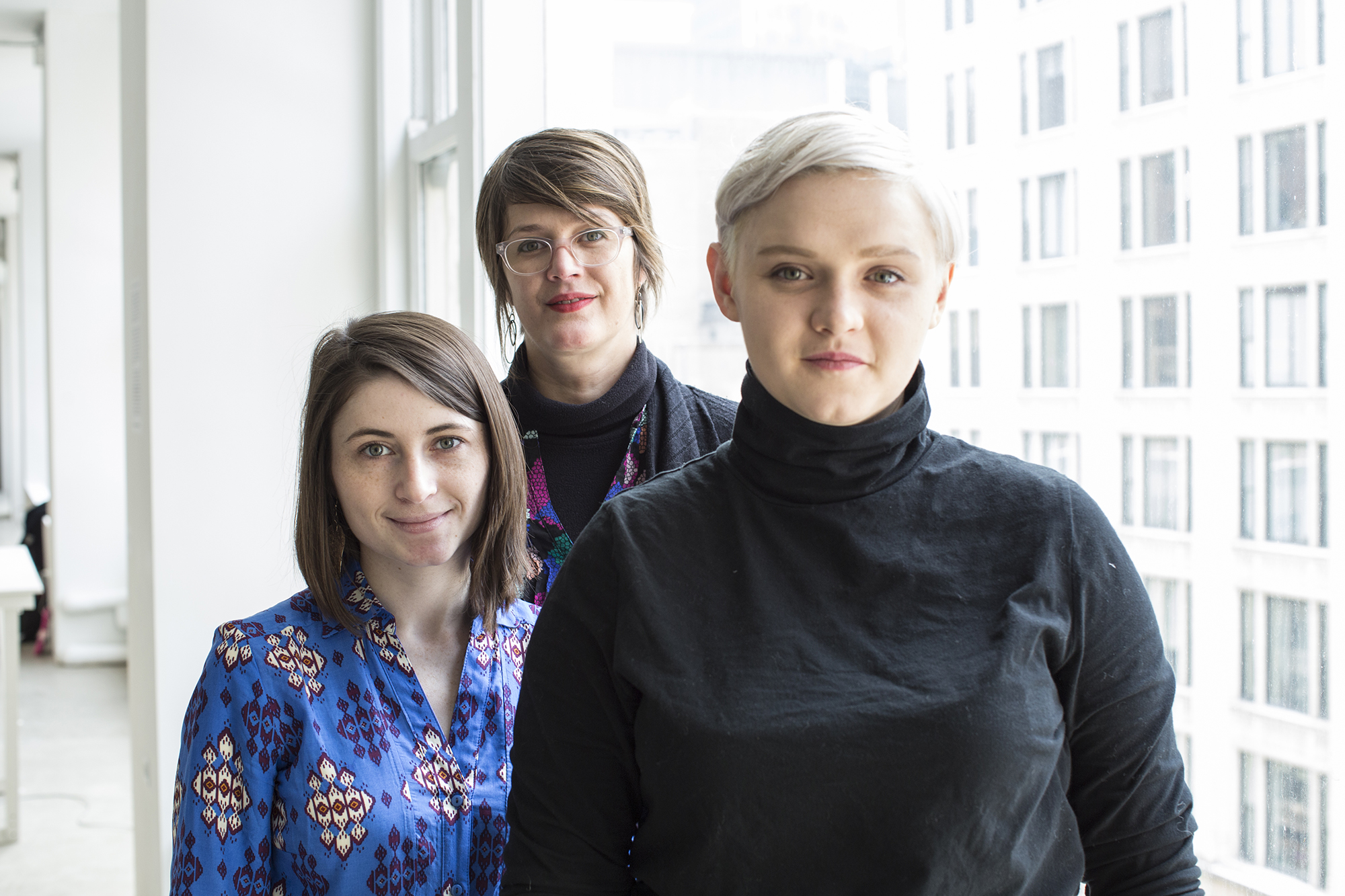 This fall, our curatorial team met to discuss our thoughts on the MFA Show process, as well as to talk with Lucía Sánromán about her curatorial experiences and perspective. Early in our conversation, a central theme started to emerge—the necessity of listening.
For Sánromán, the art of listening is the most important role of the curator: "A successful curatorial collaboration is about keeping a conversation going. Essentially, that means listening to one another." Sánromán's curatorial practice began eleven years ago as a desire to connect in meaningful ways with the artists around her. She continues this initial interest, having developed a curatorial practice that is not about fulfilling a singular vision, but instead is a collaborative effort between herself and the many artists involved in her projects. Sánromán's ability to nurture deep and fruitful discussions, both with artists and fellow curators, allows her professional relationships to be as nuanced, complex, and generative as her personal ones.
Her curatorial education itself developed through relationships. Rather than returning to school after many years as a practicing artist, she began her curatorial development through a mentoring relationship with the Mexico City curator Osvaldo Sánchez:
"He was the artistic director of inSITE when I moved to Tijuana in 2003. I had never seen anything like that project before. It was really experimental and open-ended, following in the footsteps of Mary Jane Jacob's Culture in Action and similar projects that explored the question and notion of audience or co-creation. It was a really transformative experience to be in the periphery of that project and to follow it closely."
Though she admits that there is value in obtaining a professional degree as a curator, many of the skills that she considers essential to a curatorial practice often develop through years of on-the-ground experience. This interpersonal education is evident in her warm and thoughtful demeanor, as well as in her ability to treat each new experience as an opportunity for further learning.
As a curator who has experience working with large exhibitions, Sánromán knows the challenges that come with the MFA Show: "Our challenge is making an exhibition with so many people and artists, and so many elements and ingredients. We have to make the recipe sing." She does not believe that personal taste should play a role in curating a successful exhibition, or that curators should create forced connections between a multitude of diverse projects. Instead, the curator should study the themes that are inherent within each work in order to discern how artistic projects can work best together. This allows our curatorial team as a whole to foster moments of intersection, complex engagement, and juxtaposition. Rather than trying to construct a unifying thread for all of the projects in the MFA Show, our team aspires to create compelling curatorial moments in the gallery space.
Firmly opposed to the philosophy that conflict is a creative space, Sánromán believes that creativity emerges only from a relationship built upon trust and respect, both for others and for one's self. She maintains a sense of professionalism through her sustained attention to the administrative, logistical skills required of a curator, meanwhile devoting that same care to artists and artistic process. As an independent curator, Sánromán is not tied to a particular institution. This allows her the freedom to pursue exhibitions about which she is passionate, including the 2015 MFA Show.
Sánromán deeply believes in listening to one's own inner desires. As a longtime artist herself, she has a clear understanding not only of materials and object making, but also of the importance of intuition and self-reflection. For her, life and work are fused. She advises: "Pay attention to your desires. Try to listen to yourself–even to the things that you don't want to hear." By developing a strong self-awareness from careful, intentional self-listening, she can engage in keen observation of both the artist's work and of their intuitive and thoughtful practices.
Annie Cottrell Tron, Master of Fine Arts Candidate in Performance, 2015
Elizabeth Metcalfe, Master of Arts Candidate in Art History, Theory, and Criticism, 2015