Afterimage at the Roger Brown Study Collection September 14th – November 18th 2012
Curated for the DePaul Art Museum, by Thea Liberty Nichols and Dahlia Tulett, the exhibition Afterimage considers the contemporary implications of the Imagist legacy through a focused exploration of the artwork, social art practice and writing of contemporary makers. Afterimage focuses on contemporary artists that are of a generation after Imagism, and also— in ways both visual and ideological— have moved through and beyond it.
Onsmith, 2011. Photo courtesy of the artist.

Carl Baratta, Onsmith and Edra Soto will curate micro-exhibitions of their own art collections, objects of interest and artistic source material installed on the walls and shelves in Brown's former studio, the orientation/project space at 1926. Working in concert with Brown's own "Artists' Museum" collection permanently installed on the second floor, their displays will illustrate the importance of self-taught, folk, craft, popular and commercial art, as well as the work of peers and colleagues, to both the Chicago Imagists and the contemporary artists in Afterimage.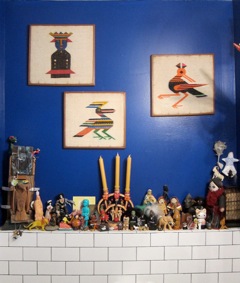 Multi-ethnic collection and random objects, basement bathroom. Photo courtesy of Edra Soto.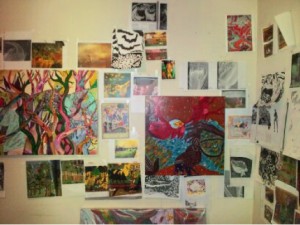 Image Machine. Photo courtesy of Carl Baratta.
-Thea Liberty Nichols

---