2012: year in review
Tuesday, December 11th, 2012 » By lstone » See more posts from ALL THE NEWS
Greetings. The RBSC is in its fifteenth year of serving SAIC as a house museum encompassing the intimate nature of "home," among many other things. 2012 is also the fifteenth anniversary of Brown's passing from this world into the next, and from full time artist in his lifetime, to full time teacher posthumously, through his many gifts to SAIC. We remember Roger with gratitude––his gifts are alive as ever.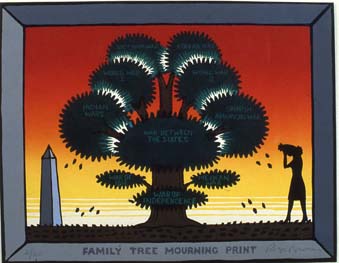 Roger Brown, Family Tree Mourning Print, 1987, color relief print, 10 3/4 x 13 in.
Here's what we've been up to:
Hosting guests, lots of guests. By the numbers:
2400+ guests (up from 2011's 1639), 89 SAIC classes (64 this semester), more independent researchers, and more half or full semester class projects.
Gillion Carrara's spring semester Collections Practicum class worked on intriguing projects at 1926. One team attacked the "Top Drawer" project, documenting and rehousing Brown's early/student graphic work, analyzing the relationships between his paintings and sketchbooks from the mid 1960s.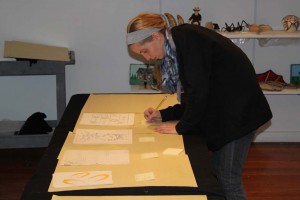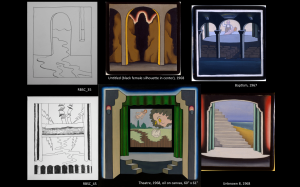 "Top Drawer" project: student at work and analysis of Brown's theatre drawings and paintings
Emily Platt chose to examine Brown's Pronghorn Diorama , which had been crated since 2004. Concerned about its condition we examined the pronghorn with Ruth Norton, conservator at the Field Museum of Natural History. Norton provided an in-depth description of its condition (pretty good!) and later gave Platt and RBSC staff a behind-the-scenes tour of storage containers for taxidermy and objects with organic components at the Field Museum.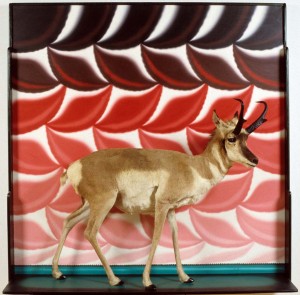 Roger Brown, Pronghorn Diorama, 1987, oil on canvas,
taxidermied pronghorn antelope, 74 x 72 x 21 inches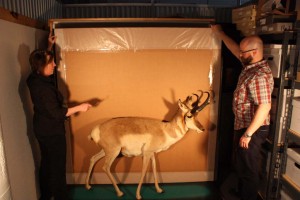 Lisa Stone and Nick Lowe unpacking "Pronghorn Diorama
Other class and research use of the RBSC included:
– Nick Lowe's Unpacking Roger Brown course (fall 2012) used 1926 as home base, radiating from here into major private collections, museums, and galleries, in their intensive examination of specific paintings, through which they explore radiating themes, concepts, ideas, and interrelationships between and among Brown's works and the world.
– Stone and Zanzi's Better Homes & Gardens: Vernacular Art Environments met at 1926 each Friday, spring semester.
– Clemenstein Love's Intro to Interior Architecture class used the first floor of 1926 for two major design projects, creating models and design solutions presenting an array of intriguing possibilities. A few may be realized but all become part of the creative record of the site, not unlike the 1922 Tribune Tower competition.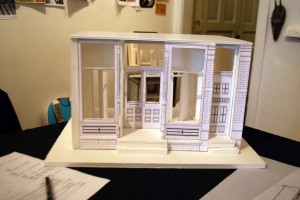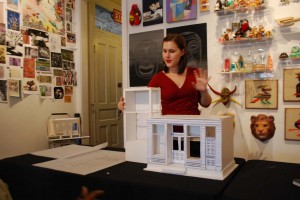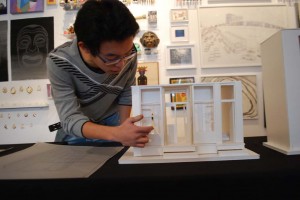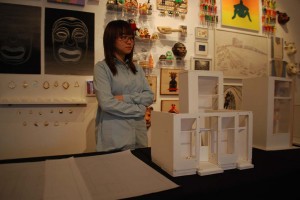 11/6/12: Election day and model critique: projects by Hequin, Michal, Yulun, and Yushi.
Thankfully, the project motivated the long overdue removal of the clumsy wing walls, replaced by temporary black drapes––a touch of class!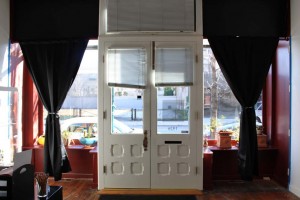 Storefront from within, sans dreadful "wing walls"
Patricia Rieger's Diminutive Object class installed sculptures throughout the collection for their mid-term critiques. Juxtaposing works in the collection created a challenging context for critiquing the works, stretching the collection temporarily, beyond Roger Brown's realm.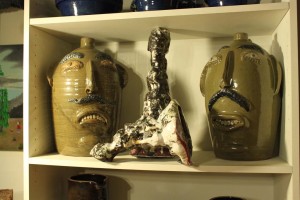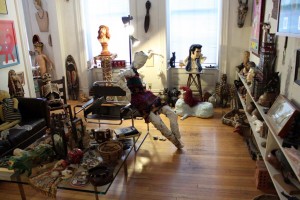 Diminutive Object critique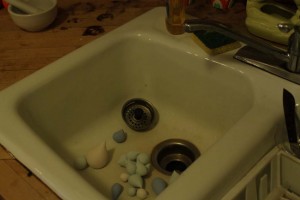 Diminutive Object critique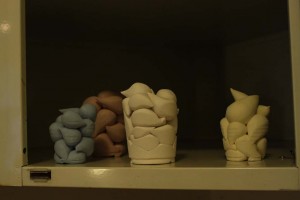 Diminutive Object critique
A visit from Lela Hersch's Arts Administration Arts Consulting class, in which seasoned consultant Hersch and the class explored and critiqued most aspects of RBSC collections administration, resulted in many ideas for improvement and future projects.
Under the inspired direction of Leslie Buchbinder, Pentimenti Productions continued to use the RBSC archive to support the inaugural documentary film Hairy Who and the Chicago Imagists! PP has graciously covered expenses to migrate RBSC archival media into digital formats and share the wealth of their in-depth research. We look forward to celebrating the release of the film in 2013.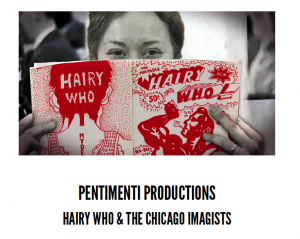 Other scholarly digging in the archive included:
– University of Michigan art history student Franny Mendes Levetin, summer internship, organized documentation of Barbara Rossi's career from the Phyllis Kind Gallery Archive.
– Katie Campbell, MA candidate at Christies Education, New York, conducted extensive research for her thesis Paintings and the Proscenium: Roger Brown and the Theater.
– Northwestern University sociology grad student Gemma Mangione researched the ways artists defined as "regional" are constrained and marginalized, but perhaps also benefited in some ways by that designation.
Collections
In September we deinstalled 36 beloved Yoakum drawings, to rest for at least one year. The Yoakum room is the only place with many works by a single artist in the RBSC and it feels quite bare. We now have the "Yoakum Lounge" where guests can peruse slide shows of Brown's Yoakum drawings, the Art Institute of Chicago's online collection of over 220 works, and a video interview of AIC curator Mark Pascale with Roger, in the room, in 1995. It's comforting to hear  Roger and Mark's voices emanating from the room while the drawings are at rest.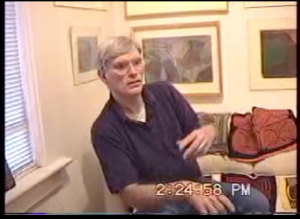 Video still, Roger Brown 1995 interview in the Yoakum Room
Good Golly Miss Molly! An accomplished object imitator, staff member Molly Hewitt created captivating painted ceramic versions of the lineup of mostly sugary products on the top shelf of the kitchen cabinet; she arranged them on the shelf beneath. In this house full of objects there's simply no telling which ones will inspire action.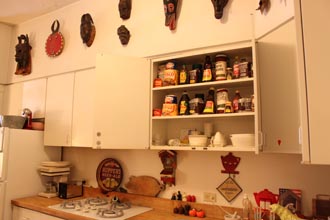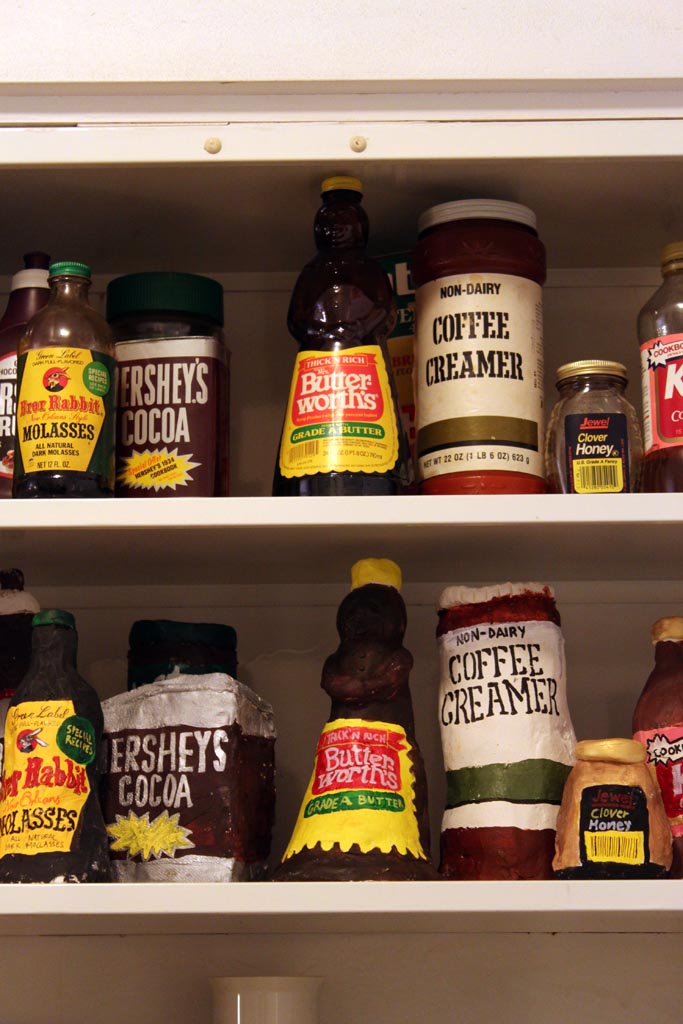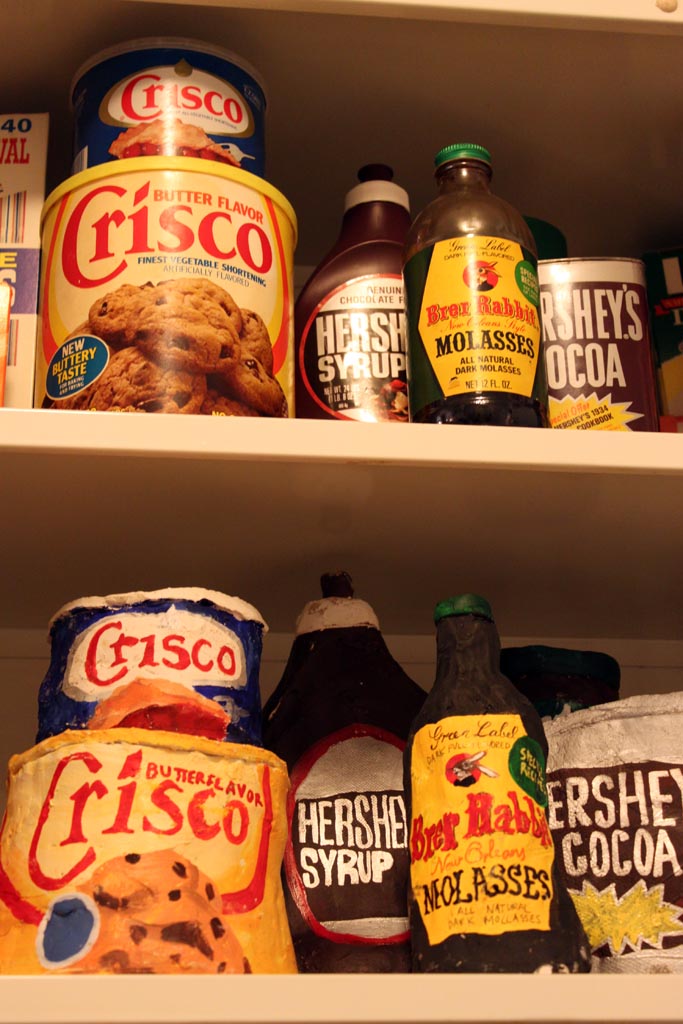 Exhibitions
Staff spent much of the summer preparing paintings for exhibition: 29 works for Roger Brown: This Boy's Own Story and 23 works for Roger Brown: Major Paintings, and one for Afterimage.
Curated by Arts Admin/Art History student Kate Pollasch. Roger Brown: This Boy's Own Story explored sexuality in many of its guises throughout Brown's career, including erotic landscapes, sex in the city, love, longing, loss, HIV/AIDS, and pure joy, on view at SAIC's Sullivan Galleries, from August 24 to November 10. The project illustrates possibilities for creative professional work graduate students can achieve at SAIC. Kate's research continues in her masters thesis, contextualizing Roger Brown's work addressing sexuality  into the larger cultural, theoretical, and art historical narrative of 1970s sexual liberation and 1980s and 90s HIV/AIDS and culture wars in America. Below are a few views. Click here for a pdf virtual tour.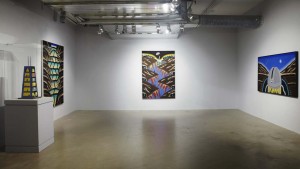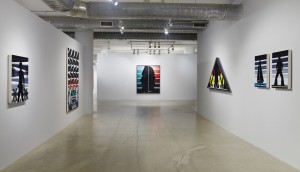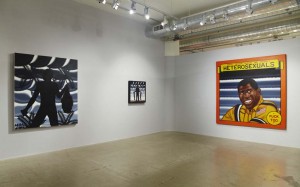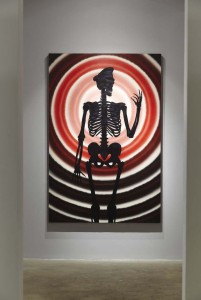 "Roger Brown: This Boy's Own Story" exhibition installation views courtesy of the School of the Art Institute of Chicago's Sullivan Galleries; photos: Tony Favarula.
A pdf virtual stroll through the exhibition can be found here. We extend special thanks to Kate for a wonderful, insightful project and labor of love, and to Executive Director of Exhibitions and Events Mary Jane Jacob, and Sullivan Galleries staff Kate Zeller, Trevor Martin, Todd Cashbaugh, Christina Coscio, for their unconditional support of the exhibition and their assistance in every aspect of this ground-breaking exhibition.
The Roger Brown: Major Paintings dual exhibitions at Russell Bowman Art Advisory and Zolla Lieberman Gallery presented an array of Brown's work spanning much of his career, from early, c.1968 works, to paintings from the last chapter of his life in California, and many in between.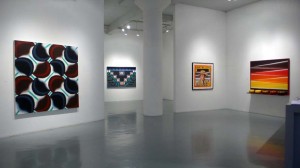 Roger Brown: Major Paintings at Zolla Lieberman Gallery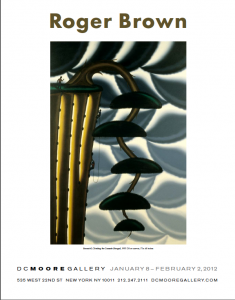 A solo exhibition of Brown's work will be on view at D.C. Moore Gallery, New York, January 8 – February 2, 2013. Robert Cozzolino will give a lecture there on January 26.
The exhibition Afterimage at the RBSC enlivened the RBSC from September 14 – November 18. A satellite component of Afterimage at the DePaul Art Museum curated by Dahlia Tullett Gross and Thea Liberty Nichols Afterimage at the RBSC featured micro-exhibits by Carl Baratta, Edra Soto, and Onsmith. Packed installations combining their own works, works by friends, source materials, and collections of sundry objects that they live with in dense intimacy, provided a perfect backdrop for orienting (and disorienting!) our guests.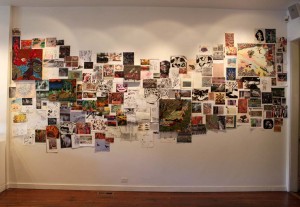 Carl Baratta installation

Edra Soto installation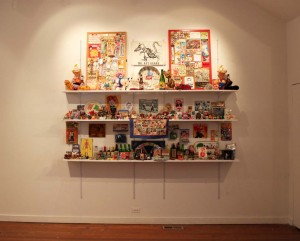 Onsmith installation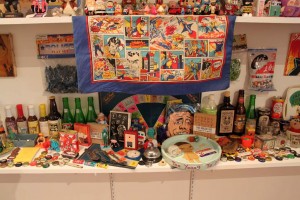 Onsmith installation detail
Sprucing up the storefront: To maintain a mysterious RBSC storefront identity to the street, and celebrate the artists' own "museums" we installed perforated window banners of slides taken by Brown in 1972, of Burnette G. Pletan's Artists Museum, somewhere in South Dakota. Pletan's title was Brown's touchstone, and he wrote that he wanted to call the RBSC Artists' Museum of Chicago, because …the things in it are of universal appeal to all artists and people with a sense for the spiritual and mystical nature that material things can evoke.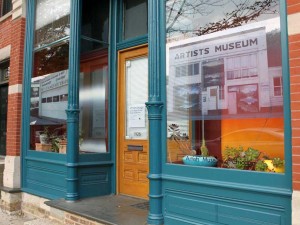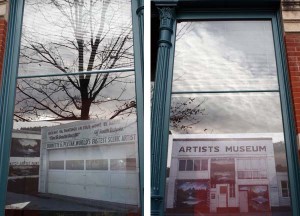 Stellar Staff ProjectsIt's almost not possible to believe how deeply and creatively Nick Lowe delved into the realm of Roger Brown's life and works, both realized and unrealized, during his one year sabbatical. Much of it can be seen in his blogpost and sabbatical blog.
When not hosting the near continuous flow of class visits, James Connolly, Ariel Fang, Laura Bickford, Molly Hewitt, and Danyu Xu all worked on various and sundry collections and archive organization projects.
The garden: In 1994 or thereabouts Roger transformed a weedy backyard with brick garage into a charming garden conjoining vernacular and high-style elements with conifer plants, thus distilling ideas and beliefs fundamental to his creative life. Last summer we brought in tree care experts to advise on the rocket juniper, which was looking poorly. Shortly after charting a course of treatment, a wild storm struck, repositioning it into a graceful, Martha Graham-like bow. It's now decked out for the holidays…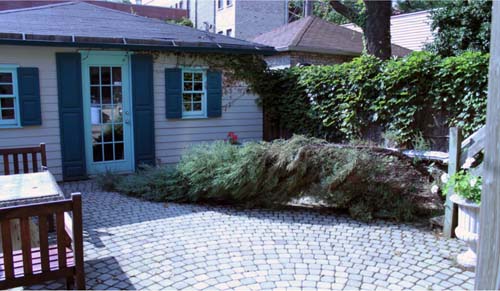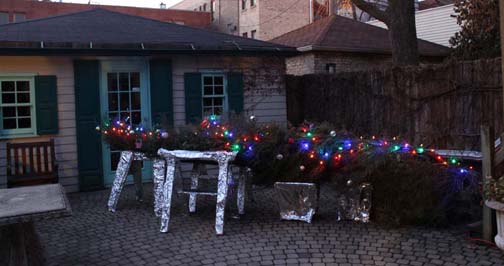 Friends and comrades: Linda Cathcart and friends at Casa Dolores (Santa Barbara) held a Roger Brown Garden Dedication and Tea Party. Brown was close friends with Casa Dolores' founder and director Linda Cathcart.  Nick Lowe worked with Linda and her staff, creating a garden in Brown's honor, with ceramics on loan from SAIC's Roger Brown La Conchita, CA collection. We thank Casa Dolores friends for honoring Brown and keeping his legacy alive in southern California.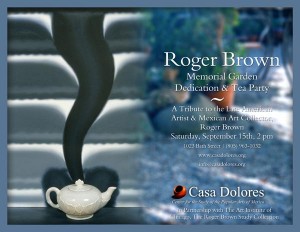 The At Home in Chicago consortium now has 23 affiliates. An enchanted summer reception was held at the Paul Schweikher House, where artist Martyl (designer of the Doomsday Clock, among many other things) lead us through the outstanding home and studio where she has worked for over 60 years. The RBSC hosted the group in September, where we fine-tuned ideas for the consortium website, which we hope to launch in 2013.
The RBSC has been an affiliate of the National Trust for Historic Preservation's Historic Artists Homes and Studios program since 2000. In May the Judd Foundation invited Lisa to participate in a Visitor's Experience Think Tank. She joined 24 house museum colleagues scholars of the genre at a day long discussion, held at the Renee and Chaim Gross Foundation, the wondrous home/studio/collection of sculptor Chaim Gross, his wife Renee, and their daughter Mimi Gross. Mimi shared warm memories her years in Chicago and visits with Roger at his 1926 collection, noting the shared sensibilities among artists' collections.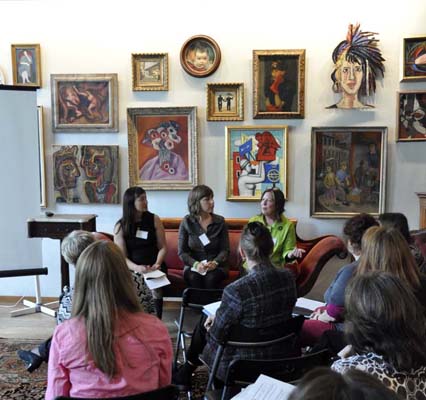 Judd Foundation Visitor's Experience Think Tank
The Brown family Greg and Benedicte Brown spent a few days in New Buffalo in early August. We joined them for a special dinner, celebrating with a bottle Roger had saved for just such an occasion, a 1971 Chateau Mouton Rothschild (which had unfortunately gone a bit vinegarey!). Roger and Greg's cousin Trudy Ballinger and her husband Roy traveled to Chicago in October to see all three Roger Brown exhibitions. Beloved Aunt Iva (who passed away on November 20, 2011) had faithfully attended nearly every exhibition of Roger's in the Chicago area. Trudy has taken over for Iva, and plans to keep up the tradition.
We concluded the semester with a fireside chat/command-concept performance with the legendary Jon Langford and Sally Timms, who shared thoughts on being creative people while sidestepping the mainframe minefield, remaining true to themselves, for their entire careers.  Excellent wisdom for Peter Exley's freshman Contemporary Practice students to hear, and all in attendance were charmed. You can watch their performance HERE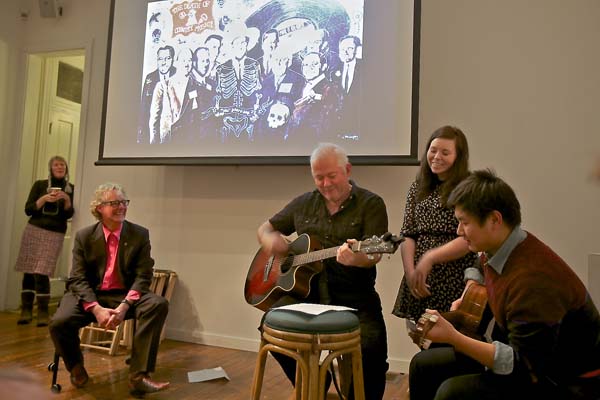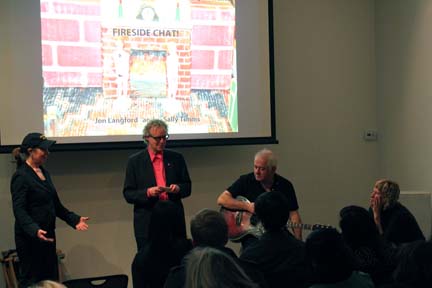 ---