Spring 2013 Update
There's nothing like the return of sandhill cranes to the Midwest after a long winter.
Warm spring greetings from the Roger Brown Study Collection.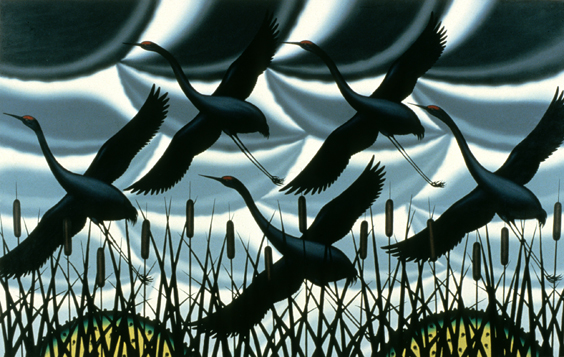 Roger Brown, Memory of Sandhill Cranes, 1981, oil on canvas, 60 x 96 inches
Managing the Roger Brown Estate continues to keep us on our toes. We're thrilled to announce that the Ray Hughes Gallery in Sydney has enthusiastically embraced the work of Roger Brown. Working with Russell Bowman Art Advisory  (on our side of the globe!), Ray and Evan Hughes will mount an exhibition of Brown's work, which will open in March 2014, coinciding with the Sydney Biennale.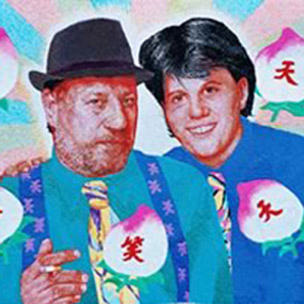 Ray and Evan Hughes
The Hughes Gallery website tells us, "In 1981 Ray Hughes collaborated with the legendary, Phyllis Kind Gallery on an exhibition titled 'Chicago on Paper' featuring the likes of Jim Nutt, Gladys Nilsson, Yoakum, Karl Wirsum, Roger Brown and Ed Pashke. Evan Hughes, when working for James Mayor in London, began looking at old catalogues from when Mayor had worked with the Chicago Imagists in the 1980s…The small world has come full circle with both Hugheses now actively engaging with the young Chicago scene…" Killer Crab (below) and other works will soon be on their way to Australia.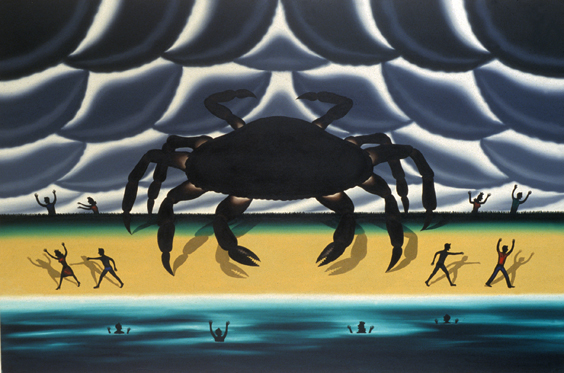 Roger Brown, Killer Crab, 1986, oil on canvas, 48 x 72 inches
It's been a busy semester at the RBSC, with nearly 900 guests to date, and 33 classes, including classes that use the site weekly: Lisa Stone and Jim Zanzi's Better Homes & Gardens: Vernacular Art Environments and Nick Lowe's Collections Practicum. Students in Nick's class took on a range of projects to advance aspects of the collection and archive.  Jue Ma and Chiara Giulianotti worked on the documentation of Brown's early student works, particularly his theatre paintings of 1967-68, going through hundreds of 35 mm slides, analyzing them in relation to images in sketchbooks, prints, and other graphic works, and to works by artists Brown admired (such as Magritte and O'Keeffe), to create an accurate record of this seminal period of his oeuvre.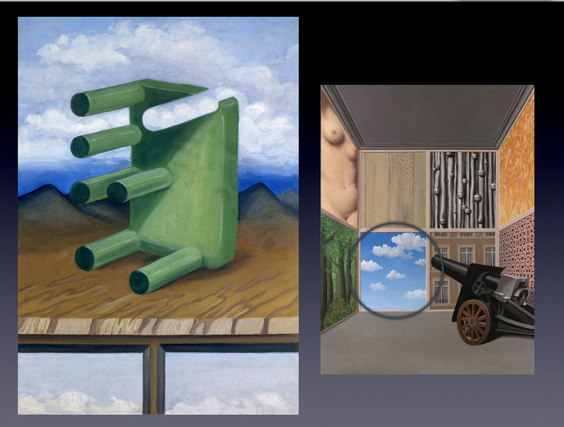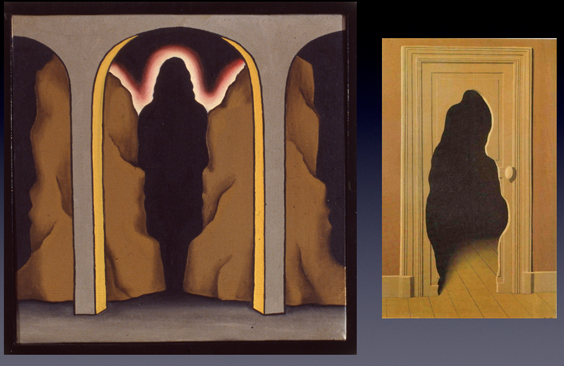 Comparison of works by Brown and Magritte.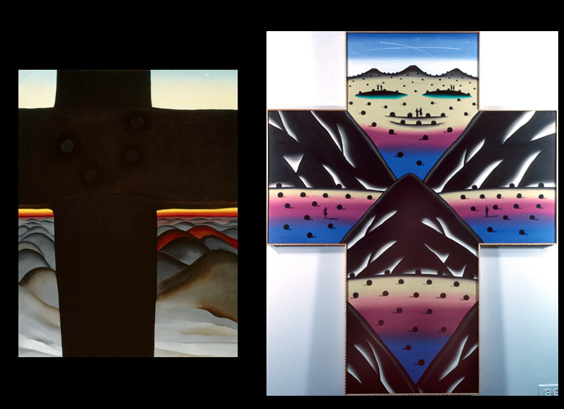 Caption: Comparison of works by O'Keeffe and Brown
Sarah Henninger began the project to catalog Brown's collection of vinyl long playing record albums from his Chicago, Michigan, and California homes. Organizing over 250 albums into music genres was philosophically vexing so she organized them alphabetically and outlined the processes for cleaning, rehousing and photographing records, sleeves, and jackets, entering information into the database. We acquired equipment to create digital recordings from the record albums so we can eventually use Brown's collection of music in ways too numerous to imagine at this time. Sarah's project opened up a new dimension of exploration in our archive, and found interesting connections between his albums and his work.


Center: Roger Brown's Story of Creation (1989, oil on canvas, 72 x 48 in.) with Kenny Rogers as God (!) flanked by two sources of inspiration: Brown's  Kenny Rogers album cover on the left, and Giovanni di Paolo's The Creation of the World and the Expulsion from Paradise (1445, tempera and gold on wood, 1/4 x 20 1/2 in., Metropolitan Museum of Art,  photo: Lisa Stone).
Sarah Lensink and Tyler Blackwell worked with the Harold Allen Study Collection, examining many of Allen's photographs, entering information about the prints, locations of images, and other documentation processes into the database. Their work advances the organization of this long dormant collection, so we can move closer to making this extraordinary material accessible. Working with Flaxman Library Digital Resources Librarian Chris Day, we've developed a website with hundreds of Harold Allen's remarkable photographs. We'll send an announcement when the site launches soon.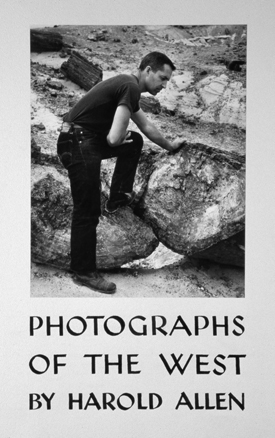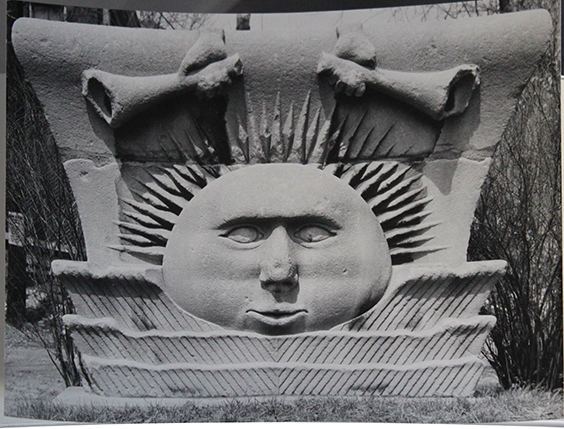 Harold Allen, Pilaster Capital (Sun Stone) from Mormon Temple, 1841-1845. Nauvoo Illinois, February 1953, gelatin silverprint, 1953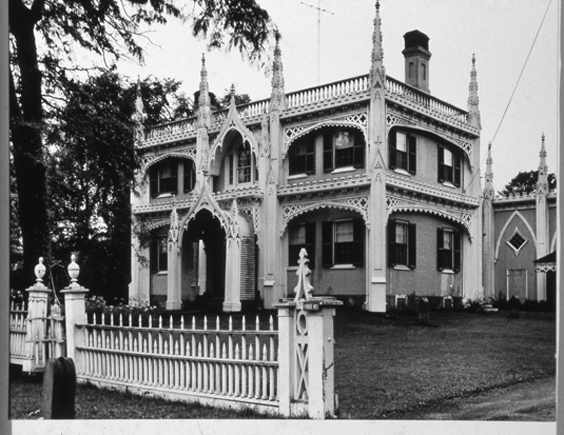 Harold Allen, Wedding Cake House, 1826.  Kennebunk, Maine, gelatin silverprint, 1953.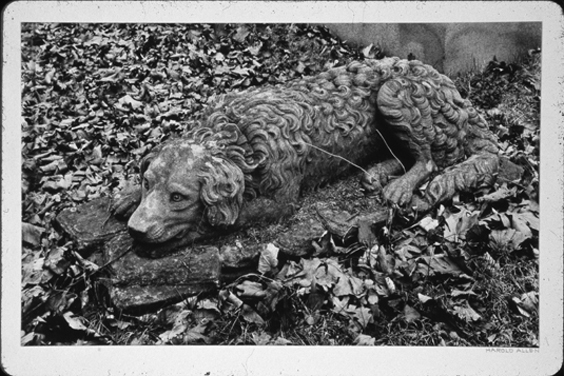 Harold Allen, Stone Dog on Dimick Monument, Chippiannock Cemetery, Rock Island, IL, April 15, 1956
Marie Zaro researched methods for elevating Brown's 1967 Ford Mustang slightly off its tires, in a way that will still allow guests to sit in the bucket seats, breathe in the aroma of old leather, and get the feel of a late 1960s American classic. She also worked on design solutions for a new crate for Brown's Pronghorn Diorama (1987), a work with a full scale taxidermied Pronghorn Antelope.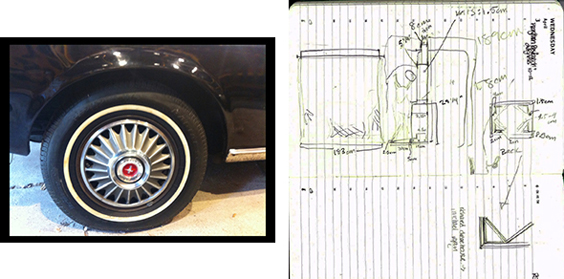 Mustang wheel and Zaro's sketch for a crate for Pronghorn Diorama.
I attended a workshop of the Historic Artists' Homes & Studios program of the National Trust for Historic Preservation in Santa Fe in early April.  This year our meeting included a group of NTHP historic site directors and administrators. It was invigorating to meet with members from the other sites and National Trust staff, to share thoughts on our efforts to make our house museums perform fully, as art/historical/cultural treasures. It was especially exciting to have Estevan Rael-Galvez, Senior Vice President of Historic Sites and former historian of the State of New Mexico, guide us through New Mexico's beguiling landscape with knowledge and passion for the land, its diverse inhabitants, and complex histories.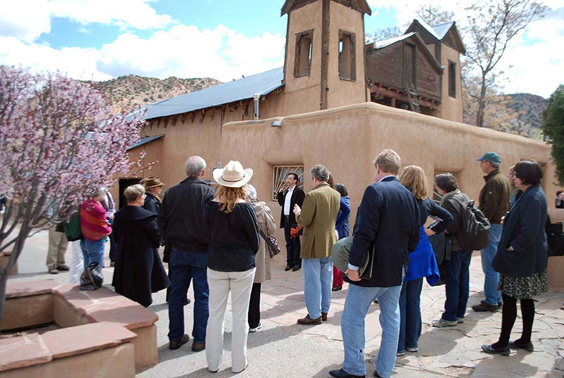 Estevan Rael-Galvez and the HAHS / NTHP group at Sanctuario de Chimayo
We visited Abiquiu and were introduced to the Native and Hispanic history of the village, and then toured the O'Keeffe home/studio/garden. We then had the rare opportunity to visit O'Keeffe's home/studio/garden at Ghost Ranch. As members of the HAHS program, we all try to preserve and convey the relationships between homes and studios and creative practice. It's always a thrill to visit sites where this relationship is instant and profound.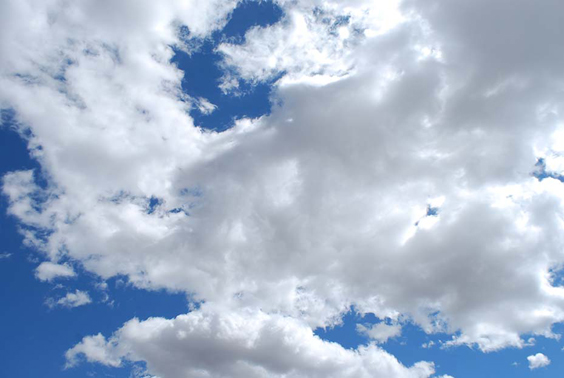 Photography is unfortunately strictly prohibited at both O'Keeffe sites.
 Back at home in Chicago, I'm working with fellow house museum friends to create a website for At Home in Chicago, the family of 24 house museums in the Chicago area. With a generous grant from the Richard Driehaus Foundation we're working with a truly talented team: Jon Satrom of studiothread and artist Lilli Carré.
 The At Home in Chicago website will take some time to develop but for now we have a handy map with links to all the sites, so you can visit them all, online and in person.
Lisa Stone, May 2013

---