Fall 2013 Update
The ongoing project of "playing house/museum" has been full and fulfilling this fall. Amid the deluge of SAIC class visits and projects, we squeeze in visitors from the public. A grateful guest sent a note of thanks, bolstering our belief that Brown's Artists' Museum of Chicago is a worthwhile endeavor.
"…i can't describe how i felt in that space or how it makes me feel right now just thinking about it, but it's physical and in my heart and my stomach and my throat. it's these kind of experiences that make me feel connected to other people and make the world less lonely. very inspiring…"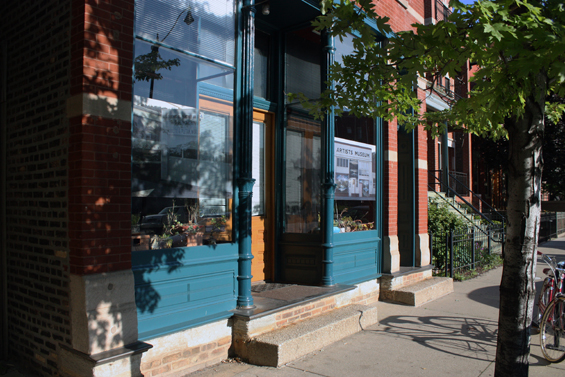 This semester we hosted 58 class visits. In addition to regaling 40 Research Studio classes, we hosted several intriguing class projects, some for a single day, and some spread out over the semester.
Jim Elniski and Research Studio students
By the third week of the semester Tim Parsons' and Dan Price's Thing Lab class (AIADO) had created ambitious sculptures, which they arranged around the orientation/project space. The day entailed intensive thought about objects-recently-created, curiously heightened by the proximity of praying hands objects and the presence of the collection upstairs.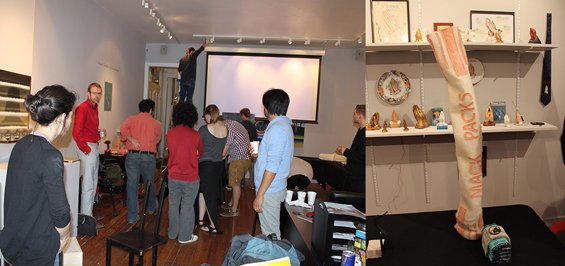 Tim Parsons and Dan Price, Thing Lab students at work
 Mark Jeffery's Performing the Document class occupied 1926 for the first four Mondays of the semester. Delving into the histories, ideas, and associations in objects, arrangements, spaces, and documents, performances were created and performed throughout the entirety of 1926 N. Halsted St.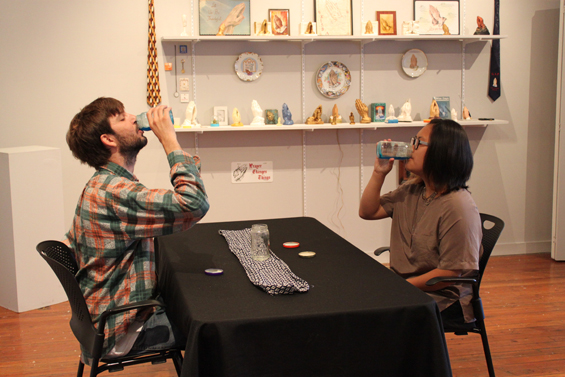 Performing the Document students Kurt Peterson and Jenny Kim

Stephanie Krim creates a collection hoax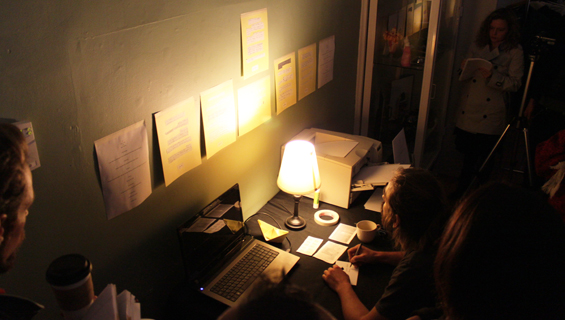 Gunter Baumann's all-day postcard generating machine.
 Holly Warren was saddened that the rocket juniper Roger planted c.1994 will be removed next summer. (The project to replace the rear porch and stairs, to comply with City Code, will likely necessitate removal of the tree.) The tree blew over in a storm in summer 2012, but continues to thrive in its reclining position.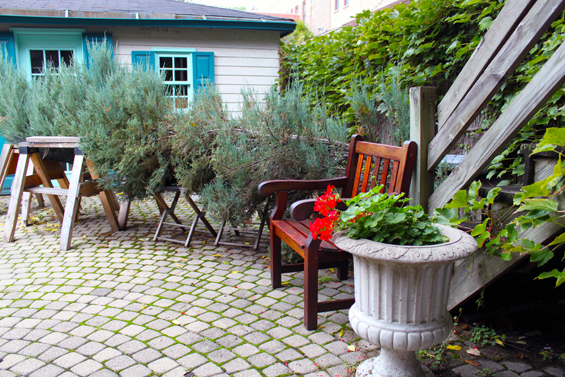 Holly ignited the idea of preserving it through grafting branches onto bonsai, which she ceremoniously demonstrated. We'll spend the winter researching methods to graft and propagate from this tree, and if at all possible, to save it in place.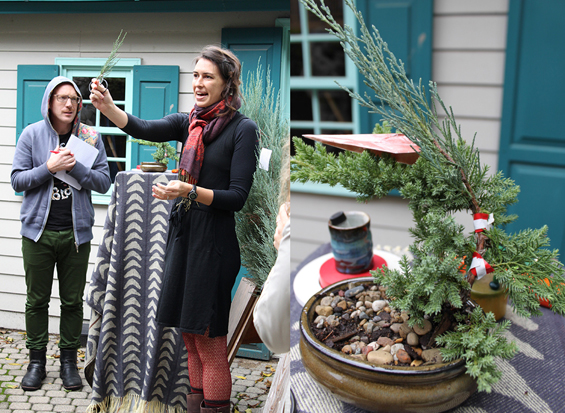 Holly's project intuited Brown's final series of five sublime paintings of bonsai in 1996. Surely related to his cultivation of bonsai in his La Conchita, California garden, these paintings reverse the scale of bonsai as miniature trees, positioning miniature humans against landscapes with monumental bonsai. Brown imbued these works with the feeling of a departure into a different realm, anticipation of a different dimension.


Roger Brown, Bonsai series, left to right:
Bonsai #1, presumably; we have an image but no documentation of this painting
Bonsai #2, Climbing with the Cascade (Kengai) 1997, oil on canvas, 72 x 48 in.
Bonsai #3, Ishitsuki, Root Over Rock 1997, oil on canvas, 72 x 48 in.
Bonsai #4, Sekijoju, Root over Rock  1997, oil on canvas, 48 x 48 in.
Bonsai #5, Literati (Bunjing) 1997, oil on canvas, 72 x 48 in.
Patricia Rieger's Curious Intimate Object (Ceramics) class explored objects and settings throughout the collection, as springboards for making, and locations for critiquing their curious, intimate objects. Students installed their works throughout the collection, temporarily, making it a new place in many small ways, introducing fresh reflections on objects and the creative process.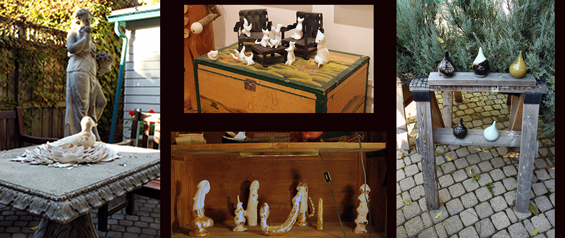 left to right, works by Haley Hodge, Doris Richardson (top), Katie Doyle (bottom), and Aileen Berg.
Modeling for Sculpture
Laura Prieto-Velasco and her Modeling for Sculpture students arrived one day armed with an imposing 3-d scanner. Students explored the collection, found objects of interest, and put the scanner to work turning physical info into digital data. They spent the ensuing weeks manipulating the objects' "dna" into original objects in a variety of media. Their sculptures, carrying traces of their parentage, will be on view at 1926 in an upcoming exhibition, details forthcoming.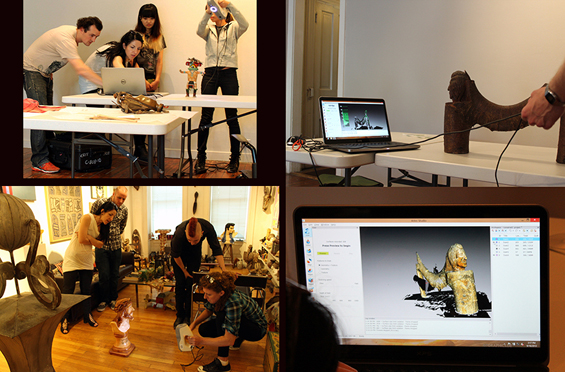 Modeling for Sculpture in action.
 Punks!
Peter Exley's Research Studio class showed up one evening with legendary Mekons guitarist and artist Jon Langford in tow. Langford regaled us with dark tales of his attempts to penetrate the realms of art and music in 1970s London, Manchester, and Leeds.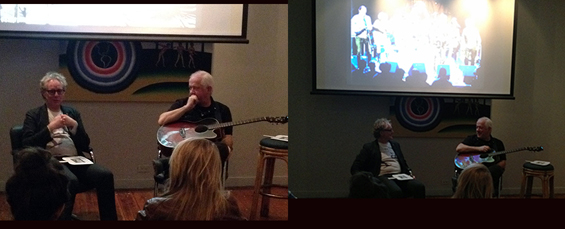 Peter Exley and Jon Langford.
That was just a warm-up, as Langford returned with Sally Timms and Janet Bean, as The Freakons…. giving Exley's class and lucky select guests a heartfelt and rousing performance of mining tunes, on the last day of the semester. Eternal thanks to The Freakons!!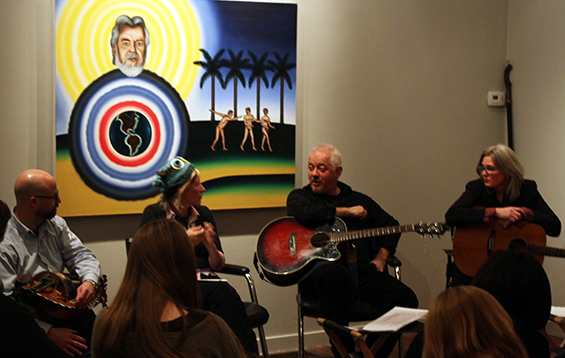 This semester's exhibition Hands Together: An Icon Incarnate, lead us into intense thinking and talking about the curious co-mingling of fine art, popular culture, private devotion, appropriation, collecting, consideration of objects, and diverse portrayals of the human hand. Please see the earlier post for a guided tour through the exhibition. Inspired collectors Rolf and Maral seek the perfect new home for the collection and we're currently considering interesting possibilities…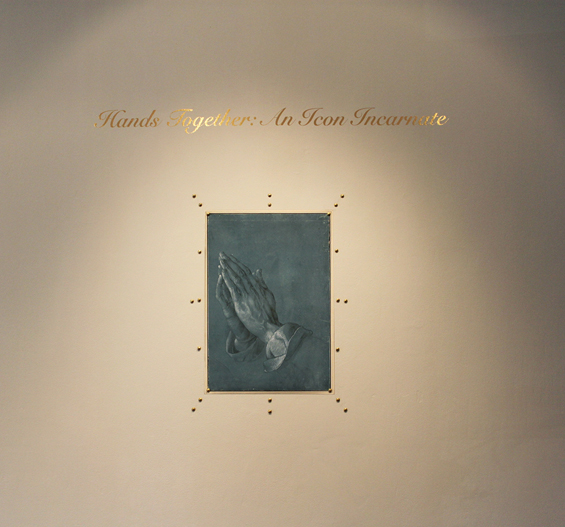 Upcoming…
Nick Lowe's spring 2014 Collections Practicum class will spend most of the semester in a long-awaited project to completely revise and reinvent the RBSC master collection catalog. (A dream to come true for one chagrined and humble curator….)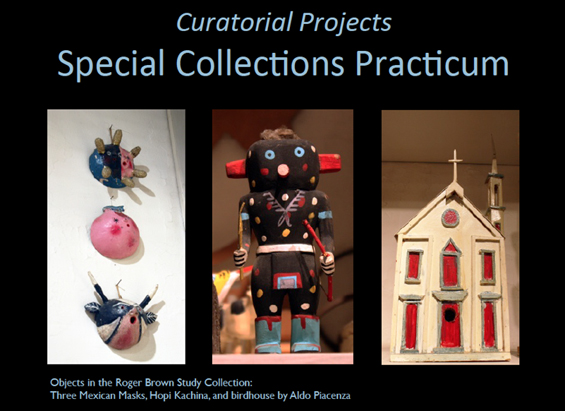 Staff projects
All hands were on deck hosting the many class tours but in our spare time we gained traction with a few projects:
James kicked all data storage and retrieval systems, training, and project organization systems into a stellar level of on and offline organization. He just completed a 2 week residency at the Roger Brown New Buffalo, MI compound, where he  spent his days winding electromagnets and modifying cathode ray tube monitors for an upcoming installation and his evenings researching and writing a paper examining the renewed potency of analog audio/video aesthetics in the context of digital immateriality.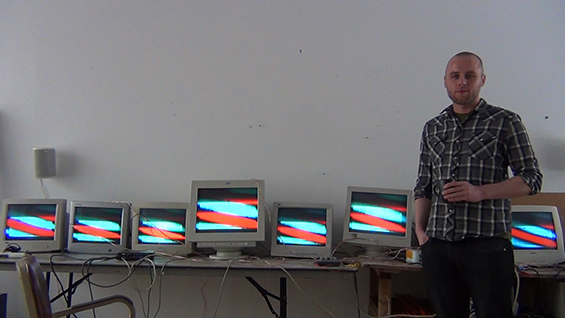 Nick Lowe continued to organize La Conchita collection objects at 1926 and worked with Lisa and Patrick Jones to survey the collection in storage at 43rd Street, as we consider the future of this collection.
Ariel Fang (undergrad senior) worked on several aspects of the Roger Brown master database, and did all gallery preparations.
Molly Hewitt (undergrad senior) took a much-needed sabbatical! (But we get her back in winter and spring semesters.)
Danyu Xu (Arts Admin 2nd year grad) scrambled to keep up with scanning archival materials for independent researchers.
Olivia Junell (Art History/Arts Admin dual degree 1st year grad) researched and rewrote the Roger Brown/RBSC Wikipedia page, soon to be online.
Annette Lepique (Art History 1st year grad) promoted the Hands Together exhibition through an FNews video interview, and organized images of Roger Brown prints.
Gabe Stallings (Sculpture grad 1st year) recorded measurements and exhaustively photographed the rear stairs and porch, to document this original feature before it's replaced next summer.
And Lisa worked on refining the 1926 / RBSC juggling act…
1926 / facilities
 Let there be Light… The den, living room, central stairs and front hall have been transformed, almost miraculously, with LED lighting. We can finally see the objects (and the dust) and were able to discard many clumsy clip-on lamps.
Let there be sound… Subtle background music provides an essential ambiance for guests touring the collection. To date we've used an ancient boom box on the kitchen floor–-quaint but hardly ideal. IRFM (Instructional Resources Facilities Management) staff ordered tiny Sonos speakers for the den, living room, hall, and bedroom. The speakers will be connected wirelessly to a laptop on the first floor, from which we will be able to program sound to each speaker independently. We look forward to the unlimited possibilities of curating sounds and music, from Roger's long-playing record albums and other sources.
Let there be Code Compliance…We're working with IRFM on the plan to replace the back porch and stairway with a new wood and metal porch/stairway that will conform to City of Chicago code.
Let there NOT be rats… IRFM staff worked hard to repair the garage door and walls, and the garage is now fortunately off limits to the rodents.
Collection / Archive
Thirty-six Yoakum drawings were reinstalled after a year of rest in the archive. We determined a rotation period of 5-6 months per year, annually. We plan to have the drawings on view from September through February. We'll put them to rest from March through August, and create room interpretation with video and slides shows on two flat screen monitors.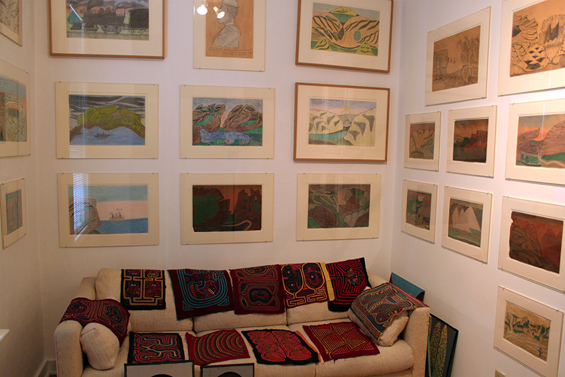 Outreach, colleagues, happenings
The Open Eye series of exhibitions, with its grand centerpiece, Ray Yoshida's Museum of Extraordinary Values opened at the John Michael Kohler Arts Center (Sheboygan, WI) to much fanfare in October. Nearly thirty Yoahida family members––many from Hawaii––attended the opening, to honor their beloved "uncle." Expertly curated by Arts Center curator Karen Patterson (SAIC alumna and former RBSC staff member), the exhibition is an outstanding tribute to Ray's life and work, his "open eyes," and his remarkable legacy.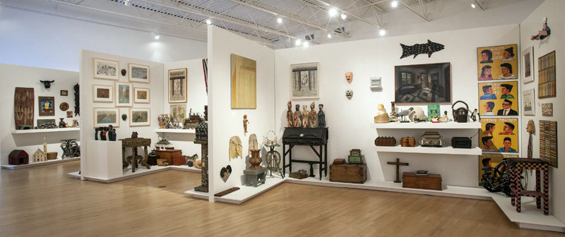 Installation view, Ray Yoshida's Museum of Extraordinary Values, John Michael Kohler Arts Center, Sheboygan, WI, through January 19, 2014.
We made friends with SAIC visiting artist Jane Wildgoose, founder/operator of the Wildgoose Memorial Library in London, "…a private reference resource which may be accessed by persons wishing to consult & make free associations on the subjects pertaining to the mysteries of THE LVING IN RELATION TO THE DEAD, AND ON MEMORY AND IMMORTALITY."  Ms. Wildgoose was enchanted by the RBSC and we immediately began scheming to join forces in the further adventures of artists' museums and collections.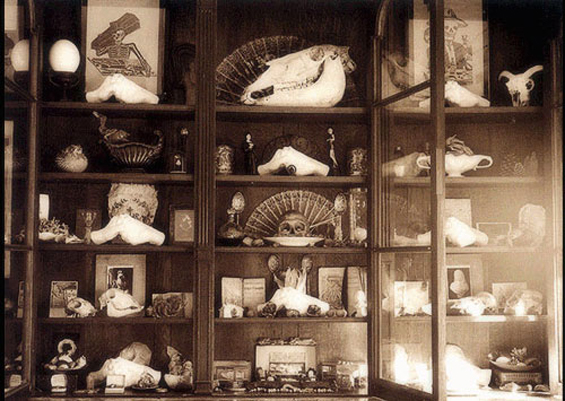 The Wildgoose Memorial Library
 SAIC installed a Donor Recognition Wall in SAIC's LeRoy Neiman Center in the Sharp Building, 37 South Wabash Avenue. Roger Brown is recognized in the Chairman's Circle, for donors of $5,000,000 or more. Thank you Roger Brown.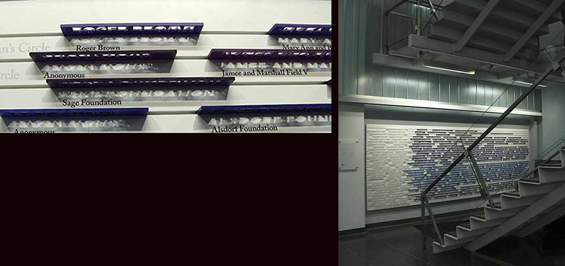 Photo: Nicholas Lowe
And as always, we send our warm greetings to Greg and Benedicte Brown, and to all Brown & Palmer family members far and wide.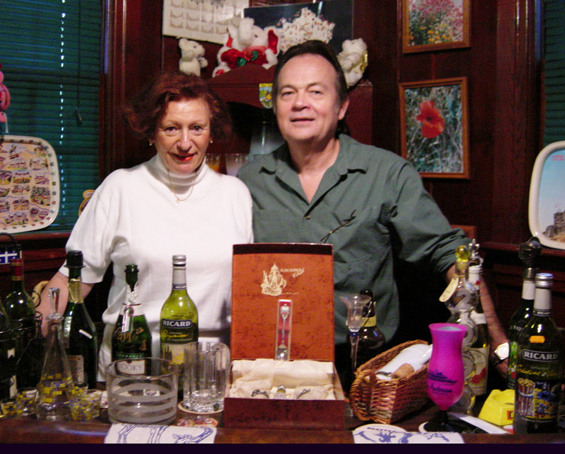 and happy holidays to all…
Lisa Stone, December 2013

---