Roger Brown Study Collection fall update
Saturday, November 22nd, 2014 » By lstone » See more posts from Uncategorized
Greetings, from our garden to yours. Roger Brown left this world 17 years ago today, November 22, 1997. We remember him for many things, especially for his exceptional generosity to the School of the Art Institute of Chicago. We always say that he didn't have to teach in his lifetime, but he's been teaching 24/7 ever since. We are eternally grateful.
Things have been hopping at the RBSC all summer and fall, and there's much to report. Before diving in I'd like to express sincerest thanks to SAIC deans and administrators, Office of Institutional Advancement, and Instructional Resources and Facilities Management staff, for many exciting improvements to the building, grounds, and collection. As always, thanks to RBSC staff and volunteers for stellar work.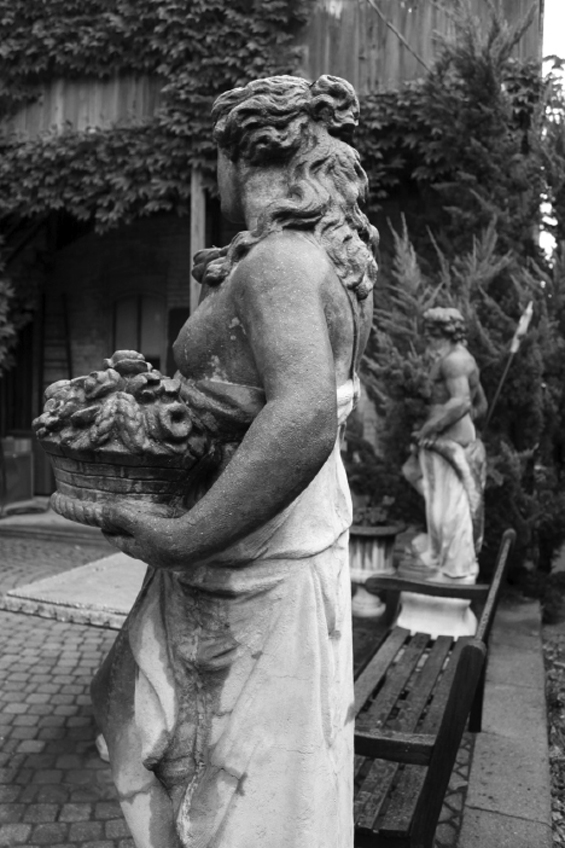 Garden, 1926 N. Halsted Street
Good news first: preservation of the building and garden
We received a very generous grant for $49,000 from the Walter and Karla Goldschmidt Foundation for the project to restore the doors, windows, and transoms and create all new storm windows! Treatments are outlined to preserve elements present from 1974 to 1995, the years Brown lived at 1926 N. Halsted St. New storm windows will be fitted with UV filtering glass, introducing a large measure of protection for the collection while increasing energy efficiency. This milestone project will greatly improve the building's appearance and extend the life of its historic 1888 features well into the 21st century. We are especially grateful to the Walter and Karla Goldschmidt Foundation for their continued support of the RBSC. A previous grant from the Foundation funded the major restoration of the historic storefront and apartment doors, completed in 2012. We'll spend the winter planning for the project, to begin in spring 2015.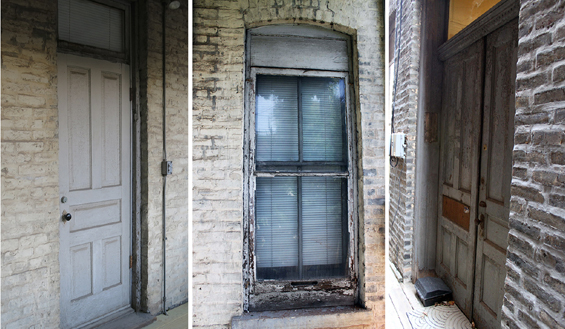 Existing conditions of a few doors and windows.
In October Neal Vogel / Restoric removed the apartment door for maintenance and touch up; the wood and cast iron elements of the storefront received maintenance and touch ups as well.

Left: Apartment door boarded up. Center: Neal Vogel/Restoric removing door. Right: Restored door, lookin' good!
Back to the garden…
The project to remove the existing porch and stairs––which we've barely been able to use since 1997––and replace them with a code compliant structure was a great success. SAIC's IRFM team and Structures Construction first created a design that would accommodate the two conifer trees planted by Brown in 1994, but after much consideration we realized that the design would be incoherent if the trees died and were removed, and we settled on a straight-run stair design, similar to the original.
The new stairway and porch, completed in late August, have transformed the garden into an enchanting and much more usable space, with fluid circulation between the floors. Many thanks to Structures Construction and IRFM staff, especially project manager Vince Bertucci.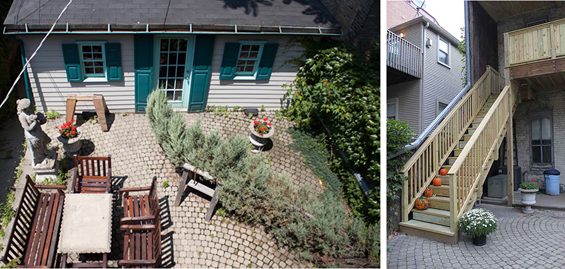 Left: view of the garden before construction, with fallen juniper.       Right: new porch and stairway.
Tours and guests
By the numbers: 2014 has brought nearly 100 SAIC classes and ~ 2150 guests.
Fall semester began with Historic Preservation and AIADO departmental receptions and we hosted the Chicago Area Archivists, among other groups.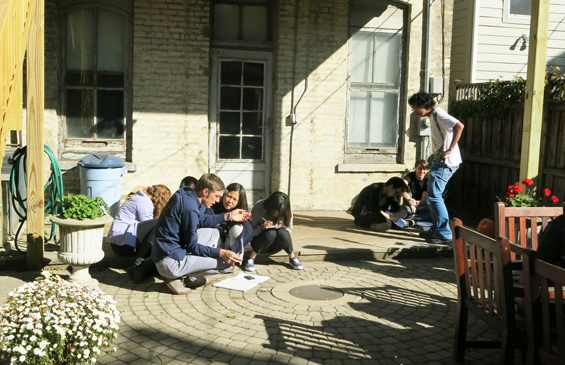 Tim Nicodemus with Research Studio students working in the garden.
Students in Patricia Rieger's Curious, Intimate Object ceramic class explored the collection, made works in response; a month later they installed their works throughout the collection for a class critique. This pushes us into transgressive zones of house museum management (!), but is well worth the effort. The temporary introduction of new works into Brown's home/collection continues the creative record of the building and collections, enhancing the lab aspect of our interpretation of the curious and intimate oxymoron we know as house / museum.

Curious, intimate ceramic objects by Alejandra Isabel Moreno (left), Erica Gero (center) and Katie Doyle (right).
Nicholas Lowe's Research Studio freshmen spent a morning exploring Roger Brown paintings, selected by Nick, to align with each students' interests. After learning about Brown's Virtual Still Life works, they went on a hunting expedition through the RBSC, to discover objects of interest. They were assigned the task to create their own, virtual Virtual Still Life, combining images from the home collection with Roger Brown paintings. The students rose to the occasion with verve and originality, enriching the ongoing project of what could be…..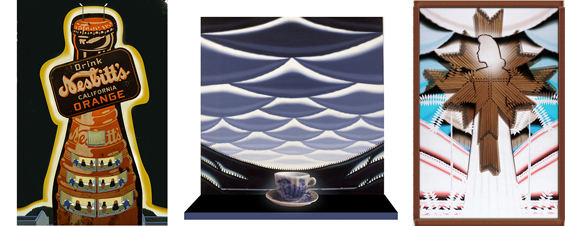 Research Studio untitled projects by artists Koy Suntichotinun (left), Yuexin Zhou (center), Li Yue (right).
Compatriots
We were delighted to host Lauren Bon and the Optical Division of Metabolic Studio team of remarkable artist/explorers––all in town for Chicago Humanities Festival events––with friends from the DePaul Museum of Art. The Metabolic Studio team gave an outstanding presentation about their work with the Liminal Camera in Chicago. Lauren and Optical Division artists plan to deploy the Liminal Camera elsewhere in the region this spring, exploring the complex relationships between people, waterways, and social and environmental ecologies, recording their findings through ingenious processes.

Left: Tristan Duke and Lauren Bon show an astonishing photo at 1926.
Right: Freshly processed print of the Chicago Stockyard entrance taken with the Liminal Camera.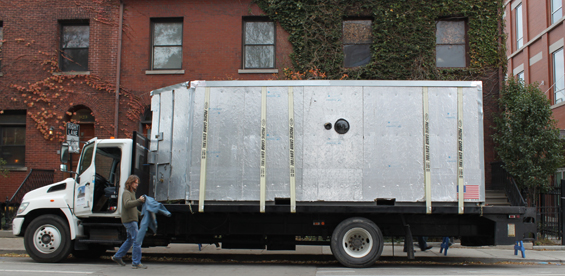 The Liminal camera near the DePaul Museum of Art
Collections
Conservation: The trusty and ever-careful Tim Fox installed backings on all the paintings (30) that are on stretchers or strainers, allowing us to breathe sighs of relief about the care and life of many extraordinary paintings on canvas in the RBSC. Interesting details were found when examining the painting's versos. We removed five Kilims and one Afghan rug in the La Conchita collection from offsite storage and had them cleaned and professionally wrapped. More sighs of relief…

Details, Painting before backing was applied (left); Kilim before cleaning (right).
TOP THIS! Treasure trove of Roger Brown's slides, now online
Last summer staff scan-a-holic Molly Hewitt digitized over 2000 slides taken by Brown over the years, and uploaded them to a flickr website: https://www.flickr.com/photos/rbsc/ , aka "the motherlode!"
The slides document Brown's travels around the country and overseas, and his discoveries of roadside signage, yard shows, art environments, arrangements of objects, streetscapes, vernacular architecture, and other wonders both ordinary and extraordinary. We're thrilled to have these images online and accessible. Treat yourself to a gambol through the visual landscape that caught Brown's eyes and camera.

3 random images from the Objects, Signs, and Window Displays album (441 images)
And speaking of "the cloud…"
We're well into the project of making high resolution, corrected digital files of all of Brown's artworks, and working with Flaxman Library staff to make all the images available on the ArtStor and Shared Shelf websites. We hope to have the project completed in 2015.
new staff
We welcome Kaveri Raina (left, painting/Drawing grad), Henry Graser (center, freshman), and Katie Doyle (right, ceramics grad).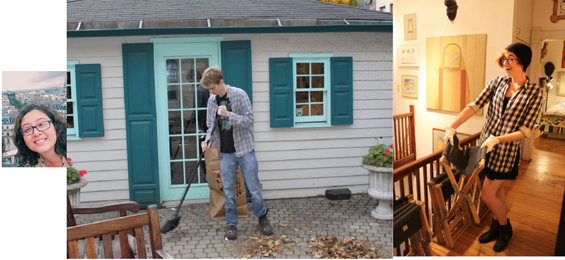 Russell Bowman Art Advisory
We commend Russell Bowman and his staff for the elegant Roger Brown: Virtual Still Life exhibition, on view at Russell Bowman Art Advisory from September 5 – November 1, 2014. The exhibition featured eleven Virtual Still Life object paintings (from the series of 27 works made in 1995 and 1996), from SAIC's Roger Brown Estate Collection. Nicholas Lowe gave two outstanding lectures at the gallery, widening and deepening our understanding of this series, in which Brown leveled the playing field between "high" and "low," and distilled the essences of much that mattered to him into sublime conversations between object and painting.

Loans
Two works in the RBSC from 1968 rocked (or are still rocking) exhibitions in England and Rhode Island. Christina Ramberg's Bagged was on view in the Liverpool Biennial Exhibition, A Needle Walks into a Haystack, curated by Mai Abu ElDahab and Anthony Huberman, from July 3 to October 26.
Jim Nutt's Officer E. Doodit is on loan to the exhibition What Nerve! Alternative Figures in American Art from 1960 to the present at the Museum of Art, Rhode Island School of Design, September 19, 2014 to January 4, 2015, organized by Dan Nadel and Judith Tannenbaum. The catalog includes Roger Brown's interviews with Hairy Who artists, published in the October 1985 issue of Chicago magazine.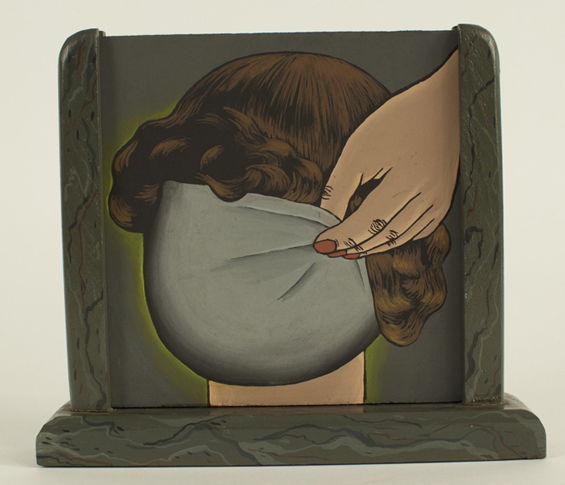 Christina Ramberg, Bagged, 1968, acrylic on Masonite, 7 x 8 x 1 ¾ in.
Left: Jim Nutt, Officer E. Doodit, 1968, acrylic on Plexiglas, enamel on wood frame, brass hardware 24 5/8 x 21 x 1 ¼ in.
Right: What Nerve…! Catalog.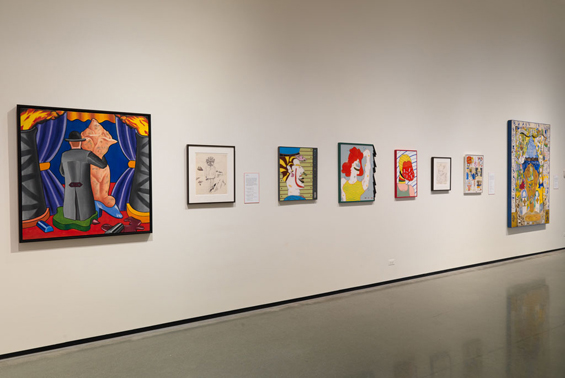 Installation view, What Nerve! Alternative Figures in American Art, 1960 to the Present, Museum of ARt, Rhode Island School of Design. Photography by Erik Gould. Courtesy of the RISD Museum.
New Buffalo, Michigan landscape preservation 
Kirk Wagner and the Upstream Waters crew planted several hundred native plants and grasses in between and around the River Pavilion and the Studio and Guest House, to re-establish the lush meadow planted by Brown and Veronda, and the critical relationship of the original landscape to the buildings. This is a major phase of the landscape Preservation Plan, created by Carol Yetken, CYLA Design Associates and students in the Historic Landscape Studio class in 2008. 2014 was the sixth year of implementing phases of the preservation plan. We owe many thanks to Carol and former students, to Kirk Wagner and his Upstream Waters crew for their careful, sensitive work on site, and to IRFM staff. We look forward to spring 2015, and many more seasons ahead, to watch the new meadow take hold and evolve.

Vintage views, meadow between and around the Veronda buildings, Roger Brown property, New Buffalo, Michigan.
Photos: Bill Hedrich, Hedrich Blessing Studio. C. 1980.

New Buffalo meadow planted summer 2014. Photos: Kirk Wagner
The overgrowth of wild, volunteer honeysuckle at the head of the driveway was removed, and replaced with a tidy screen of viburnum.

Greg Brown, new work!
Greg Brown has turned his mind and hands to marvelous, exotic portrait sculptures made of hypertufa, no doubt adorning the enchanted garden he and Benedicte continue to create. We miss Greg and Benedicte and hope 2015 sends RBSC staff to Alabama for a long-overdue visit.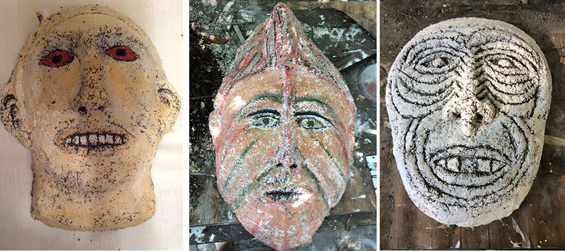 Greg Brown, untitled sculptures, hypertufa, 2014.
In closing, a letter from Aubrey Fisch
Aubrey Fisch, a senior studying Visual Communications, missed a trip to the RBSC with Nick Lowe's What's My Job class. Ms. Fisch wrote this reflection on her first visit to the collection as a freshman, four years ago.
I felt so bad this week, I don't know how I completely forgot about meeting at the Roger Brown House, I guess I just got used to meeting in the classroom, or getting an email. But I remember now looking forward to it when Nick mentioned it in class, because I remember thinking that the last time I was there it was a fall day like this only it was my freshman year at SAIC in my research studio class, and it became this kind of really magical day amongst what was kind of a hard time for me. I remember I felt so lost in Chicago. Everything was so new and different, and I was really overwhelmed and confused and felt out of place in every way. I didn't think I could make sense of things here, everything felt foreign and I didn't think I could ever belong. I felt really homesick all the time, but it was accompanied with this feeling that I couldn't go back, that I was in Chicago now and I had to make it work. But I remember on this day everything kind of fell in place. I remember it was the first time I rode an L train that was truly above ground so I could see Chicago, kind of slowly pass, I remember it felt like a floating feeling like a flying ship or something, and everything was really beautiful from this height. And when we got off I was really taken by this neighborhood, I remember it felt small and safe in a way I hadn't felt for a long time.
Then when we got to the Roger Brown house, I was completely taken and inspired. It was everything I loved about art and everything that had made me want to follow it. Everything just felt so beautiful and I felt like a sponge absorbing it all. I remember I got really excited when I saw some Henry Darger works, because I recognized them from the Collection de l'Art Brut in Lausanne, which was a place I would go a lot back home. I didn't even know he was from Chicago, or that these works even had significance outside of what I thought was this small peculiar museum back home.
Anyways, the thing is I feel like so much has changed since then. I finally feel like a bit more at place in Chicago, and that feeling has taken much longer than I ever imagined or hoped it would but I finally think I feel okay here. I was really looking forward to going back, because I love the collection, and also because I wanted to see if it felt different now, and to see if I could feel that change.
Lisa Stone, November 2014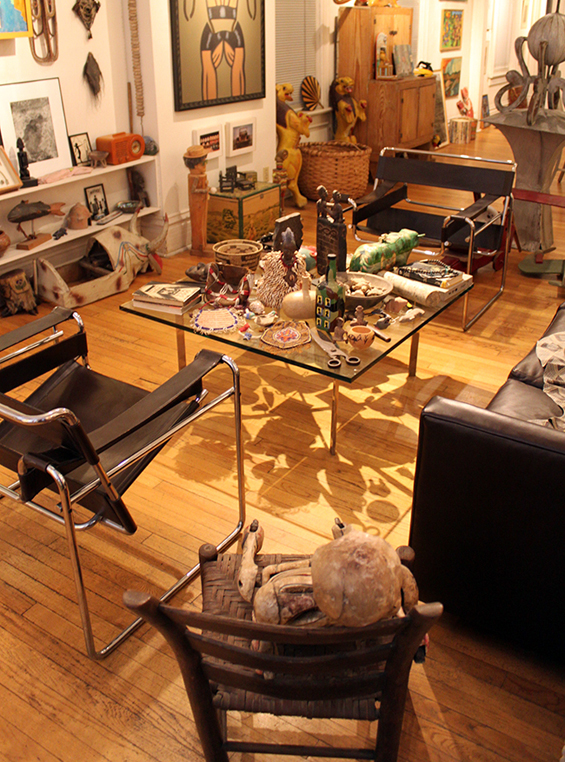 RBSC living room. Photo: Lisa Stone

---