Compare and Contrast: 39 American Artists
Friday, February 20th, 2015 » By lstone » See more posts from Happening Now at the RBSC
The Roger Brown Study Collection is pleased to present the exhibition Compare and Contrast: 39 American Artists, an expanded version of a traveling show from the Historic Artists' Homes & Studios, a program of the National Trust for Historic Preservation, showcasing the artists in the consortium.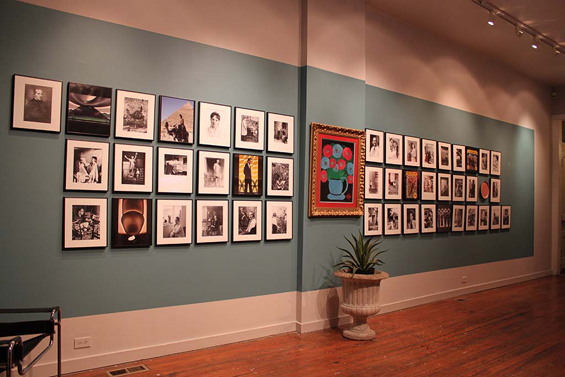 In 2000 the Roger Brown Study Collection (RBSC) joined the Historic Artists' Homes and Studios (HAHS), a consortium of 39 member sites from across the United States committed to the preservation, interpretation, and accessibility of spaces where American artists lived and worked. You can explore the individual sites on the HAHS website.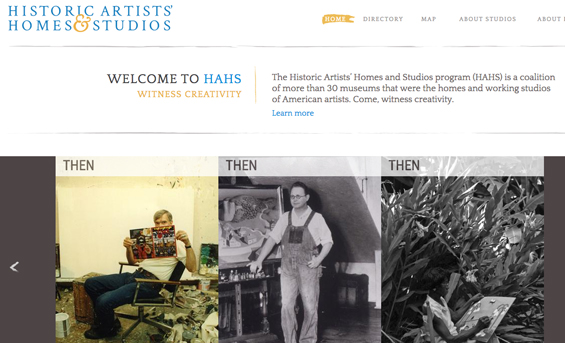 HAHS member sites include iconic artists such as Winslow Homer's rustic cottage perched on the Maine coast (below, left), the paint-splattered barn used by Jackson Pollock and Lee Krasner in East Hampton, Long Island (below, right), and 101 Spring Street, New York City, the home, studio, and collection environment of Donald Judd (below, center), to name just a few.

HAHS organized a traveling exhibition of 39 black and white photographs of artists, which has traveled to six sites since 2012. The timeframe the HAHS artists span begins with Thomas Cole, born in 1801, and ends with Roger Brown, born 140 years later. Representing a diverse range of painters, sculptors, photographers, furniture makers, and other artists, the HAHS artists are associated by the circumstance that their sites are preserved and open to the public, providing visitors with the opportunity to experience the intimate spaces where artists lived and worked.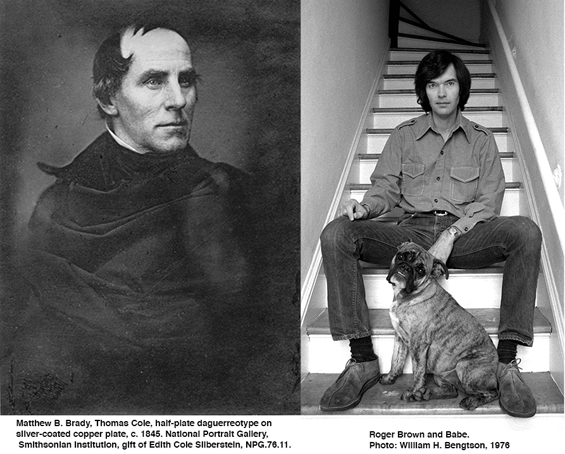 RBSC staff revamped the exhibition to explore this somewhat random cross-section of American art history through the lens of Roger Brown's ideas, critiques, and related works, in hopes of inspiring ideas and rigorous comparing and contrasting of/by SAIC's faculty, students, and staff, and our guests.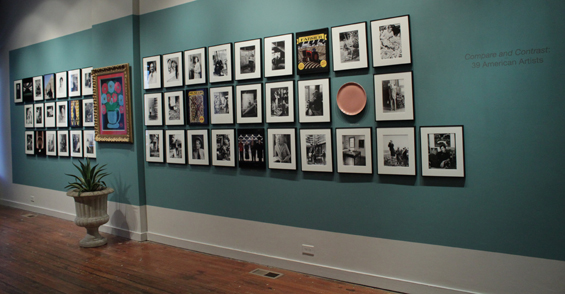 Compare and Contrast is anchored by a robust painting of Zinnias by Clementine Hunter (Melrose Plantation, Melrose, Louisiana, from the collection of Jim Zanzi), to represent Roger Brown's fervent commitment to the work of artists who worked outside of the academic mainstream.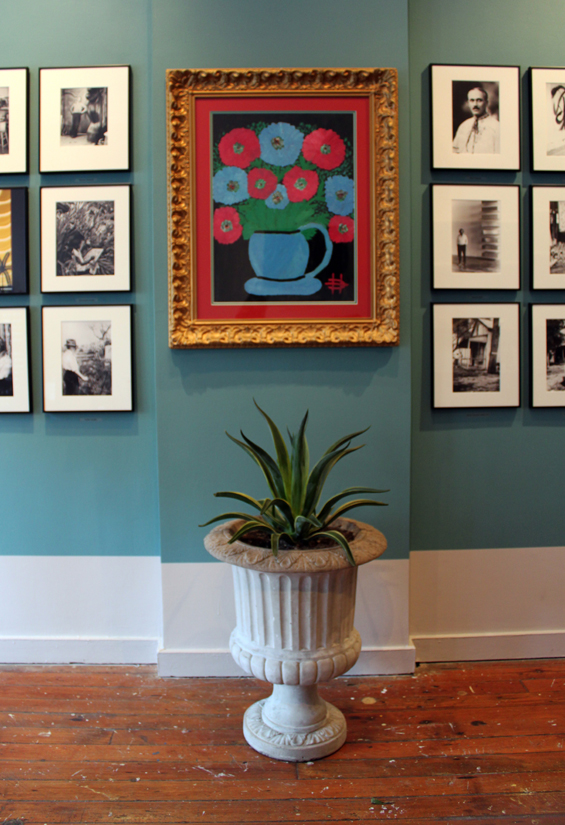 Clementine Hunter (1887-1988), untitled painting (zinnias in blue pitcher),
c: 1970s-80s, oil on canvas, 23 x 18 ½ inches, collection of Jim Zanzi
Also on view, Brown's Ring of Fire (Buffalo Bill in Hell, 1988) invites reflection on representations of America's landscapes, history, and historical figures, in artworks, and directs attention to representations of the American West and historical attitudes toward Native Americans that are critiqued and debated today.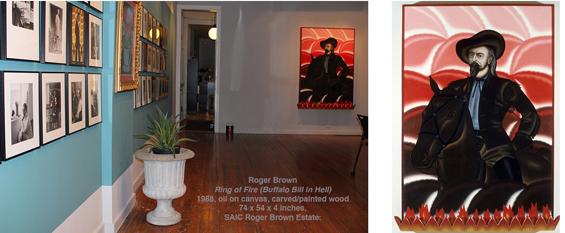 Ever the observer and critic of the art world and its history, Brown made paintings referencing artists or histories in the HAHS consortium. We found connections to works by Augustus Saint-Gaudens, Georgia O'Keeffe, Grant Wood, Thomas Hart Benton, Jackson Pollock, and painters of the American landscape, among Brown's oeuvre. Color reproductions of six paintings are mixed in with the black and white portraits. Brown dined on Russel Wright American Modern dinnerware (in his modernist home in Michigan) and a coral dinner plate punctuates the installation. We included a photo of Brown astride a camel next to the photo of Frederic Church astride a camel, to highlight the importance of travel to distant lands, for historical and contemporary artists.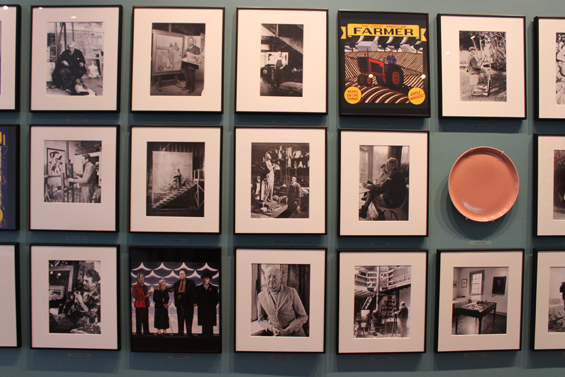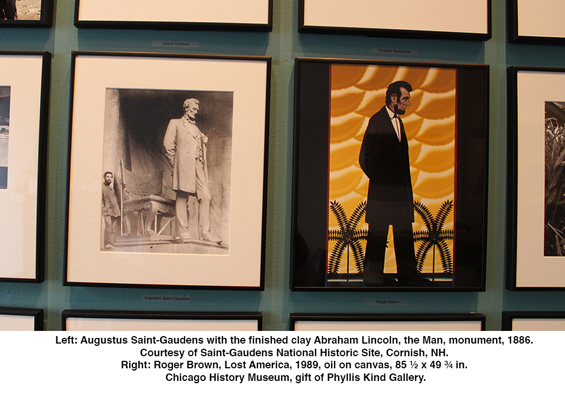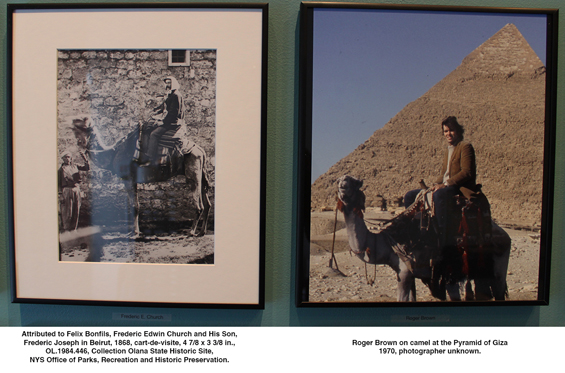 We assembled a mini-library of books on the HAHS artists (borrowed from SAIC's Flaxman Library), so information and images on the artists are on hand.

Compare and Contrast includes a slideshow with an introduction to each artist and their home & studio, showing works by HAHS represented in the Art Institute of Chicago.  A guide with Art Institute floor plans identifies 62 artworks by HAHS artists that are currently on view, offering a kind of scavenger hunt through the museum, to works as diverse as Thomas Cole's Distant View of Niagara Falls (1830), to an untitled work by Donald Judd (1968), to Jackson Pollock's The Key (1946), and many more.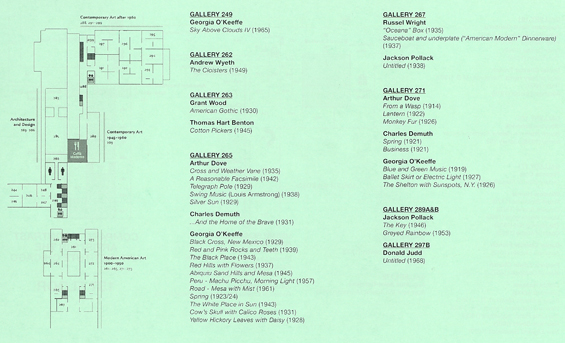 Co-curator Olivia Junell (Art History/Arts Administration dual degree grad student) created and designed an accompanying booklet, with information and quotations about and by each artist.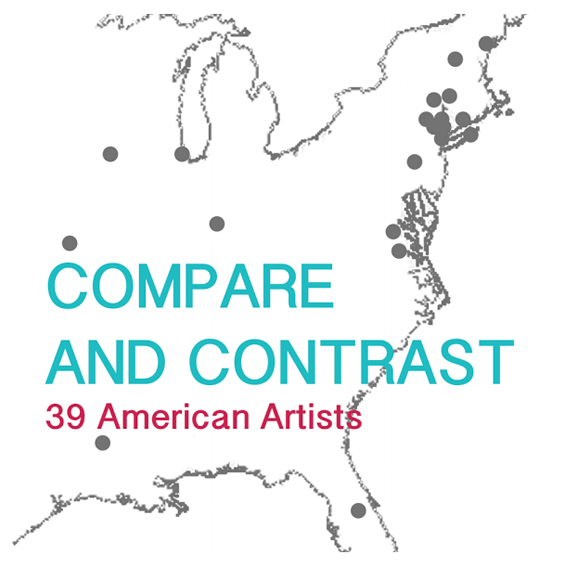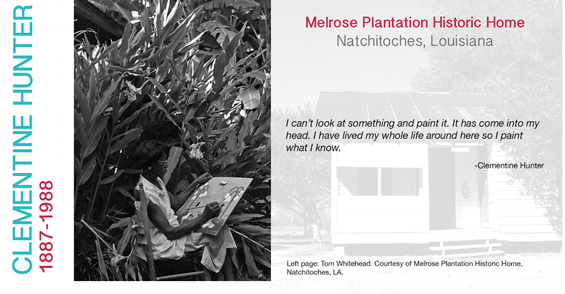 Compare and Contrast booklet cover and sample pages
On February 11, Art Historian Jason LaFountain gave the lecture Both/And American Art here at the RBSC.LaFountain, who teaches in SAIC's Art History, Theory, and Criticism department, explored Brown's work in relation to many of the HAHS artists and sites (including other sites he thinks should be in the HAHS consortium), and teased out insightful connecting threads between and among the artists. Using Robert Venturi's Complexity and Contradiction in Architecture––a text dear to Roger Brown––as a conceptual framework, the lecture positioned Brown's artistic production in relation to Venturi's theorizations of the "both-and" in architecture" and "the difficult whole."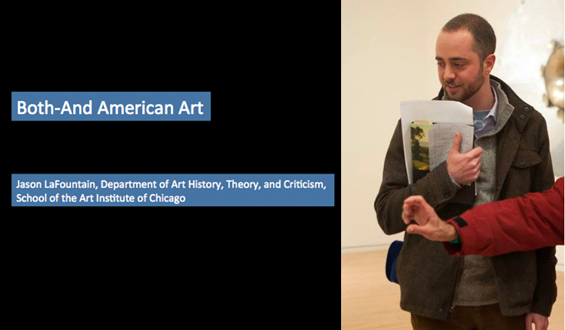 The Historic Artists' Homes and Studios Program of the National Trust for Historic Preservation is supported by a generous grant from the Wyeth Foundation for American Art. We hope Compare and Contrast will inspire our guests to experience these sites in person, and to support HAHS's mission of preserving these special places that are vital to the nation's cultural heritage. Many thanks to Donna Hassler (Director of Chesterwood and Administrator of the Historic Artists' Homes and Studios program), and Chesterwood staff.
Note: the subtitle "39 American Artists" was publicized before we realized that in the exhibition of 39 photos, there are actually 40 artists in the exhibition. Helen Torr and Arthur Dove are in the same photo, taken at the Dove/Torr Cottage, Centerport, New York.
Compare and Contrast: 39 American Artists
January 22 – May 8, 2015
Roger Brown Study Collection, the School of the Art Institute of Chicago
1926 N. Halsted St., Chicago * by appointment, 773. 929-2452, rbsc@saic.edu

---