Kavi Gupta represents the Roger Brown Estate
Thursday, February 25th, 2016 » By lstone » See more posts from Uncategorized

The School of the Art Institute of Chicago (SAIC) is pleased to announce the representation of the Roger Brown Estate by Kavi Gupta. Gupta and his staff bring enthusiasm and myriad ideas for expanding recognition for Brown's seminal presence in late 20th century American art, and for introducing Brown's work into new audiences, globally. We're excited to work with the Kavi Gupta team and to fully support their efforts through the Roger Brown Study Collection archive and resources.
We're digging deep for archival materials to augment what will surely be an intriguing and provocative fall exhibition.  SAIC's Dean of Faculty and Vice President for Academic Administration, Lisa Wainwright, said "SAIC is deeply committed to the thoughtful management of the Roger Brown estate. We are tremendously excited by Kavi and his staff's ideas and enthusiasm around the advancement of Brown's important legacy. Watch this space!"
Russell Bowman/Russell Bowman Art Advisory represented the Estate since 2003. We're ever grateful to Bowman (who closed his gallery in late 2015), and his staff, for their and efforts in promoting the art of Roger Brown and the Roger Brown Estate.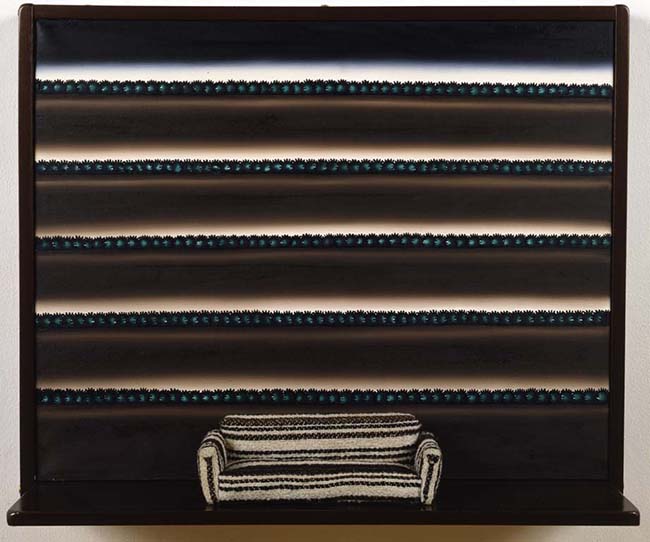 Roger Brown, A Painting for a Sofa: A Sofa For a Painting, 1995, oil on canvas/mixed media, 25 ½ x 31 x 9 in.

---