These templates are DIY aka Do-It-Yourself… meaning you will be cutting out the artwork on your file. 
Our Do-It-Yourself templates are made to help you easily and efficiently layout your images to best fit our available paper stocks. If you are not comfortable cutting then you need to use our Premium Finishing Templates.
QUESTIONS? Schedule a Consultation or Tour
---
Use the templates below if you plan on cutting down your prints yourself.
There is a large format cutter located outside the Service Bureau and rulers and blades are available for checkout. We will not bulk cut cards made with these templates.
The format for most of the templates is the same. Each one consists of layers that contain different elements of the template. Your backgrounds, images, and text should be placed on the YOUR ARTWORK layer to ensure proper printing.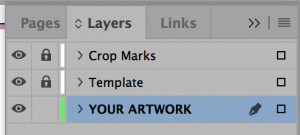 The black trim line is where your image will be trimmed to. All of your important information should be within the blue safety line. Any backgrounds, images, or text that run to the edge of the trim line should extend to the pink bleed line.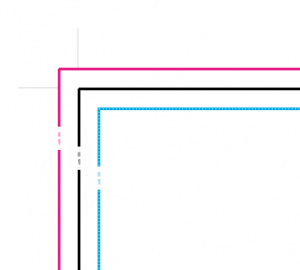 Templates are available as InDesign, Illustrator, and Photoshop files. Additional instructions on creating and saving your file are included in the templates.
---