We are looking for submissions for our final Riso Club event for the year! We will be creating a collaborative Exquisite Corpse Zine!
At the Riso Club Event on Thursday, April 28th from 5-8pm Riso Club members will print, collate and staple an edition of zines from files submitted by YOU! 
---
Exquisite Corpse
---
A game in which each participant takes turns writing or drawing on a sheet of paper, folding it to conceal his or her contribution, and then passing it to the next player for a further contribution.
The game gained popularity in artistic circles during the 1920s when it was adopted as a technique by artists of the Surrealist movement to generate collaborative compositions.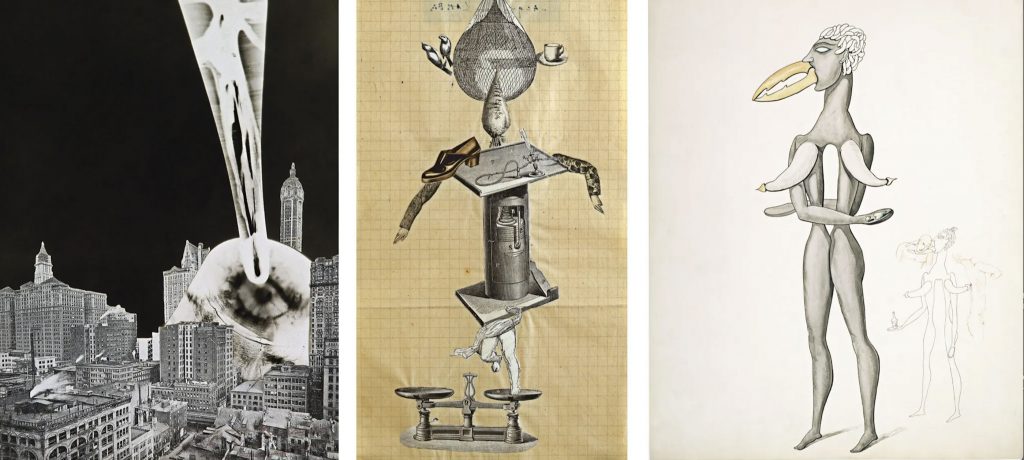 A revolt against reason: "The Disconcerting Light" (1926), "Exquisite Corpse" (1938), and "Anatomy of Desire" (1936).
Art by Left to right: E.L.T. (Edouard Leon Theodore) Mesens / Courtesy ARS, NY / Sabam, Brussels; André Breton, Jacqueline Lamba, Yves Tanguy / Courtesy Estate of Yves Tanguy / ARS, NY / ADAGP, Paris; Victor Brauner / Courtesy ARS, NY / ADAGP, Paris
---
How It Works
---
Artwork will be submitted beforehand (via a Google Form below) and prepared by Service Bureau staff for printing.
A succession of artwork will be run through the Riso multiple times with various colors creating unplanned combinations encouraging the element of surprise and unexpected results.
Riso Club participants will be learning how to send digital files to the printer, register double sided prints for zine making and collating/stapling the final zine.
---
How to Submit
---
All you have to do is fill out this Google Form and upload a single 8.5×11 (Grayscale) PDF of the artwork you would like to  have included.
Create your work with the Adobe software you are comfortable with using. Remember only grayscale elements,

Draw on a piece of paper with black pen and scan to PDF using the B/W laser printers on campus. 
The selection of work used may be curated as there is only a limited number of work that can be used in the small timeframe but depending on response more zines may be printed in the future… watch the Riso Club page or get on our mailing list!
---
Rules + Guidelines
---
There is no restrictions to what style of work can be submitted: photographs, drawings or text – we'll take it all!
Please take into consideration when making your artwork the coverage of ink needed. To avoid a super messy evening of roller marks let's keep artwork under control and under 75% opacity for large areas of color. Keep it simple! It's going to be printed in one color only. 1 file per submission.
Submissions should be portrait format (letter size.)

Submissions should be a submitted in grayscale.

Submissions must be original artwork or found imagery that has no copyright restrictions.

Submissions must reach us no later than midnight on Tuesday, April 26th,
---
Technical Specifications
---
Size – Letter (8.5×11)
Colours – TBD
Paper – 60# Cougar Opaque Vellum Text