I'm neither refined nor formal. Etiquette doesn't concern me. I am the trace left after a night with friends. I am the memory of good food, spilled drinks, and heated conversations.
An ash wood dining table with place setting inspired patterns engraved into the surface.
Ash wood, metal hardware, acrylic paint, and low VOC finishes
94" L x 36" W x 29" H / 240cm L x 91.5cm W x 74" H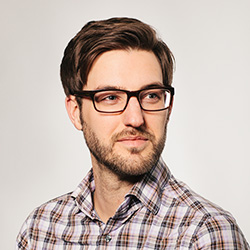 Taylor Littrel
BFA: Designed Objects, 2013
Taylor Littrel is a furniture and object designer. He seeks to create an awareness of the cultural and historical constructs embedded in materials and production methods. His work challenges established contextual boundaries—from DIY culture to modernist design ideologies—in order to establish a dialogue for both past and potentially new design practices.