Put that away
Avert your eyes
Don't be shy
Try not to hide
Black, White, Brown Colors abound
Wrap your self with me Eventually you will see
A digitally printed white cow leather body wrap. Available in Light, Medium, and Dark.
Printed white cow leather and cotton thread
116" L x 5" W / 295cm L x 12.7cm W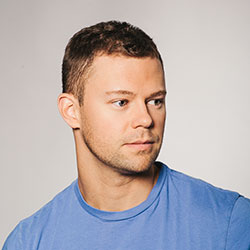 Kempe Scanlan
Master of Design in Designed Objects, 2013
Kempe Scanlan's work blurs the line between design and art. His designs combine his training in economics and sculpture to address issues of social systems, human behavior, and our response to form. His critical viewpoint achieves a sophisticated humor drawing inspiration from health, religion, and sexuality. Kempe received a BA in Economics from Skidmore College.