I am not what you believe. Unapologetically unrestrained, I exposed my true nature. I am not one, but many. I surrender to transition - from warm depths of the richest black, to silvery browns infused with grey, to the fragile attenuation of ivory white, I yield to light and shadow - leading me into and out of nothingness.
A shoulder bag comprised of thin sheep leather and partially roped wool yarn. Available in Auburn, Grey, and Black straps.
100% undyed wool, genuine leather, and thread
24" L x 18" W / 61cm L x 46cm W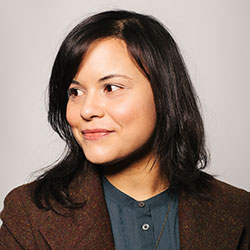 Venessa R Jimenez
Master of Design in Designed Objects, 2013
Venessa Rosely Jimenez's design approach is driven by intuitive observation, and experimentation with material processes. She revels in the the tension between the intuitive and the rational, and the quixotic and the pragmatic. It is in this flux that she looks to find elegant, simple, and sensuous solutions to her design inquiries.