One hour of purple, one hour of red.
This is a diary of colors, for all the beautiful days.
Some pages are colorful, some are blank.
Time is alive.
An application that uses images and animations of growing bacteria to track and visualize how much time users spend on their daily activities. Images can be saved and shared to social networks. This personal time tracker runs on Android 4.0 and above.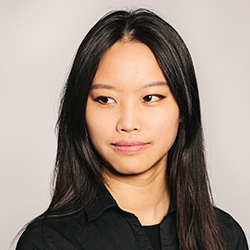 Ruyuan Ge
Master of Design in Designed Objects, 2013
Ruyuan Ge designs with an interdisciplinary approach. Her works interpret technologies artistically, and explore interaction between the digital and the physical. Ru was born and raised in Beijing, China. She received her Bachelor of Engineering from the University of Hong Kong in 2010.