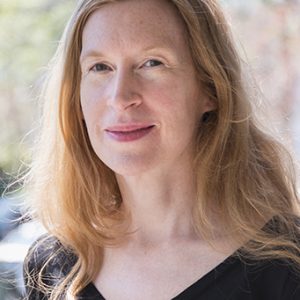 Anke Loh
Associate Professor, Fashion Design
---

Anke Loh has been teaching at SAIC since 2005. She took her sabbatical during the 2021 Calendar Year.


Designer, artist, and educator Anke Loh works at the intersection of fashion, art, and technology. With a focus on textile development and wearable tech, her collaborative practice explores the potential ways of building community through craft and making. In the process of creating installations and site-specific interventions, Loh will invite scientists, designers, artists, and community members to collaborate on innovative projects such as touch sensitive embroidered textiles that trigger pre-recorded soundscapes. Her practice also explores the inherent meaning and symbolism imbedded into everyday materials such as wire, which has been used to build fences as well as serve a conduit for communication across borders.
Loh's multi-disciplinary approach to art and design has attracted international media attention and recognition in addition to awards, such as the Laureate at the Festival International des Arts et de la Mode in Hyères, France. Her work has been featured at New York's Fashion Week, Paris' Centre Pompidou, Japan's Osaka Collection Show, and Mode Expo Antwerp, Belgium.
Education
1999 MFA, Royal Academy of Fine Arts, Antwerp
1998 BFA, Royal Academy of Fine Arts, Antwerp
Notable Classes Taught:
Fashion Construction/Design VI
Design Studio III
Design Studio I
Professional Practice I