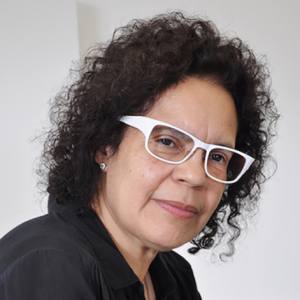 Candida Alvarez
F.H. Sellers Professor, Painting and Drawing
---

Candida Alvarez has been teaching at SAIC since 1998. She took her sabbatical during the 2020 Academic Year.


Throughout her career, Candida Alvarez has worked with acrylic paint, enamel, fabric, and PVC mesh to create her highly experimental and innovative paintings, sculptures, and collages. Her paintings incorporate multiple layers of vibrant color and complicated shapes to create abstract and figurative forms that draw from personal memories, the history of painting, and everyday life. Alvarez's process involves an engagement with what she calls an active search–exploring the world through an unremitting curiosity and paying close attention to what may often be considered ordinary. Her use of color and silhouette also draws from the aesthetics of kitsch, cartoons, and the handcrafted. The result is a blurring of boundaries between the abstract, the conceptual, and the intuitive.
Alvarez was born in Brooklyn, New York, and is currently based in Chicago, Illinois, and Baroda, Michigan. In 2021 she was awarded the Helen Frankenthaler Award for Painting by the Foundation for Contemporary Art, NY, and was a recipient of the Joan Mitchell Foundation Painter and Sculptors Grant in 2019. Alvarez was recently named as one of the 2022 Latinx Artists Fellows by the Ford Foundation and the Mellon Foundation. Her work is included in the collections of the Addison Gallery of American Art, Art Institute of Chicago, Museum of Contemporary Art Chicago, Pérez Art Museum, San Jose Museum of Art, Virginia Museum of Fine Arts, and the Whitney Museum. Alvarez was appointed as the F.H. Sellers Chair in Painting at SAIC in 2019.
Alvarez is represented by Monique Meloche Gallery, Chicago, and Gavlak LA|Palm Beach.
Education
2012 Communications Media, European Graduate School, Saas-Fee, Switzerland
1997 MFA Painting and Printmaking, Yale University School of Art
1981 Skowhegan School of Painting and Sculpture
1977 BA Studio Art/ Liberal Arts, Fordham University
Notable Classes Taught:
Contemporary Art in New York: Connecting the Dots (with Daniel Quiles and Lan Tuazon)
New York is Still #1: Contemporary Art in NY (with Terry R. Myers)