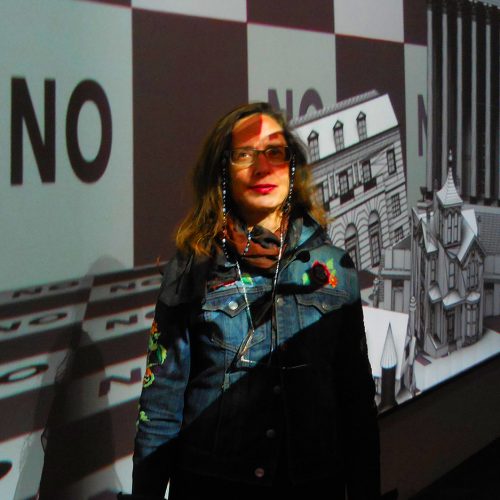 Claudia Hart
Professor, Film, Video, New Media, and Animation
---

Claudia Hart has been teaching at SAIC since 2007. She took her sabbatical during the 2021 Academic Year.


Claudia Hart is an intermedia artist addressing issues related to identity, representation, and simulation technologies through a feminist perspective. She is known for creating virtual representations that take the form of 3D imagery integrated into photography, multi-channel animation installations, performances and sculptures using advanced production techniques. Though patently artificial, the figures in her film installations emote in a recognizably human way as they are put through often agonizing processes involving containment and atrophy. These forms resist technocratic and bureaucratic cultures by promoting the inclusion of women in the masculine environment cultivated within the computing field. Based on her practice, she developed the first pedagogical program dedicated solely to teaching simulation technologies in an art-school context.
Hart's work is in the collections of the Metropolitan Museum, the Museum of Modern Art, and the Whitney Museum of American Art. Her work has been shown at the New Museum, produced at the Eyebeam Center for Art + Technology, where she was an honorary fellow in 2013-14, at Pioneer Works, NY, where she a technology resident in 2018, and at the Center for New Music and Audio Technology, UC California, Berkeley where she is currently a Fellow. She is the creator of the Experimental 3D program within the FVNMA program at SAIC.
Hart is represented by bitforms gallery, New York.
Education
1984 MS, Columbia University Graduate School of Architecture
1978 BA Art History, Founder's Award, New York Universit
Notable Classes Taught:
Advanced Experimental 3D
Atmospheric Animaton
Digital Bodies
Intro to Experimental 3D
Mixed Reality
Travels in Hyperreality
Virtual Installation