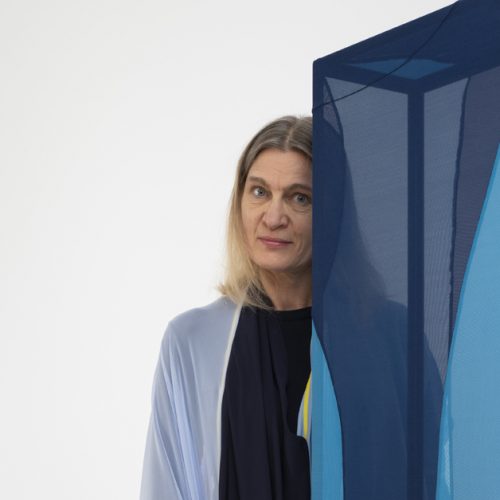 Katrin Schnabl
Professor, Fashion Design
---

Katrin Schnabl has been teaching at SAIC since 2004. She took her sabbatical during the 2020 Academic Year.


Katrin Schnabl is a designer, artist, and educator who works in the spaces between fashion, dance, performance, and installation. She creates sophisticated garments that move sensuously on the body as well as spatial installations that profoundly shift bodily relationships. Schnabl is drawn to dualities, including those of the viewer and wearer, inner and outer, and latent and manifest energy. Her approach is deeply influenced by her experience engaging with motion, sound, and energy while navigating space as a trained dancer.
Schnabl's designs have been shown at New York Fashion Week and featured in high-fashion magazine spreads around the world, including in the US, Saudi, and Spanish editions of Harper's Bazaar, Madame Germany, Soma Magazine, Vestal Magazine, Fault Magazine, Kurv Magazine, Creem Magazine, Stylewylde, and Fashion Theory, among others. She has taken part in exhibitions at Evanston Art Center and DePaul Art Museum, and collaborated with Joffrey Ballet Chicago and Danceworks Chicago to create performance costumes.  Schnabl is also one of the faculty members who co-created SAIC's Fashion, Body, and Garment graduate program in 2008. She is currently the Sage Endowed Chair of the Department of Fashion Design.
Education
1995 BFA with honors, Fashion Institute of Technology
Notable Classes Taught:
Elastic Limbs
Fashion Intensive Portfolio
Interfacing Draping
Multilevel Draping
Shape and Theory