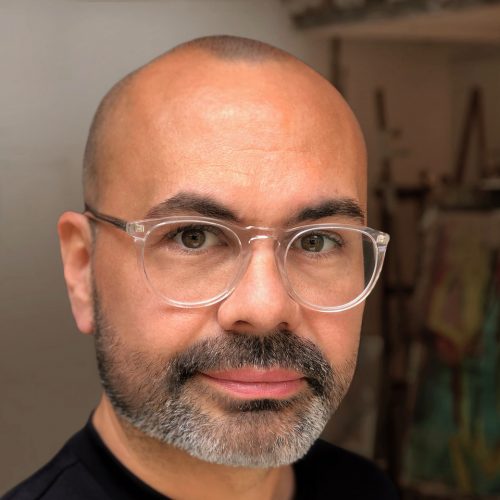 Pablo Garcia
Associate Professor, Contemporary Practices
---

Pablo Garcia has been teaching at SAIC since 2012. He took his sabbatical during the 2020 Academic Year.


Originally trained as an architect, Pablo Garcia has grown his practice from design-for-hire to internationally exhibited artwork, provocations, and research studies. His work draws upon various resources and initiatives, such as design objects supported by crowd-funding, mechanized sculpture, video/performance pieces, and fusions of new technologies with ancient techniques. Garcia's research draws inspiration from his training in traditional analog technology and emerging digital technologies as they relate to the ideas of obsolescence, the cutting edge, the real, and the virtual. He finds himself nurturing two separate impulses: historical research into old, forgotten technologies and investigations into new, emerging media. This has culminated in his NeoLucida project, a drawing aid that utilizes refractions from prisms to help artists draw scenes realistically.
In addition to SAIC, Garcia has taught at Carnegie Mellon University, Parsons School of Design, and The University of Michigan. From 2004 to 2007, he worked as an architect and designer for Diller Scofidio + Renfro. Garcia has lectured and exhibited in galleries and festivals across North America, South America, and Europe. He has contributed research into the history and techniques of drawing technologies for institutions such as The Art Institute of Chicago, The American Philosophical Society; The Polytechnic Museum, Moscow; and The Victoria & Albert Museum, London. His work has also been featured in such  journals as Art in America, WIRED, FastCompany, Huffington Post, GQ, and Mashable. Garcia's Core77 Award winning NeoLucida (in collaboration with Golan Levin) was among the Top 100 highest grossing Kickstarter campaigns of all time. Alongside his professorship at SAIC, Garcia serves as the Chair of the Faculty Contract and Tenure Review Board.
Education
2003 M.Arch, Princeton University
1988 B.Arch, Cornell University
Notable Classes Taught:
Contemporary Practices Research Studio II: The World is Flat
Go Fund Yourself/Venture Studio
What is Drawing?