At last, we touch. Come, lie beside me, beneath me.
I will encompass you, measure the full extent of you,
your breadth, your depth.
Now, we are whole,
complete and consummate,
volumes in accord, proportions in harmony.
Isn't it obvious?
I exist for you.
A handblown wine glass with etched measurement.
Hand blown and etched glass
10.25" H x 4.5" Ø / 26cm H x 11.4cm Ø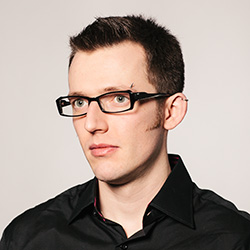 Daniel Moynihan
BFA: Designed Objects, 2013
Daniel Moynihan enjoys obsessing over the details of the interaction between user and object. He believes that motion and gesture are as crucial to design as shape and material, and that form and function are the same thing, if you look at them the right way. Daniel holds a BA in Psychology from Dartmouth College and has designed hardware and software for Samsung Electronics.