Posted by | Conversations at the Edge | Posted on | November 2, 2006
Thursday, November 2, 2006, 6pm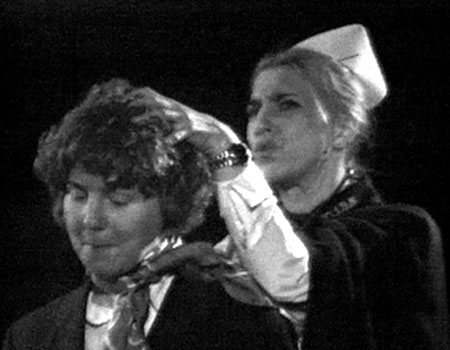 Anne McGuire in person!
Anne McGuire is a San Francisco-based video artist whose "private cabarets" expose the formal elements of another era's media mannerisms and lay bare their cultural mores. Her works contain elements of impersonation and performance, personal exorcism and autobiography, wit and media critique. A survey of her short works to date, tonight's program includes All Smiles and Sadness (1999) starring George Kuchar, I Am Crazy and You're Not Wrong (1997), Joe DiMaggio 1, 2, 3 (1991), and Turn Table (2005), among others. Co-presented by the Video Data Bank and CATE. 1991-2006, Anne McGuire, USA/Taiwan, ca. 90 min, video.
The Video Data Bank celebrates thirty years!
Tonight's program is part of a series of screenings, talks, and lectures celebrating the Video Data Bank's three decades of collecting, distributing and exhibiting over 1,600 essential video art titles by 400+ artists. Events include an artists' talk by George Kuchar and Anne McGuire, a multi-media lecture by renowned critic and author Gene Youngblood (Expanded Cinema), and the publication of FEEDBACK: The Video Data Bank Catalog of Video Art and Artist Interviews, a full catalog of the VDB collections and an anthology of essential essays on the development of alternative media in the U.S.