Posted by | Conversations at the Edge | Posted on | November 2, 2006
Thursday, November 2, 2006, 8pm | George Kuchar in person!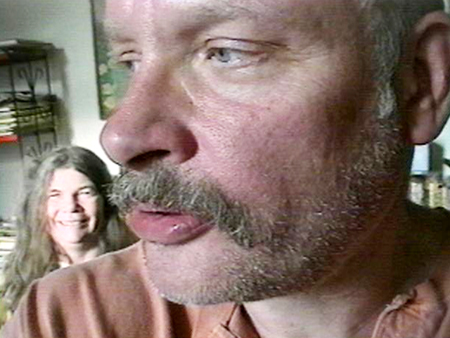 George Kuchar has been working with the moving image for nearly half a century. First, with his twin brother Mike, producing their ultra-low-budget underground versions of Hollywood genre films. And then, on his own, since the 1980s, creating brilliantly edited, hilarious, often diaristic tapes with dime-store props and not-so-special effects, using friends as actors, and the "pageant that is life" for his studio. Tonight he will present a selection of his high-ambition, low-neckline genre tapes and autobiographic chronicles, coinciding with the launch of a special Video Data Bank DVD compilation, The World of George Kuchar. The program includes the weather–imbued Heavenly Features (2005), the people, pets and places of Faulty Fathoms (2006), and the world premiere of his latest opus Temple of Torment (2006), among others. Co-presented by the Video Data Bank and CATE. 2005-06, George Kuchar, USA, ca. 90 min, video.
The Video Data Bank celebrates thirty years!
Tonight's program is part of a series of screenings, talks, and lectures celebrating the Video Data Bank's three decades of collecting, distributing and exhibiting over 1,600 essential video art titles by 400+ artists. Events include an artists' talk by George Kuchar and Anne McGuire, a multi-media lecture by renowned critic and author Gene Youngblood (Expanded Cinema), and the publication of FEEDBACK: The Video Data Bank Catalog of Video Art and Artist Interviews, a full catalog of the VDB collections and an anthology of essential essays on the development of alternative media in the U.S.