Posted by | Conversations at the Edge | Posted on | September 26, 2008
Thursday, October 2, 6pm | Festival director Bryan Wendorf and CUFF filmmakers in person!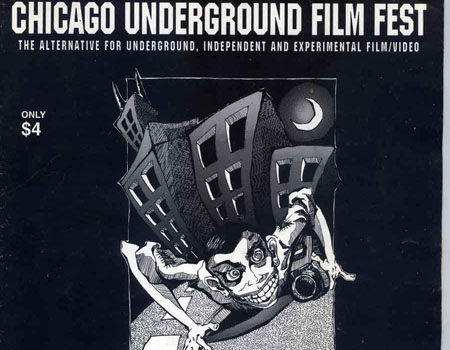 Roger Ebert once said of the Chicago Underground Film Festival, "What you get for your money is not just admission to the films, but admission to a subculture." For 15 years, CUFF has exhibited the vibrant media emerging from Chicago's schools, production houses, music and performance scenes, and occasionally, from out-of-the-blue. Tonight's program, co-curated by CUFF co-founder and Artistic Director Bryan Wendorf, charts the festival's history through the city's own, from Jennifer Reeder's 1996 riot grrrl call-to-arms, Clit-O-Matic: The Adventures of White Trash Girl (1995) and James Fotopoulos' transgressive experimentation, Drowning (2001) to Jim Finn's Marxist-inspired history of the gerbil,Wüstinspringmaus (2002) and Ben Russell's transcendent concert film, Black and White Trypps #3 (2007). Also featured: Velvet Welk (Darren Hacker, 1996), Wheels of Fury (Dan and Paul Dinello w/Amy Sedaris, 1998), Stuffing (Animal Charm, 1998), Départ (Thomas Comerford, 2000), Bouncing In The Corner #36DDD (Dara Greenwald, 1999), Receiver (Jon Leone, 2001), I Am a Conjuror (Emily Vey Duke & Cooper Battersby, 2003), and Security Anthem (Kent Lambert, 2003). CUFF presents a second retrospective program on Friday, October 3 at the Nightingale. Visit cuff.org for details. 1995—2007, various directors, USA, multiple formats, ca 90 min.