Posted by | Conversations at the Edge | Posted on | September 24, 2010
Thursday, September 30, 6 p.m | Rosa Menkman in person!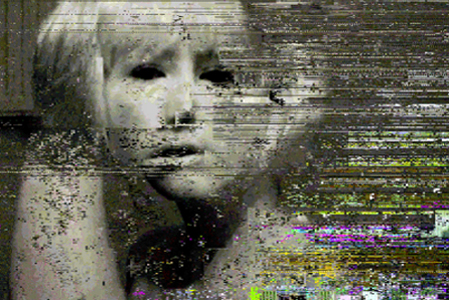 Every technology possesses its own inherent accidents. Rosa Menkman is a Dutch artist and theorist whose focus is on visual artifacts created by accidents in digital media specifically. She describes these as "the uncanny, brutal structures that come to the surface during a break of the flow within a technology; they are the primal data-screams of the machine." Working at the experimental junction of glitch, noise, and new media art, Menkman creates glitch work and writes texts about codecs, interpolation, and compression going awry. This evening, Menkman will introduce a selection of videos followed by a real-time performance. Rest assured, the equipment is working, though it may not look like it is. This presentation coincides with GLI.TC/H, an international noise and new media conference taking place from September 29 to October 3 at various locations around Chicago. Visit http://gli.tc/h. Rosa Menkman, 2006–10, Netherlands, multiple formats, ca. 75 min (plus discussion).
ROSA MENKMAN (1983, Arnhem, Netherlands) is the leading international theory-practitioner of glitch art.  She has written extensively on digital artifacts and noise, including the Glitch Studies Manifesto (2010). Her videos and real-time performances have been included in festivals like Blip, Europe and U.S.; Haip, Ljubljana; Cimatics, Brussels; Video Vortex, Amsterdam and Brussels; and Pasofest, Ankara. She has collaborated on art projects together with Alexander Galloway, little-scale, Govcom.org, Goto80 and the Internet art collective, Jodi.org.  Menkman received her Master's degree in 2009 and is currently a PhD student at KHM Cologne, writing on the subject of Artifacts.
MORE
Dinca's Seven Question Interview with Rosa Menkman