Posted by | Raven Munsell | Posted on | May 17, 2013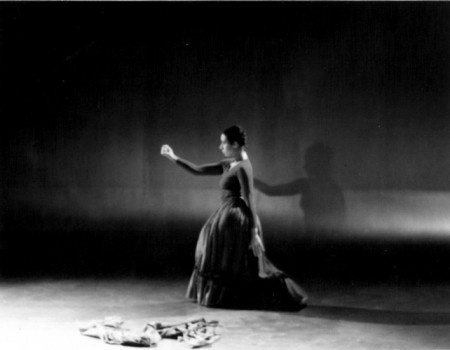 Still from Four Women (Julie Dash, 1975)
Interview by Felicia Mings
I had the privilege of chatting with Jacqueline Stewart shortly after attending the March 28th L.A. Rebellion film screening of shorts by Ben Caldwell, Barbara McCullough, O.Fummilayo Makarah at the Gene Siskel Film Center. This event kicked off a series of film screenings across Chicago that dig into the archive of the L.A. Rebellion, a collective of former students of UCLA's School of Theater, Film and Television who were dedicated to exploring the social, cultural, and political issues of their time—the 1970's and 1980's.
My interest in the intersection of curatorial practice and art education made me extremely excited to delve into Stewart's experience of curating a collection that contains historic, documentary, and fictional works by seminal African American filmmakers.
Felicia Mings: What drew you to this curatorial project?
Jacqueline Stewart: I am a film historian specializing in African American film and when I was doing research on early black filmmakers, I found it frustrating that very few of the films had survived.  I ended up conducting most of my research by looking at old black newspapers. This really sparked my interest in learning more about film archiving and preservation, and through Jan-Christopher Horak, Director of the UCLA Film and Television Archives I had the opportunity to do that.
For future film programmers and curators, could you share a bit about the process of collectively curating films with Allyson Nadia Field, Jan-Christopher Horak and Shannon Kelley?
Chris Horak and Shannon Kelley have more experience in curating and programming than Allyson and I. Chris has curated work for decades as an archivist presenting public programs on a variety of subjects at UCLA, George Eastman House and abroad.  Allyson and I are scholars, and we were able to bring a deep historical knowledge of African American film to the project. Each member of the team brought different strengths and bodies of knowledge, which helped determine what would be in the show.
There are two different versions of this film program, an extensive one that ran for three months in the fall of 2011 at the UCLA Film and Television Archive, and a shorter version that is on tour. I will focus on the shorter version that is currently in Chicago. For this program one thing that we came to agreement on was spreading the attention across as many of the filmmakers as possible. Some of the filmmakers are more widely known than others. People who know a lot about African American film are familiar with Charles Burnett and Julie Dash. There have been a few retrospectives of these individual artists, but the work of many others has been left out. [1] We wanted to show work by each filmmaker participating in the project, and that is why we only included one feature film by each of the better-known artists in the program. In addition, we wanted to include work they created as students and as well as their shorter films because people tend to focus on feature length films. The tour consists of four programs made up of shorts, and eight programs that show feature length films that are each preceded by a short.
After the program is done touring, how can people access these films?
At the UCLA Film and Television Archive there is a copy of everything that we have uncovered during the course of the project—the archivists have said that the material has been gaining a lot of use. The archive's website features an extensive L.A. Rebellion section that features some short student works.  We hope to possibly have DVD releases of some of the films some time in the future. Although, an issue that comes up around these films is often copyright. As students, the filmmakers often used music without purchasing or clearing the rights to it, making DVD distribution one of the biggest and most expensive challenges. Therefore, it will be a slow process but it is one that the archive is committed to. Milestone Films released Burnett's Killer of Sheep and My Brother's Wedding and some shorts on DVD in 2007.  And a number of shorts and early student works by others are distributed by Third World Newsreel and Women Make Movies, for rental or purchase.
Who are the African-American students and emerging filmmakers that you are watching out for? How is this new wave of artists work similar or and perhaps divergent to the work of the LA Rebellion filmmakers in relation to content, form, and possible social and political aims?
One person that comes to mind, although she is not a student, is Cauleen Smith, and her film Drylongso. Cauleen comes to mind because she went to UCLA for film school, and she pursued her undergraduate degree at San Francisco State, studying under L.A. Rebellion filmmaker Larry Clark who directed Passing Through. Cauleen was inspired by him as a teacher, and talks in incredible detail about how he taught students to shoot dark-skinned people using proper lighting and film stock appropriate to their skin tones. He was very thorough about these issues that many cinematographers ignore or take for granted, and you can see that Cauleen works to show that beauty and diversity in her work. She is descendant of this movement.
Do you have other curatorial projects on the horizon that we should be aware of?
I have kept pretty busy with the LA Rebellion program touring, but I will be presenting something at an upcoming Orphan Film Symposium at the Academy Film Archive. Organized by Dan Streible, the Orphan Film Symposia bring together archivists, scholars, and filmmakers to discuss and screen neglected films. I have been working with S. Pearl Sharp, a filmmaker, poet, actor and activist who lives in LA.  She shared with me work she did back in the 1980s with the Black Entertainment Television network (BET). When BET first came on the air they would show older black films from the 1970s, and even back to the 1930s and 1940s.  These were preceded by short video introductions Sharp produced and directed with Thom Eubanks. These introductions are really informative pieces in which she talks with actors and actresses from the films such as Rosalind Cash, Max Julien and Ron O'Neal, as well as interviews with scholars like Henry T. Sampson.  These tapes reveal some of the early history of BET. It is important to me that these are all shot on videotape, as there has been a lot of attention paid to the preservation of film, but video is in more danger of deteriorating because people don't attach the same historical value or see it as aesthetically significant. This project has made me start to think of strategies for preserving other African American video works.
Felicia Mings is a graduate student in Visual and Critical Studies at the School of the Art Institute of Chicago. Her experiences in developing youth arts programming in Toronto and St. Catharines, Ontario has led to her interest in exploring intersections between curatorial practice, art education and community development, specifically in relation to contemporary African Canadian art.
—————————————————————————————————————————
[1] In 2011 the MOMA did a retrospective of Charles Burnett's work titled Charles Burnett: The Power to Endure. Many institutions have honored him.
The moment the LA Rebellion got named was when Clyde Taylor, curated a show at the Whitney Museum in 1986 called  "The L.A. Rebellion: A Turning Point in Black Cinema." This was one of the first times these films and filmmakers were exposed to a large audience. It was difficult to get access to those films before.