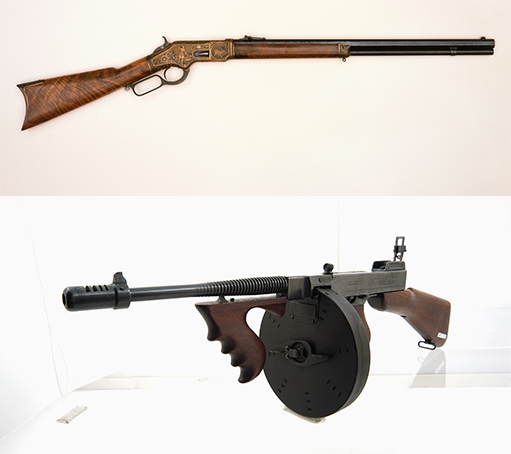 Buffalo Bill Center of the West, Cody, Wy, USA. Gift of Olin Corporation, Winchester Arms Collection, 1988.8.3283 & 1988.8.2609.
Tuesday, November 10, 2015, 4:15-5:45 p.m.
MacLean Ballroom, 112 S. Michigan Ave.
From Protector to Perpetrator: Demystifying Firearms
The design and manufacture of firearms stands as one of the great achievements of the Industrial Age. The process pioneered the 'American System' of manufacture that standardized mechanical reproduction on a massive scale. Gun and ammunition design has its own logic and, when demystified, can inform other disciplines. Hlebinsky will discuss the ways in which firearms are stigmatized and how those perceptions can lead to obfuscation of the distinction between firearms and firearms violence in history.
Ashley Hlebinsky earned her Master's in American History and Museum Studies from the University of Delaware. While in school, she researched at the Smithsonian Institution's National Firearms Collection for three years. She currently is the Curator of the Cody Firearms Museum at the Buffalo Bill Center of the West in Cody, Wyoming. Hlebinsky manages a collection of over 7,000 firearms spanning 1425 to modern day and studies the perceptions of firearms in culture. Hlebinsky also is a freelance firearms writer, consultant, and television personality on firearms history.
This lecture is part of the Taboo Subjects series organized by Ben Nicholson, Associate Professor in SAIC's Department of Architecture, Interior Architecture, and Designed Objects (AIADO), and is part of the William Bronson and Grayce Slovet Mitchell Lecture Series.
Taboo Subjects considers how every discipline has its own kind of discursive no-go zone. Architecture, landscape, and design, with the related fields of system and infrastructure design, has taboo subjects of conversation and practice, that it has not yet found the language to mull over constructively.
See more
Exhibition Events