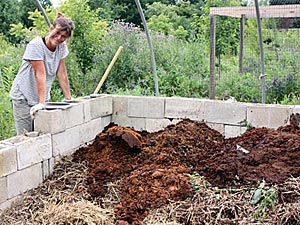 Nance Klehm, humble pile (ongoing, 2008)
Wednesday, October 21, 2015, 4:15-5:45 p.m.
Sullivan Galleries, 33 S. State St., 7th Floor
Foul Odors & Loathsome Sites: a Practical Reorientation to our Waste Streams
At a time when the word organic defines responsible living and cities wring their hands over stormwater and the overtaxed sewer system, how do we put two and two together and harvest the rich minerals and organisms present in our own human excrement? How can it be turned into compost used to grow plants and heal urban soil? As much a cultural taboo as an environmental risk, Nance Klehm will help pull the thorn of our prejudices and demonstrate that there is a real solution to reconnecting our bodies to earth – sane, safe, low-tech sanitation.
Nance Klehm is a steward of the earth. She is an ecological systems designer, landscaper, horticultural consultant, and permacultural grower, as well as an in demand consultant, speaker, and teacher. She is respected internationally for her work on land politics and growing for fertility. Nance's recent undertaking, The Ground Rules, is a unique community and earth-building initiative that seeks multiple communities to work with. The Ground Rules creates community-run Soil Centers where organic waste from local businesses is processed into high quality soil amendment that is used as soil amendment and bioremediation tool. Community members are trained in composting and bioremediation techniques in order to create a long-lasting local relationship with soil and soil issues. She is the founder of Social Ecologies, an L3C design and education firm that has designed and built a variety of ongoing ecological and system-regenerating projects.
http://spontaneousvegetation.net
This lecture is part of the Taboo Subjects series organized by Ben Nicholson, Associate Professor in SAIC's Department of Architecture, Interior Architecture, and Designed Objects (AIADO), and is part of the William Bronson and Grayce Slovet Mitchell Lecture Series.
Taboo Subjects considers how every discipline has its own kind of discursive no-go zone. Architecture, landscape, and design, with the related fields of system and infrastructure design, has taboo subjects of conversation and practice, that it has not yet found the language to mull over constructively.
See more
Exhibition Events