Posted in Uncategorized on Tuesday, March 24th, 2020
The Roger Brown Study Collection is closed until further notice, in accordance with SAIC's campus closure, and for the health and safety of all.
Mrs. Harriet Devore of Kinmundy, Illinois got it right: STAY HOME, MIND YOUR OWN BUSINESS.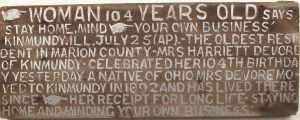 Roger Brown loved the work of Jesse "Outlaw" Howard (1885 – 1983), who animated his property on the outskirts of Fulton, Missouri, with signs and objects. Brown visited Howard and his "Sorehead Hill" environment in the early 1970s. He purchased several signs, and credited the rural artist with giving him permission to unleash his own independent voice, in his life and in his work.
We hope you're enjoying the current directive to stay at home, and finding all manner of creative outlets.