Letter from President Elissa Tenny and Chancellor Walter E. Massey
For 150 years, SAIC has trained and educated the world's most transformative and influential artists, designers, and scholars. Time and again, our students and faculty have defined and redefined the creative arts and industries. Their work has shaped conversations both on campus and off, has driven meaningful change in our home city and around the world, and has inspired generations to pursue their creative dreams.
Now we are very proud to share with you the vision behind our new campaign, Beautiful/Work, which will enable our community to thrive for decades to come. More than five years in the making, this campaign grew out of the School's strategic plan and is firmly aligned with the Core Values that have sustained this remarkable institution throughout its history ("We are explorers"; "Meaning and making are inseparable"; "We are artists and scholars"; "Chicago"; "We make history").
Beautiful/Work is a groundbreaking investment in the heart of our community: the students and faculty who are the present and future of art and design. By supporting scholarships, professorships, and other vital campus initiatives and programs, this campaign ensures that SAIC remains at the vanguard of art and design education and continues to produce the dynamic work and diverse voices for which our School is renowned.
It will also represent a wonderful opportunity to bring the entire SAIC community together at a pivotal moment in its history. We invite and encourage you to make a gift of any amount in support of the students and faculty who are carrying the School's proud legacy forward. With your contribution, we can create another 150 years of Beautiful/Work.
With gratitude,
Elissa Tenny
President
Walter E. Massey
Chancellor
Letter from Campaign Co-Chairs Holly Hunt and Quintin E. Primo III
As business leaders in Chicago, we recognize the importance of having one of the world's most influential schools of art and design here in the city we love and call home—the tremendous impact such an institution has on our culture, our communities, and our economy.
That is why it is such a privilege for us to serve as co-chairs of SAIC's campaign, Beautiful/Work. This campaign will invest in the future of SAIC, which has a 150-year track record in educating the world's most gifted artists and designers. These are the students and faculty whose work brightens our streets, addresses the most pressing issues of the day, and inspires the creativity in our lives.
We invite you to join us in supporting SAIC and the Beautiful/Work its community creates. With your gift, we can ensure another 150 years of transformative art and design in Chicago, a future in which SAIC is sure to play the leading role.
Holly Hunt
Chief Executive Officer, HOLLY HUNT
Quintin E. Primo III
Chief Executive Officer, Capri Capital Partners
SAIC is governed by two oversight bodies: the Board of Trustees of the Art Institute of Chicago and the Board of Governors of the School. The trustees oversee both the School and the museum, while the governors focus solely on the School. The governors set policies for management of the School and steward SAIC's mission, objectives, and core values within the Art Institute corporation.
The Trustees of the Art Institute of Chicago may be found here.  
Board of Governors
Cary D. McMillan*
Chair
Melissa Behm
Daniel S. Berger
Robert H. Bergman
Sanford Biggers
Laurence O. Booth
Charles M. Brennan III
Todd C. Brown
Daniel R. Bryant*
Linda S. Buonanno*
William R. Bush
Dong Hoon Chang
Lester N. Coney
A. Steven Crown*
John DiCiurcio
Robert G. Donnelley
Karen Frank*
Denise B. Gardner*
Matthew R. Gibson*
Gordon Gill
Regis Haid
Gail Hodges
Holly Hunt*
Betsy Karp
Jay Krehbiel
Margaret MacLean
Charles L. Michod, Jr.
Melissa Moore
Marian Phelps Pawlick*
Charles T. Price
Quintin E. Primo III*
Dana Rice*
Ellen Sandor*
Richard L. Sandor
Stephanie Sick*
Anita Sinha
Adrian D. Smith
John L. Thomson
Charlotte Tieken
Joseph R. Trpik, Jr.
David J. Vitale
Kenneth Warren
Governors Emeriti
John H. Bryan*
John S. Chapman
Michael Conrad
Richard H. Cooper
Marshall Field V
H. Rick Fumo
David C. Hilliard
Richard Hunt
Philip Kotler
Frederick Krehbiel
Duane R. Kullberg
Patrick J. Leemputte
Barry L. MacLean*
Lewis Manilow
Susan Manilow
Thomas Miner
Young-Ju Park
Linda Johnson Rice
Adrian Smith
Todd Warnock
Arthur M. Wood, Jr.
Curtis Zeiser
* Board Members on Campaign Steering Committee
$2,000,000 +
Steve & Nancy and Paula & Jim Crown
Jarl & Pamela Mohn
Angela & George Paterakis
Tom & Margot Pritzker
Stephanie & Bill Sick
$1,000,000–$1,999,999
Anonymous
Neil Bluhm
John Chapman (Grainger Foundation)
Gelman Foundation
Holly Hunt & Knoll, Inc.
Robert & Diane Levy
Tim Maloney (Bank of America)
Beatrice C. Mayer
Sam & Ann Mencoff
Carol Rosenthal
Michael & Cari Sacks
Ellen & Richard Sandor
$100,000–$999,999
Daniel Berger
BDT Capital Partners, LLC
Charles Brennan
Neville & John Bryan
Daniel Bryant
Bill & Eileen Bush
Rosemarie & Ray Craig
Bob & Miranda Donnelley
Marshall & Jamee Field
Karen & Jim Frank
Denise & Gary Gardner
Matt & Denise Gibson
Regis Haid
Gail & Tom Hodges
Howard Holmquist
Jay Krehbiel
Sung Soon Lee
Claudia Luebbers
Walter & Shirley Massey
Jacquet McConville
Cary & Rande McMillan
Chuck & Susan Michod (Nuveen Benevolent Trust)
Richard Nantus
John & Alexandra Nichols
Harvey Plotnick
The Primo Family
Ream Foundation
Christopher & Anne Reyes
Patrick & Shirley Ryan
Anita & Prabhakant Sinha
John Thomson
David & Marilyn Vitale
Rick Waddell (Northern Bank Trust)
Todd & Liz Warnock
Michael Zahratka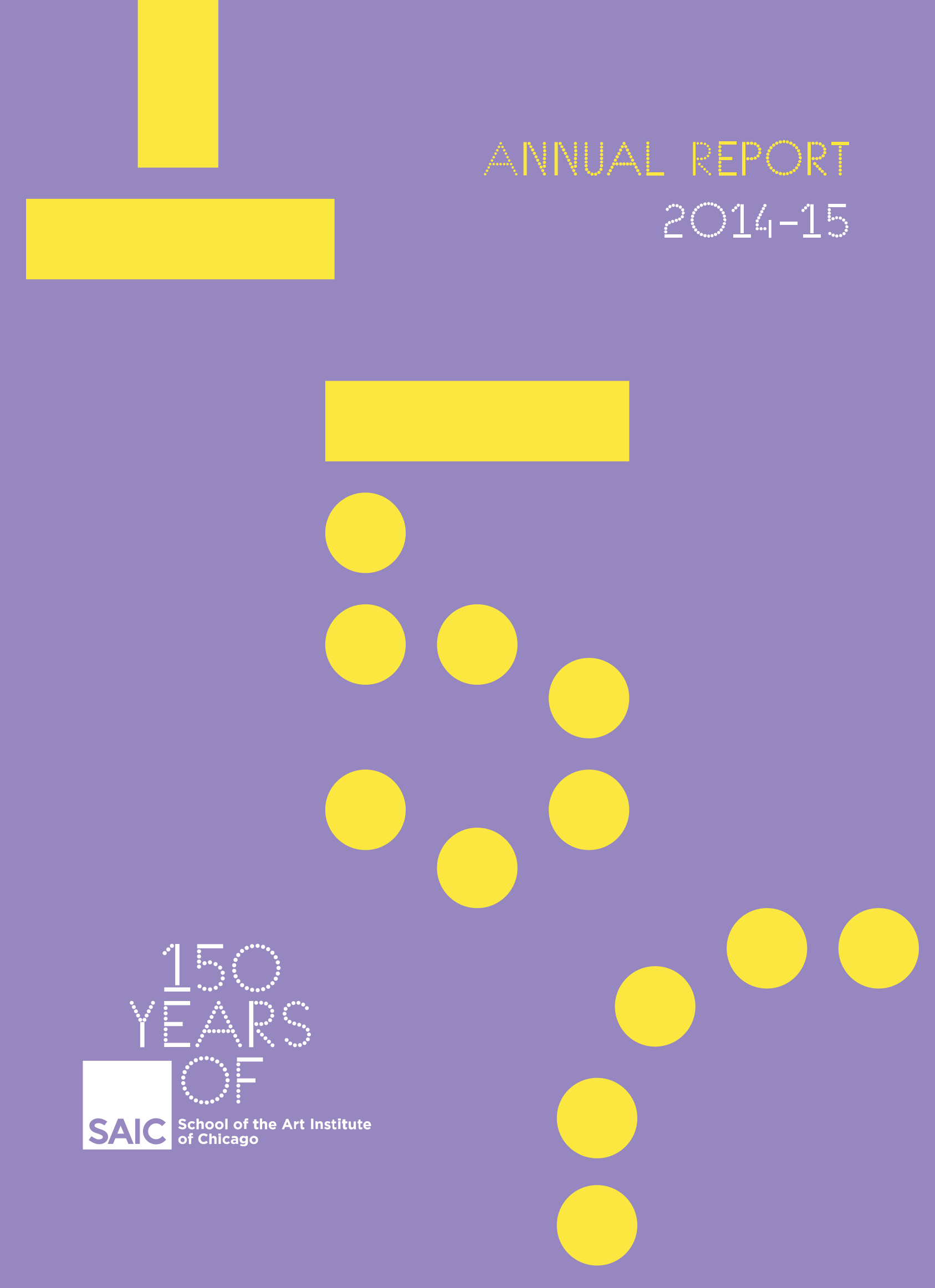 Thank you to our generous donors, alumni, faculty, staff, and friends. You have stepped forward in unprecedented ways to endorse the artists, designers, and scholars of today, while also investing in new programs, resources, and initiatives that will define SAIC tomorrow.
SAIC's Annual Report provides an overview of academic achievements, faculty, alumni, and student accomplishments, institutional initiatives, financial statements, and fundraising updates, all for the July 1, 2014–June 30, 2015 fiscal year.