Posted by | Conversations at the Edge | Posted on | November 17, 2004
Wednesday, November 17, 2004, 8pm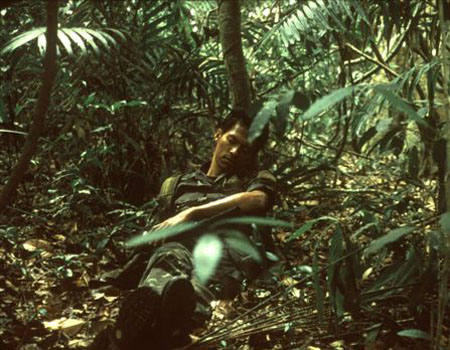 Apichatpong Weerasethakul in person!
Experimental filmmaker and the most prominent advocate of film art in Thailand, Apichatpong Weerasethakul, an alumnus of the Department of Film, Video and New Media at the School of the Art Institute of Chicago, will be an artist-in-residence this week at the school. Well-regarded for challenging established forms, for his strong ideas and artistic integrity, his work is dedicated to building a new chapter in Thai modern cinema. For this visit he brings his acclaimed Tropical Malady to Chicago; awarded this year's Special Jury Prize at the Cannes Film Festival. A rare opportunity to have our dear friend and accomplished alumnus among us. (Daniel Eisenberg)
"Set in contemporary Thailand, Tropical Malady opens with soldiers taking photographs of one another in a field.  Shot in the loose, hand-held style of much contemporary documentary, the scene seems perfectly ordinary until you realize that there's a dead body on the ground and the soldiers are actually snapping trophy shots.  The full import of this tableau doesn't become clear until much later when Mr. Weerasethakul returns us to a similar looking field (it may be the same one) as if to return to the scene of a crime.  By then, the story's two principle characters, the shy country boy Tong (Sakda Kaewbuadee) and a beautiful soldier named Keng (Banlop Lamnoi), will have been stricken by the tropical malady of the film's title and fallen in love." In Thai with English subtitles. (Manohla Dargis, New York Times). With Banlop Lomnoi and Sakda Kaewbuadee. 2004, Apichatpong Weerasethakul, Thailand, 118 min, 35mm.