Posted by | Conversations at the Edge | Posted on | May 11, 2006
Thursday, May 11, 2006, 6pm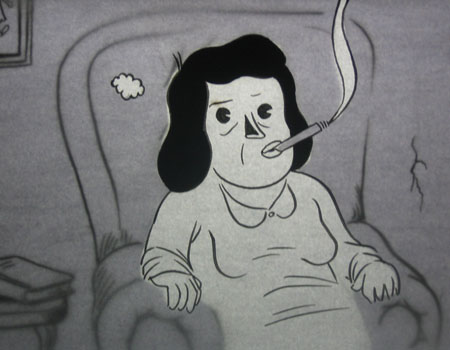 Filmmakers in person!
Tonight's program is a cinematic toast to the semester's end with a cross-section of current work by emerging talents in the School of the Art Institute's Department of Film, Video, and New Media. Cheers!
Lilli Carré's What Hits the Moon (2006) pits an aging cartoon character against the man in the moon. James Sweetbaum's Monde Sarir (2006) explores the relationship between history, geography, and desire in contemporary urban spaces. Amber Hawk Swanson's Feminists People (2006) and I've Never Really Been Into Feminism (2006) deliver an x-rated treatise on sorority-style feminism. Dylan Mira and Latham Zearfoss' A Call and An Offering (2006) documents the creation of Pilot TV — a temporary laboratory for experimental public TV on Chicago's south side. Chris Reilly explores the "prison level" of the US Army's official video game, "America's Army," in Marksmanship Training (2006), a unique machinima performance. Mark Gallay & Noe Kidder creatively respond to author D.M. Thomas with their own version of White Hotel (2006). And Jeffrey Moss' atmospheric Sisterhood of Night (2006) spins a tale about a group of high-school girls and their mysterious nocturnal society. 2005 – 2006, various directors, Morocco/UK/USA, ca. 94 min, various formats.