Posted by | Conversations at the Edge | Posted on | December 4, 2009
Thursday, December 10, 6pm | Ben Russell in person!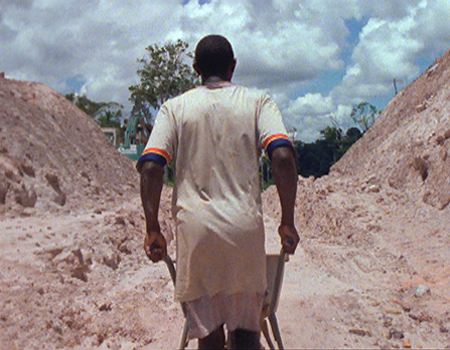 Ben Russell, Let Each One Go Where He May (2009). Image courtesy of the artist.
Fresh from its world premiere at the Toronto International Film Festival, Chicago-based filmmaker and SAIC alumnus Ben Russell's stunning feature debut is an epic road movie that draws from documentary and ethnography to imbue its images with a sense of mystery and enchantment. Set in contemporary Suriname (in northeastern South America) and unfolding in 13 extended takes, the film follows two unidentified brothers as they trek from the capital of Paramaribo to the rainforest villages of the Maroons, descendants of African slaves who rebelled against their Dutch captors 300 years ago. Retracing these ancestors' footsteps, in the opposite direction villagers now take to pursue the global enterprise of the city, Let Each One Go Where He May charts a reverse course through urban congestion, illegal gold mines, Maroon communities, and trance ceremonies to capture a place where history, the supernatural, and modernity collide. 2009, Suriname/USA, 16mm, 135 min.
BEN RUSSELL is an itinerant photographer, curator, and experimental film/video artist whose works have screened in spaces ranging from 14th Century Belgian monasteries to 17th Century East India Trading Co. buildings, police station basements to outdoor punk squats, Japanese cinematheques to Parisian storefronts, and the Sundance Film Festival to the Museum of Modern Art (solo).  Russell received his MFA from the School of the Art Institute of Chicago in 2003. In addition to his filmmaking, he founded the Magic Lantern screening series in Providence, Rhode Island in 2004 and the Chicago gallery BEN RUSSELL in 2009. A 2008 Guggenheim award recipient, Russell currently teaches at the University of Illinois–Chicago.
"The Unbroken Path: Ben Russell's Let Each One Go Where He May" by Michael Sicinski, Cinema Scope
International Film Festival Rotterdam 2010 Tiger Awards Announces Let Each One Go Where He May as one of three contenders
Let Each One Go Where He May (EXCERPT) from Ben Russell on Vimeo.