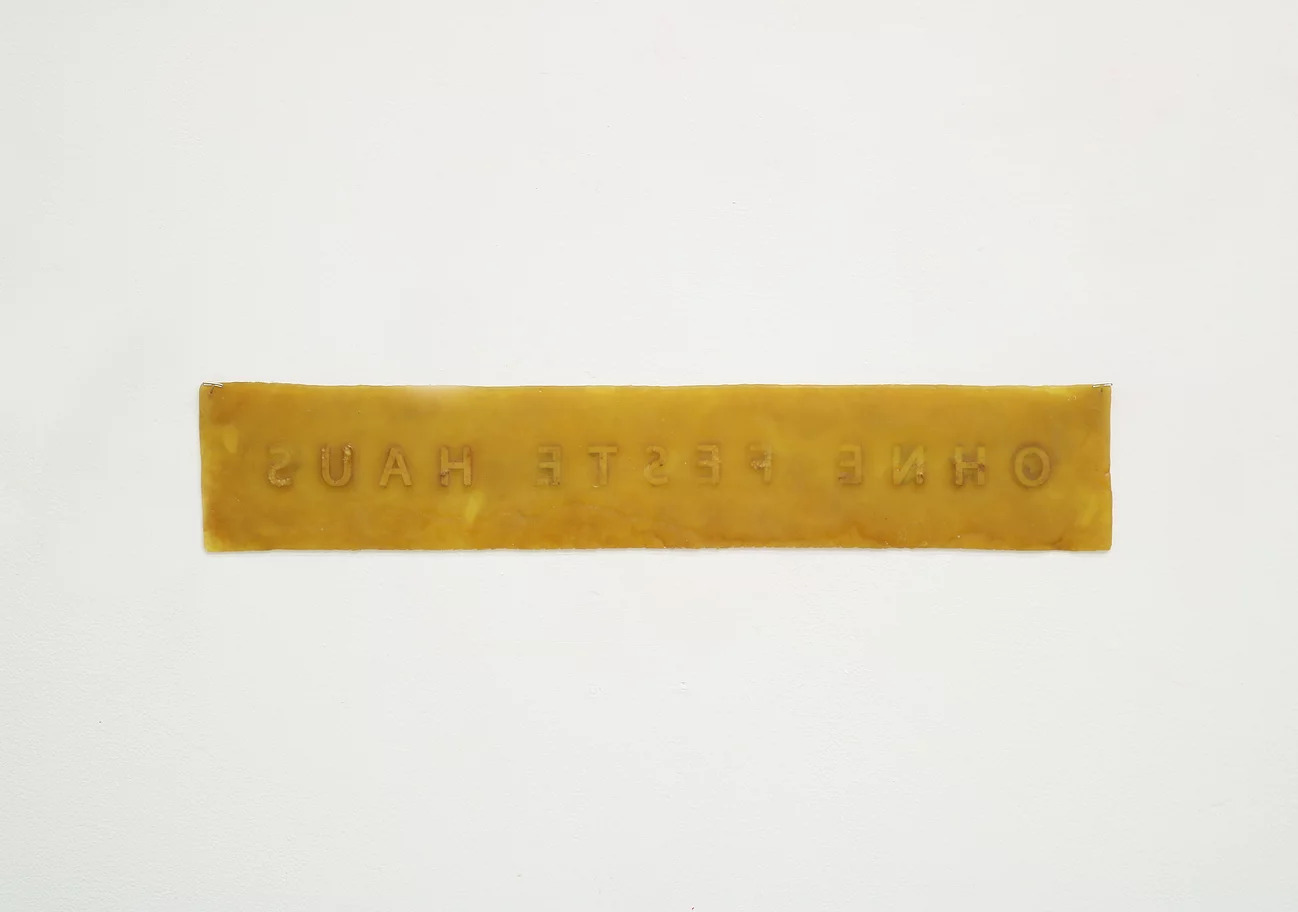 Ohne Feste Haus (without a permanent home)
Concrete, latex, aluminum and a screen print
3' x 2' (concrete) 18" x 3" (latex)
2021
Birdie Brachbill, 2021
Exhibition Narrative
Public and domestic spaces are designed around and for the human body. The physicality of these spaces is rooted in the hierarchy of needs. Our built environments provide shelter, warmth and access to water. These spaces try to cater to our physiological and safety needs. The role that these inhabited spaces have on our identity, however, can go unnoticed. We become products of the spaces that we take solace in and feel safe
to explore the boundaries of our personhood. How do our spaces affect who we are—who we
become
? How does the publicness and the privacy of spaces shape us?
(in) and (out): Spacial Influences on Identity Creation intends to interrogate the influences that our environments have on the construction of our identities. The creation, rather than the finding, of our identities perpetuates this process as an indefinite and ever changing one. Our circumstances can be (and mostly is) out of our own hands, but there is creative liberty in using this for our greater good to become who we want to be. This exhibition looks to the intimacy of the spaces that facilitate the construction of the self.
The process of discovery and reconfiguration of identity is left to the private sectors of our lives. Bathrooms, bedrooms, closets, or any door with a lock can grant liberation and autonomy in understanding and deciding who we are and who we
are not
. In the context of marginalized sexual and gender identities, privacy provides safety and clarity in grappling with having an identity that society deems an unprivileged
one. This should not mean that the process of becoming must be a shameful one. While spaces have the ability to influence us, this process should not be shrouded in secrecy, but instead, identity construction should be celebrated and take up space.
(in) and (out)
acts as the proverbial key to locked doors. Alas, the construction of identity is illuminated, and now it no longer functions as an intimate process but one that any public body can be a part of and witness.
The work in this exhibition consists of sculptures, prints, and video work. I am primarily a sculpture artist and work within the realms of installation, using materials that range from concrete, latex, and readymade objects. Within the past year, I have recently adopted screen printing as another form of making. As a sculptor, I only thought in the third dimension; however, since becoming a printer, I have begun thinking in the second dimension as well. By moving work from the floor to the wall and having it interact with the two spaces, I have allowed myself to expand the space in which I am making. It has proven to be both
challenging and exciting.
(in) and (out): Spacial Influences on Identity Creation
is a curation of old and new work that explores this newly found interest in my practice between the wall and the floor and ourselves.
Programming Event
Artist Talk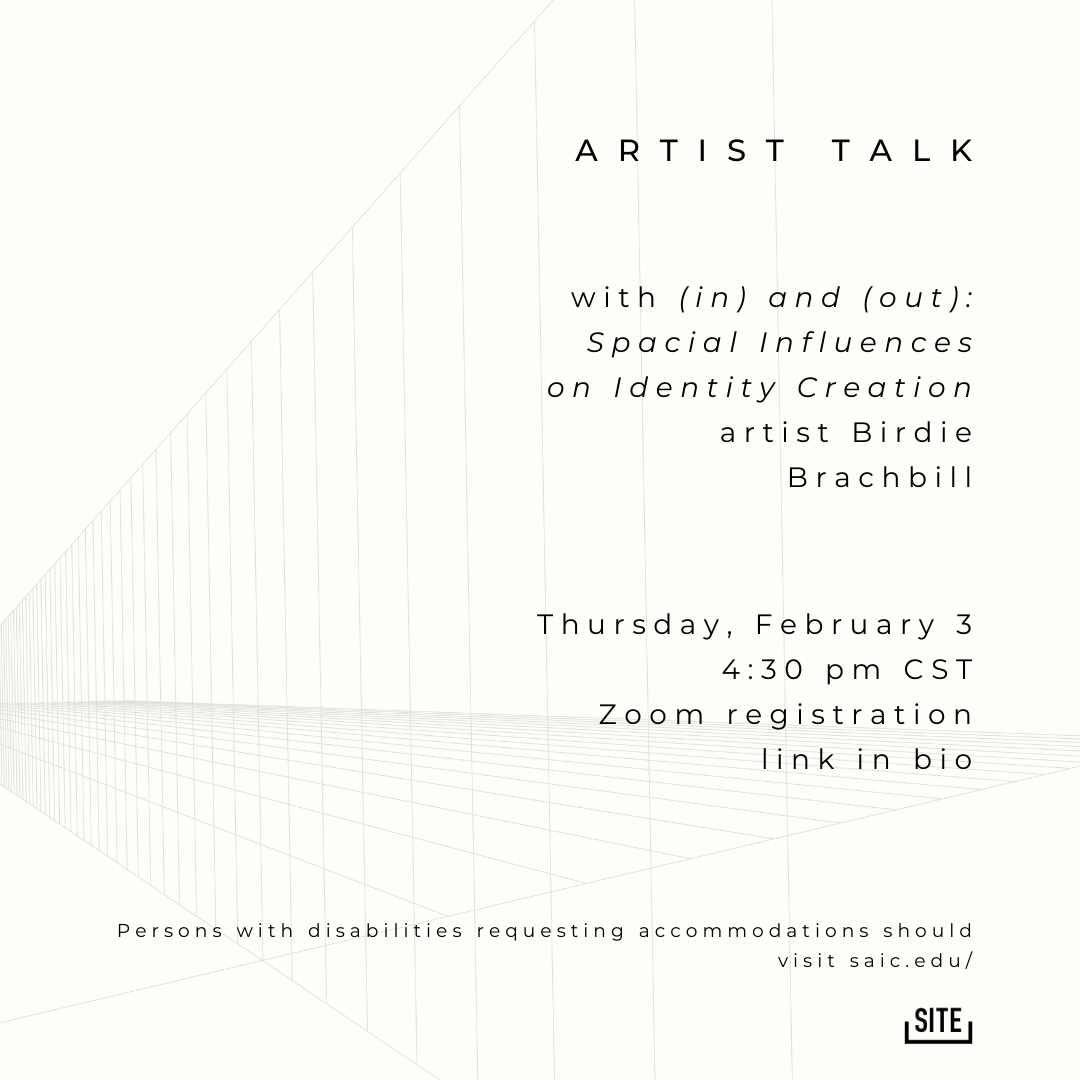 Artist Talk with solo artist Birdie Brachbill
Thursday, February 3rd
4:30 pm – 5:30 pm
This event will be hosted over zoom.
Register here.
Join SITE Galleries for our first programming event of the Spring semester a virtual artist talk with Birdie Brachbill. Brachbill will talk about the concepts behind their exhibition, (in) and (out): Spatial Influences on Identity Creation, and artists who inspire their work. The presentation will be followed by a Q&A session with the audience.
Photo Documentation
By Verónica Rosas
Video Documentation
By 
Beatrice Kilkelly-Schmidt
Address
SITE Sharp Gallery
37 S. Wabash Ave.
Chicago, IL, 60603
SITE 280 Gallery
280 S. Columbus Drive
Chicago, IL, 60603
Hours
Gallery Hours (during exhibitions)
Monday – Friday 11am – 6pm
Saturday 11am – 3pm