September 14 – October 22
280 Gallery Open Hours
Monday – Friday: 11am – 6pm
Saturday: 11am – 3pm
Sundays: Closed
Holidays: Closed
Exhibition Narrative
Madeline, Alexa, and Maeve, 2022
I <3 Boys explores feminized adolescence and coming of age alongside the internet of the early 2000's.  Through large format weavings and experimental video, I <3 Boys becomes a tangible dreamscape that allows for refuge between the screen and reality. Navigating through screen names and avatars, Mallers, Seto and g, work collectively to reflect on the development of selfhood through the digital noise and maximalism of the media landscape that shaped them.  
Raised to value oneself in relation to the male gaze, they processed their socialization as "girls" by conditioning themselves to believe that they too were  programmed to exist for the pleasure of men. 
This work of this exhibition explores the consequential sentiment that if one does not meet the physical and behavioral attributes deemed desirable, they are, by default, a glitch. By employing glitch, an inherent flaw, in conversation with hyper feminine aesthetics, these artists raise questions about the intended functionality of gender and sexuality within society.
Maeve Mallers is heavily influenced by their experience growing up with the internet in the age of information and the rise of throwaway culture. Their work reflects this hyper-intense sense of chaos and comments on the glorified aspects of capitalist consumerism. Through mixed media fiber arts and video, they recreate their digital childhood through replicas of my personal bedroom spaces, both real and imagined.  The internet allowed connection to spaces that did not exist in reality, such as queer communities, yet also encouraged a disconnect to reality in favor of fantasy. As a child, amidst the maximalist bedroom culture of the early 00s, Maeve developed the coping mechanism of collecting and assigning sentimental value to material objects. Due to many moving parts in their family, they don't have much left from their childhood aside from their digital footprint; which repeats throughout their work. Through the process of creating, the computer has become their attic; old Facebook accounts, email inboxes, and Photobooth albums; their dusty boxes of childhood nostalgia.
Alexa g is currently working with digital mediums to explore their relationship to their adolescence. Using tools like photoshop and the tc-2 jacquard loom they are creating physical pieces of childhood ephemera. Through their idolization of stars like Amy Winehouse and One Direction, they explore their own thought processes around the way the media not only treats these stars but how they treat young women. Growing up in a Baptist household while also questioning their own queerness Alexa g treated the internet as their only safe space. It is where they became familiar with discourses around feminism, white Christian colonialism and gender identity. Growing up alongside the internet, Ag poured over the cultures they were strictly kept from, combing through Twitter and Tumblr to find refuge away from a devotion that imposed a deep shame of self. The online communities they had access to allowed them to celebrate the female form and one's innate sexuality in a way their home shamed them from doing. Alexa g weaves as a process of examining and continuing this reclamation; reclamation of body and of the guilt imposed upon them. 

Madeline Seto dissects the soft power of the high feminine, like a cake taken apart layer by layer. Through the mediums of fiber, food, and performance, she soaks her work with sweetness through the visual language of pastels, lace, flowers, bunnies, and frosting. She draws influence from the American 1960s, internet subculture and phenomena, anime, East Asian cute culture, Chinese traditional medicine, fermentation, and ASMR baking YouTubers. Scraping away the sugary plastic coating of the Capitalocene, she reveals the cavity which it creates – the rotting of body and mind. Madeline reassembles these layers in a mutated confection, creating a sweetness not safe for consumption.
Photo Documentation
by Mikey Mosher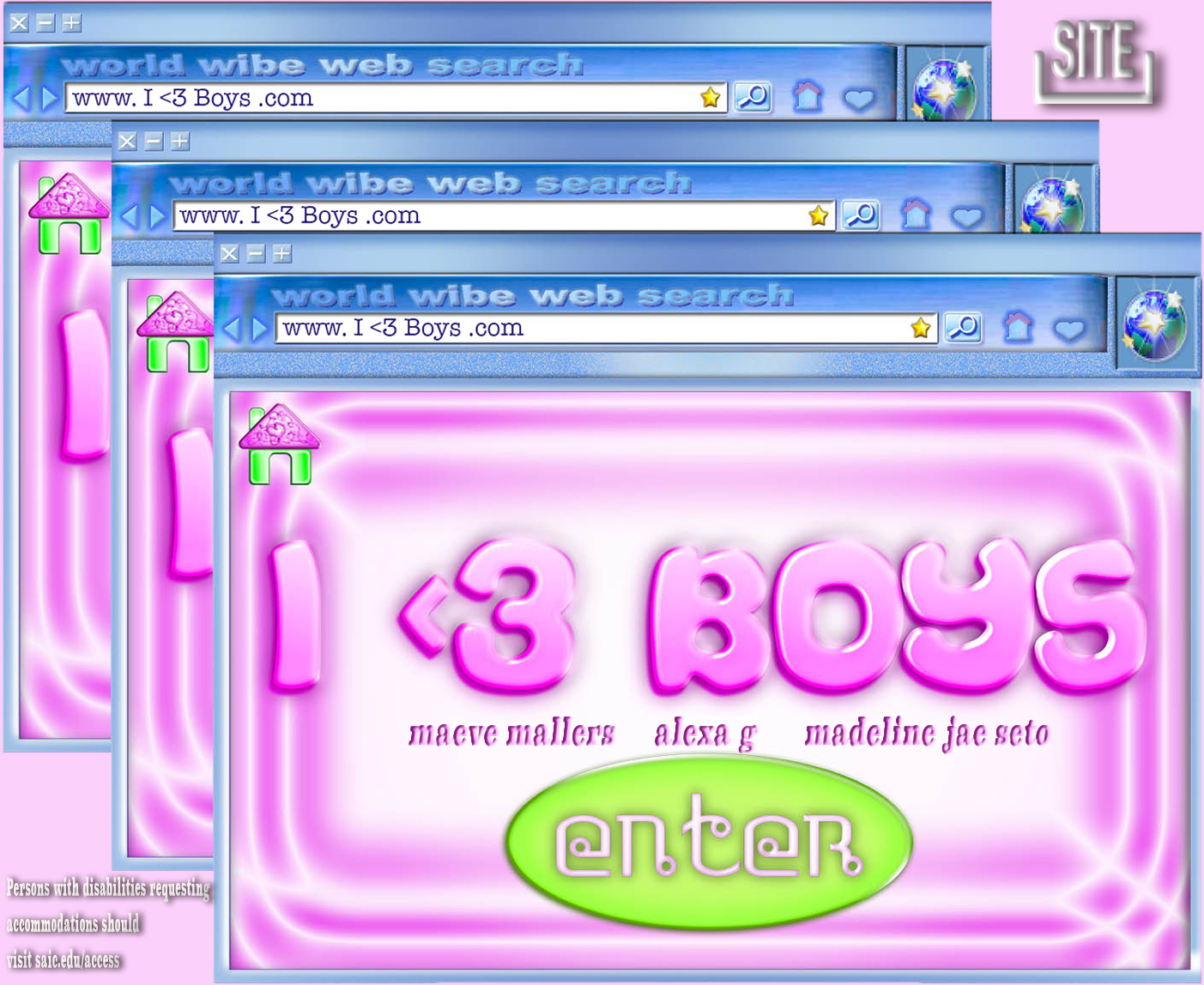 Omegle Screening
Friday, October 7
6 – 7 pm CST
This event will be hosted in virtually via Zoom.
Register here.
Join SITE galleries for an evening screening edited by Maeve Mallers  in conjunction with the group exhibition I <3 Boys. This screening can be viewed via Zoom by registering above!
Omegle findings and Other things. Madeline Jae Seto, Alexa g, and Maeve Mallers join to explore the online virtual chat room, Omegle. Along the way, these artists recall other popular computer playgrounds such as Kid Pics and Photobooth.
Persons with disabilities requesting accommodations should visit saic.edu/access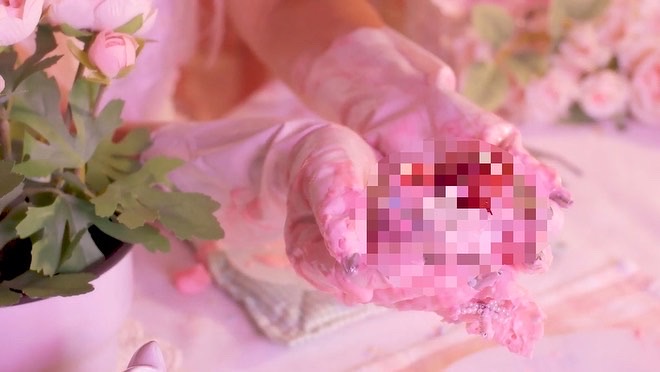 Closing Reception: how to make the cutest cupcake in the world (asmr)
Friday, October 21
5 – 6 pm CST
This event will be hosted in SITE's 280 Gallery
Watch the recording here
Join SITE Galleries for a live performance by Madeline Jae Seto on Friday, October 21 in the SITE 280 Gallery from 5 – 6 for the closing reception of I <3 Boys!
"how to make the cutest cupcake in the world (asmr) is a performance where Madeline cosplays as a hyper feminine housewaifu to show you how to make the cutest cupcake in the world, parodying the genres of ASMR and DIY."
– Madeline Seto, 2022
Allergen Warning: Eggs, wheat, dairy.
Persons with disabilities requesting accommodations should visit saic.edu/access